Posted on
Janicki, Mengel represent Hornets at SCTP Nationals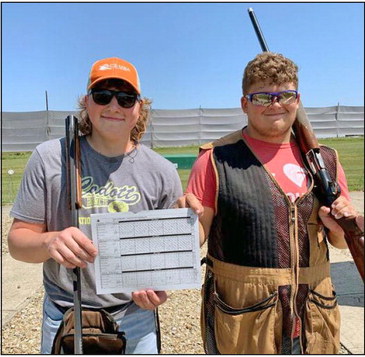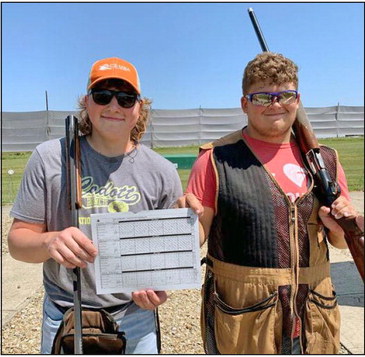 Spencer Janicki (left) and Kane Mengel competed in the Scholastic Clay Target Program (SCTP) Nationals competition July 13 and 14, in Marengo, Ohio. Janicki left the Cardinal Shooting Center with a score of 190 points and Mengel scored 188 points, during the course of the competition. Submitted Photo
By Julia Wolf
The Cadott Hornets Shooting Club is a relatively new organization, starting in 2018, but the team has already seen students compete at the highest level of competition.
Kane Mengel and Spencer Janicki participated in Scholastic Clay Target Program (SCTP) Nationals competition July 13 and 14, in Marengo, Ohio, in the 200 target singles trap event.
Joe Schaefer, head coach of the club, says Nationals doesn't have a qualification process in order to attend, but does require time commitment and dedication, which makes it an accomplishment in itself.
"Both of these boys shot well all season, and deserve the ability to go and compete at Nationals," said Schaefer.
The event is scored out of 200 points, with each potential point representing a shot.
"They shot at 200 targets at Nationals," said Schaefer.
Janicki hit 190 out of 200, leading to a 235th place finish, and Mengel scored 188 out of 200, placing 312th.
"This was their second year, at Nationals, for both of them," said Schaefer, adding they each shot perfect rounds of 25, in order to get that high of a score.
Schaefer says there were multiple kids who shot a 200 at the event and about another two dozen youth who only missed one target out of the 200, so the competition was steep.
There were 863 participants in the men's varsity division this year, with 2,606 participants all together. The scale of the event is demonstrated by the number of supplies needed to host the competition. Schaefer says the 2021 Nationals required 11 semiloads of targets.
Schaefer says the Cadott Hornets Shooting Club has seen growth since it started in 2018, with just six youth initially in the club and now boasting a roster of about 30 members. The club was represented at Nationals last year, competed at State the past three years, and won their conference in several different divisions, over the years.
Since it is a club, Schaefer says youth from neighboring districts are also welcome to join them.