Posted on
Dolores Martens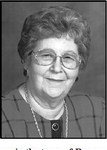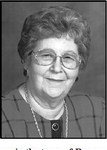 Dolores M. Martens, 92, Loyal, passed away on Saturday, March 27, 2021, at Colonial Center in Colby, where she resided for the last several years. Funeral services were held at noon on Wednesday, March 31, at St. Anthony Catholic Church in Loyal. Burial followed at St. Anthony Cemetery.
Dolores Mondloch was born in Port Washington on Nov. 2, 1928, to Mathias J. and Leonora F. (nee Wiesner) Mondloch. She moved with her family to the central Wisconsin area in the early 1940s. In her mid-teens, she found employment as a domestic worker in Lake Forest, Ill., and lived there until her marriage on Sept. 10, 1949, to Richard N. Martens at Christ the King Catholic Church in Spencer. Dick and Dolores farmed first in Greenwood, and then moved to Loyal in 1957 when they bought a different farm in the town of Beaver. There they raised one son and three daughters. During these years, Dolores worked in the Weyerhaeuser factory in Marshfield, and later at K-Korners Bar and Supper Club, Neumann's Supper Club and the Amber Inn in Loyal. In those businesses she was valued for her cooking and baking skills. She was considered a great cook. Dick and Dolores farmed near Loyal until his death in 1983. Dolores sold the farm and moved to her little house in Loyal, where she resided until 2013 when she moved to Colonial Center in Colby. She remained there until the time of her death. Dolores loved to bowl and was a member of several teams, bowling in leagues in Loyal and Marshfield. She was a long-time member of St. Anthony Parish and the PCCW.
Dolores is survived by her four children: William (Marsha), Linda, Kathleen (Michael), and Patricia (Randy); her brother: Allen; three sisters-in-law: Shirley, Mabel and Karen; her grandchildren: Josh (Brooke), Christina (Don), Jesse (Kim), Trent, Elizabeth, Patrick, Jenny (Rich), Jodi (Dan) and Jason; her great-children: Zayden, Isabella, Bree, Beau, Brooklyn, Axton, Isaac, Emma, Alex, Rudy (fiancé Amanda), Leah, Lydia and Rachel; and one great-great grandchild: Adeline.
She was predeceased by her husband, Richard; her brothers: Dalbert, Roland, Leon, Robert, James and Raymond; her sister: Marceline; and her son-in-law: Alan.
Online condolences may be expressed at www.cuddiefh.com.
Cuddie Funeral Home, Loyal, is assisting the family with arrangements.
PAID OBITUARY 102844