Advertise
ADVERTISE
Your customers rely on newspaper advertising for information. There are several options when it comes to advertising. First, would you like to present your information in a classified or  display ad? Classifieds are uniform word ads without any special formatting. Display ads are specially designed ads with specific dimensions and eye catching graphics. View our Display Advertising, Classified Advertising, or Web Advertising sections below for more details.    Or contact a sales advertising representative today at  (715) 748-2626 for Medford or (715) 223-2342 for Abbotsford.
Web Products – www.centralwinews.com
The Star News Online
Courier Sentinal Online
Tribune-Phonograph Online
The Record-Review Online
Tribune Record Gleaner Online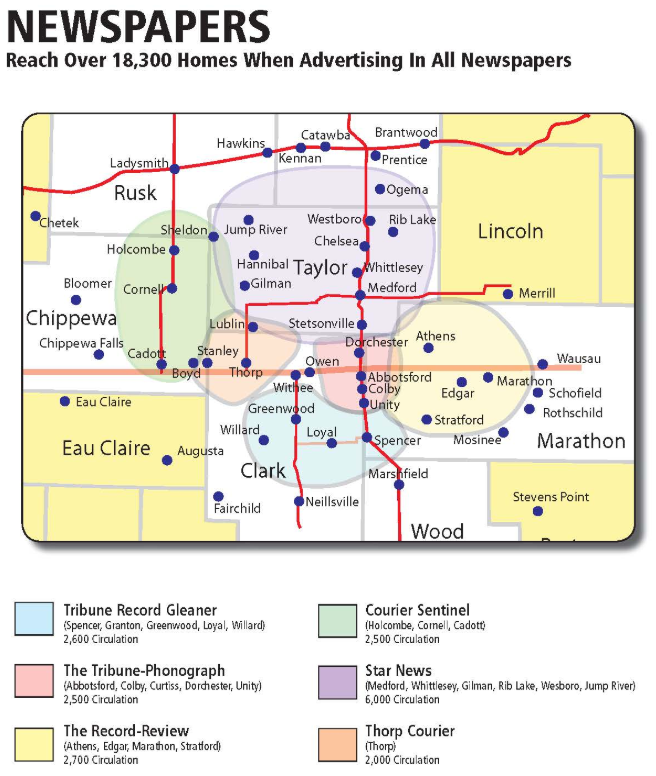 Newspapers & Coverage Area
The Star News – Medford & all of Taylor County
Courier Sentinal – Cadott/Cornell/Lake Holcomle
Tribune-Phonograph – Abbotsford/Colby/Curtiss/Dorchester/Milan/Unity
The Record-Review – Marathon/Stratford/Edgar/Athens
Tribune Record Gleaner – Granton/Greenwood/Loyal/Spencer/Willard
Additional Newspaper Circulation Available
The Shopper – Medford & all of Taylor County
Central Wisconsin Shopper – Abbotsford/Colby & Clark & Marathon County
Additional Shopper Coverage Available
West Central Wisconsin Shopper – Thorp
The Extra – Phillips
---
Classified Advertising
You can submit your classified ad from this website! We will contact you promptly to confirm payment details.
---
Display Advertising
What publications would you like to place your advertisement in?
We can offer you several publication options at discounted rates (rerun rates) to cover Central Wisconsin.
How many weeks would you like to run your advertisement?
We can set you up on an advertising schedule for several weeks at a time. We also offer a discount for yearly contracts on several sizes with up to a 60% discount.
Would you like to add color?
Color sells 43% better than black and white. Ask about adding color to your advertisement. (Color ads require special placement.)
Will you be adding a photo?
We can help you with this, but always allow time for this additional work.
Do you know your deadlines?
Each publication has different deadlines. Please know your deadlines and be prepared to meet them.
Would you like to see your ad before it runs?
"Proofs" are provided for you to look over if requested, depending on ad size and the time we receive the final advertising information. Copy after deadline cannot be promised a proof. Major layout changes may result in additional charges. All proofs are property of The Star News and TP Printing and cannot be reproduced without written permission.
Where in the publication would you like your ad to appear?
Know where you want your display ad to run. There are several classifications to choose from. Guaranteed placement is subject to an additional 25% of advertisement charge.
What size ad would you like?
The size of your advertisement has a large impact on response and placement. Our publication pages are 6 columns wide by 14 inches long. Ad length can be increased by 1/2 inch increments only. For specific column measurements, see our Rate Card. *Please note that certain restrictions may apply for ads in The Star News that are bigger than 6 columns wide by 10 inches long.
How would you like to pay for your ad?
Display ads must be pre-paid before publication. Payments accepted are cash, check, VISA, Discover or MasterCard. Charge accounts can be set up after 90 days, prepayment is required until those 90 days are up. Please contact your advertising representative for appropriate forms.
Can I e-mail my ad?
Yes, if the ad is camera ready you can e-mail it as a PDF or JPG.
How do I advertise on www.centralwinews.com?
This site receives over 20,000 users a month. For more information on advertising with The Star News Online, please contact the Advertising Department at (715) 748-2626.
For the Tribune-Phonograph, The Record-Review, or Tribune Record Gleaner sites, contact the Advertising Department at 715-223-2342.
---
Web Advertising
Utilize your advertising dollars and achieve a cost-effective multimedia solution!
We can now expand our newspaper reach from a printed weekly coverage to a 24/7 web coverage.
Both medias will enhance each other!
Available are 3 different placements – Leaderboard, Skyscraper or Box Ad (examples on this page) plus enhance your ad even more by adding a splash page and link to your own website. You have your value message rotating throughout every page of the entire web product. Your splash page will be available to users 24/7.
Leaderboard size: 728px x 90px
Skyscraper size: 160px x 600px
Box size: 300px x 250 px
Splash page: 1000px x 750px
Affordable ads seen 24 hours, 7 days a week
Call your web advertising consultant today!  715-223-2342