Posted on
Back to the drawing board for Abby boys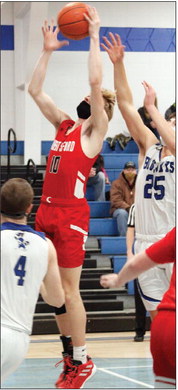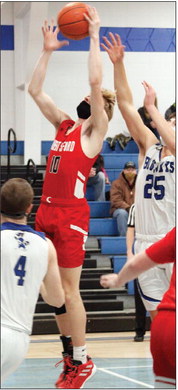 The Falcons played well for long stretches against the likes of Rib Lake, Athens and Stratford, but could not sustain it, losing their last three games to fall to 1-11 and 0-8 in league play.
Rib Lake, 66-52
Abbotsford picked up its first win of the season on Jan. 11, and the boys were hoping to use that momentum to garner their first Marawood - North victory of the season when they travelled to Rib Lake the following night.
It appeared the Falcons would garner back to back wins for the first time this season when Abby held an 18-8 lead midway through the first half, but a Rib Lake squad that has now won three of its last four games refused to wilt.
Rib Lake (3-7; 2-6 MNC) put on a run with 9:20 left in the first half, ripping off eight points in a 60 second span to make it 18-16. Ryan Patrick and Logan Blomberg formed a lethal tandem, scoring 23 of Rib Lake's 33 first half points.
Adam Diedrich was the X-factor in the first half for Abby, scoring eight points, and the Falcons used threes from Brandon Diedrich and Hunter Soyk to open the floor. This allowed Cade Faber and Mason Carpenter to score down low.
The two rivals exchanged leads in the first half, but it was Rib Lake who entered the break with a slim 33-29 advantage.
Abbotsford took its final lead on a Soyk steal and score that made it 38-37 with 13 minutes left. From there, it was all Rib Lake. Patrick and Blomberg dealt the damage, scoring all but five of Rib Lake's 33 second half points.
Patrick had a huge night, leading all players with 28 points, and Blomberg dropped 17 on Abbotsford. A 15-4 run midway through the last stanza proved too much for the Falcons to overcome, especially once the fouls started to pile up.
Faber supplied the offense for Abbotsford, scoring 13 points to finish with a team high 19. The springy senior also corralled a game high 20 rebounds.
Rib Lake shut down the Falcons in the second half, with Abby managing just 23 points in the last period for a 52-66 loss.
Brandon Diedrich added nine points, as did Carpenter. Soyk scored five and Adam Diedrich ended up with eight.
80-55
A pair of streaks continued on Friday when Abbotsford travelled to Athens to take on the top team in the Marawood North Conference.
The Bluejays had their ten game win streak snapped by Prentice on Tuesday, Jan. 12, but the seventh ranked team in D-5 started a new one by defeating Abby.
For the Falcons, it was their second straight loss after picking up their first victory of the year against Greenwood several days before. But one should be careful not to lose sight of the good in the Falcon's loss to their conference rivals.
Abbotsford had seven players score on Friday, including three in double figures. Hunter Soyk was the engine that powered the Falcons' offense. The senior guard hung a team high 14 points on Athens, going five of eight from the floor, and four of six from three point land.
Cade Faber and Mason Carpenter also supplied double digits, scoring 11 points apiece. Faber, who is second in the state in rebounding, had another double-double with 11 rebounds.
It wasn't enough to stop the locomotive that is Athens this season. Junior guard Cooper Diedrich had a game high 23 against Abby. Cobie Ellenbecker, Dayne Diethhelm, Kody Lepak and Aiden Janke each scored over ten points.
Athens relied on their starting five to set the tone in the first half, and the 'Jays took a 38-28 lead at the break. That continued into the second with the 'Jays dropping another 42 points on Abby.
Soyk continued to strike from deep, and Brandon Diedrich dropped two treys on Athens. Bryce Draper, Carpenter and Faber got going in the second half, and Abby scored 27 points.
Brandon Diedrich finished with eight points and Draper tallied six points, two boards, two assists and one steal. Brandon Hawkeye added three points and Adam Diedrich recorded two points.
66-46
It was a case of déjà vu all over again on Monday night as Abbotsford hosted the Stratford Tigers in a meeting of north versus south Marawood teams.
The Falcons played extremely well throughout the first half. Hunter Soyk splashed a pair of threes, Mason Carpenter worked the ball in the post for eight points, and the two teams exchanged leads for much of the first frame.
The Falcons held a lead with 25 seconds to play, but the Tigers got one last shot off to take a 33-31 lead into the break.
That shot touched off an avalanche in the second half, and like many of their previous games, the Falcons let the game get slip away from them.
Turnovers, empty possessions, and a hot shooting Tigers squad all conspired against Abbotsford. Soyk and Cade Faber kept the game close, and a nice move inside by Faber cut the Tigers lead down to 44-42 with 11:23 to go.
After that, the Tigers found a second gear and Abby's offense faltered. The Tigers held Abby to just four points in the final 11 minutes and Stratford closed the second half on a 22-4 run.
Faber turned in his typical double-double, scoring 20 points and 19 rebounds. Soyk put up 12 points. Carpenter had eight points, all in the first half. Brandon Hawkey recorded four points and Adam Diedrich finished with two.