Posted on
Falcons battle with conference contenders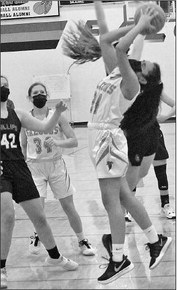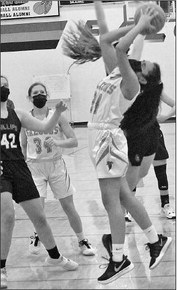 The Abbotsford girls basketball team faced arguably two of its toughest challenges last week, taking on a pair of conference contenders in Wittenberg-Birnamwood of the Central Wisconsin Conference on Dec. 15, and then squaring off against Phillips, the presumptive favorite to win the Marawood - North Conference on Friday. The Falcons stood up to the challenge, and while they did not pick up any upsets, they did succeed in displaying their growth on both sides of the ball.
Wittenberg-Birnamwood, 60-40
The Abbotsford Falcons found themselves at home on Tuesday, but there would be no court advantage on Dec. 15, not against the Wittenberg-Birnamwood Chargers, not even with one of their best players, Abi Fraaza, unable to play.
Not that the Chargers needed Fraaza with Emma Herb and Reese Rogowski still in the line-up. Herb and Rogowski are both averaging double-figures, and they dropped 24 and 19 points on Abby.
The majority of that production came much later as Abbotsford's defense kept them in the game through the first half as the Falcons speed and hustle forced 14 turnovers on the night.
Even with the Chargers having the firepower and experience the Falcons made it a single digit game, with Wittenberg- Birnamwood hanging onto a slender 26-22 advantage heading into the second half on Tuesday.
That's when the Chargers began to find their rhythm on offense, and the Falcons own offense struggled to keep pace with their visitors from the Central Wisconsin Conference. Outside of Herb and Rogowski, the Falcons did not allow another Charger to score more than four points. The Falcons also had two players in double figures, with senior Catie Clement and junior Alea Graff providing 11 and 10 points. Graff was just shy of a double-double, as she pulled down eight rebounds and also had a team high three steals.
Sydney Falteisek scored eight points for Abby, and Mya Ruesch added another four points. Sommer Brodhagen, Brissa Diaz and Briseida Escalera all finished with two points apiece. Marisol Garcia tallied one point as the Falcons finished with 40 points as team.
However, the Chargers were able to outscore the Falcons 34-18 in the last period for a 60-40 victory, handing Abby it's fourth loss of the season.
77-46
The Falcons went up against another heavyweight in central Wisconsin, hosting the Phillips Loggers for a Marawood - North conference contest.
The Loggers came into the game with an unblemished 6-0 record, and a trio of players in Rachel Callow and sisters Jada and Kacy Eggebrecht that can all fill up the scorebook, with all three averaging over ten points a game.
But through the opening minutes of the first half it was the Falcons who were administering the scoring. Their on-ball defense and movement held the Loggers offense in check through the first five minutes.
Catie Clement was feeling it on Friday night, and her three from deep gave Abbotsford a 7-4 edge. And then the Loggers woke up, storming ahead with a 19-0 run that was fueled by seven points each from Rachel Callow and Jada Eggebrecht.
Jada Eggebrecht would lead all scorers with 23 points, while Callow had 18 and Kacy Eggebrecht notched 14 points.
After one half of play the Loggers were in control of the game, up 43-20 heading into the final half. The Falcons got a few more shots to rattle home in the second half as they scored 26 points, but Phillips played like a machine, and dropped another 34 on the Falcons to win 77-46.
Clement had her best shooting performance of the season against the Loggers, leading the Falcons with a team high output of 16 points.
Alea Graff continued her development as a scoring option for second year head coach Ally Meserole, finishing with eight points. Mya Ruesch recorded six points and senior Bridgett Pogodzinski and freshman Sydney Falteisek each chipped in with five points.
Sophomoere Adriana Fuentes and freshman Sommer Brodhagen rounded things out with two points apiece.
The Falcons are now 2-5 on the season as they head into the final week of 2020. Abbotsford's game with Elcho has been cancelled. Their match-up with Colby has been moved to Monday, Dec. 28, with the tip-off starting at 2:30 p.m.
The Falcons will look to get back to winning ways as they head into 2021, and are eager to try and snap Colby's win streak and start one of their own.