Posted on
Neillsville-Greenwood-Loyal pushed eight of its ….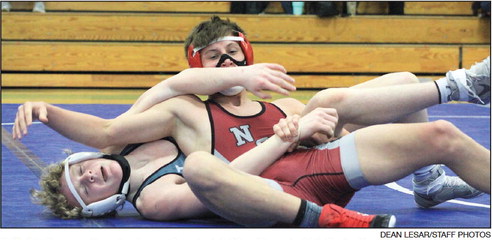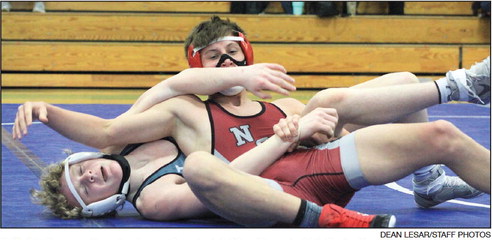 Neillsville-Greenwood-Loyal pushed eight of its 14 wrestlers through the Jan. 30 WIAA Division 2 individual wrestling tournament held at Eau Claire Regis and dominated the team scoring. Now, NGL will try to advance as many individuals as possible through the Feb. 6 sectional to the following week's 1-day state tournament, and will have a shot at a team state tournament berth, as well.
NGL racked up 239 team points at Regis to easily finish ahead of runner-up Regis-Altoona (173 points). Medford took third with 160, Stanley-Boyd/Owen-Withee was next at 133, and the field was rounded out by Spencer-Columbus (91), Bloomer-Colfax (90) and Abby-Colby (89).
NGL got individual weight class championships from Derek Zschernitz at 120 pounds, Tommy Friemoth at 170, and Gunner Hoffman at 285. Taking second place to also qualify for the Feb. 6 sectional at Neillsville were Jace Prior (106), Luke Dux (113), Jarick Young (132), Dane Luchterhand (160), and Carter Schoengarth (182).
Spencer-Columbus advanced three wrestlers from the regional -- 113-pound class champ Treyton Ackman and 220-pound champ Connor Luedtke, and 170-pound runner-up Joe Neider.
Other regional champions were Medford sophomore Thaddeus Sigmund at 106, Regis-Altoona freshman Chase Kostka at 126, Stanley-Boyd senior Blaine Brenner at 132, Abby-Colby freshman Tanner Halopka at 138 and his older brother, senior River Halopka, at 145, Regis-Altoona senior Payton Kostka at 152, Bloomer-Colfax's Ethan Rubenzer at 160, Regis-Altoona sophomore Caden Weber at 182, and Regis-Altoona freshman Brayden Albee at 195.
This year's regional brackets had an entirley unfamiliar look, with few competitors coming in with more than 10 matches on their season record. Several wrestlers had only three or four matches on the season heading into Regis.
Sophomore Derek Zschernitz (10-2) got NGL's first title, at 120 pounds. With only three wrestlers in his weight class, Zschernitz received two byes and then picked up an 8-5 decision over Stanley-Boyd/Owen-Withee junior Alexander Nitz for the class title. At this Saturday's sectional, his first match will be against Northwood junior Camren Benesch (9-1).
At 170 pounds, senior Tommy Friemoth upped his season mark to 15-0 with a firstround bye, a pin of Medford's Ken Pace in 3:02, and then a 48-second pin of Neider in the finals. He'll start his sectional run against Amery's Grant Cook (8-6).
Hoffman, a sophomore and 2020 state meet qualifier at 220 pounds, had only three matches on his season before the regionals. After a bye at Regis at 285 pounds, he pinned Spencer-Columbus senior Sawyer Kilty in 49 seconds to reach the finals, where he fought off a strong challenge from Stanley-Boyd/Owen-Withee senior Tyler Krizan for a 4-2 overtime win. Hoffman's first sectional match will be against Ellsworth junior Kyle Anschutz (6-3).
Junior Jace Prior (11-1) qualified for the sectional meet with a runner-up finish at 106 pounds. After a bye, he beat Regis-Altoona sophomore Deaglan O'Connel on a 10-4 decision. He was pinned in 1:08 by Sigmund in the finals, but didn't have to wrestle back
DEAN LESAR/STAFF PHOTOS Wrestling ,
from page 9 as O'Connel finished third. Prior's first sectional match will be against Luck-Frederic-Grantsburg senior Nolan Johnson (12-1).
Dux, a state runner-up at 106 pounds a year ago, had to settle for second place in this year's regional. He had a first-round bye and then pinned Stanley-Boyd/Owen-Withee freshman Troy Trevino (8-5) in 1:15, but in the finals he ran into Spencer-Columbus' Treyton Ackman, also a state meet qualifier last year. Ackman scored the 4-0 victory to advance to the sectional as a champion. Dux will wrestle West Salem- Bangor freshman Bradyn Glasspoole (13-1) at the sectional.
Junior Jarick Young (8-1) took a different road to the sectional. After pinning Regis-Altoona sophomore Aiden Frase (4-4) in his first match, he took an injury default against 2-time state champion Blaine Brenner (12-0) in the semis. After Brenner won by forfeit over Bloomer-Colfax's Luke Blanchard in the finals, Blanchard fell back to a wrestle-back aginst Young. Young won that one on a disqualification, and will now meet West Salem-Bangor junior Evan Wolfe (14-0) on Saturday Freshman Dane Luchterhand's regional at 160 pounds started with a bye and then a 5-3 decision over Abby-Colby junior Talon Severson (5-4). Luchterhand dropped a 6-0 decision in the finals to Ethan Rubenzer (8-4) of Bloomer-Colfax, but did not have to face a wrestle-back. At the sectional, he'll first face Northwoods senior Braden Trautt (11-0).
Sophomore Carter Schoengarth (11-4) had only two other wrestlers in his 182-pound weight class. Schoengarth pinned Stanley-Boyd/Owen-Withee sophomore Caden Koepl in 45 seconds, but then was pinned in 2:42 in the finals by Regis-Altoona sophomore Caden Weber (10-3). Schoengarth will meet Gale-Ettrick- Trempealeau/Melrose-Mindoro senior River Rommel (13-3) in sectional action.
In addition to Ackman returning again to the sectional level, Spencer-Columbus got two other wrestlers through to the next week. Ackman will put his 7-0 season mark up against Ellsworth freshman William Penn (9-3) in a sectional quarterfinal.
Senior Connor Luedtke advanced by winning the 220-pound class. He had a bye, then pinned NGL sophomore Joe Polzin (4-6) in 1:35. In the finals, Luedtke improved his season mark to 7-3 with a pin in 4:34 over Medford sophomore Wyatt Johnson (8-4). Luedtke has drawn a first-round sectional match against Baldwin-Woodville junior Max Ramberg (14-2).
Neider finished second at 170 pounds to earn his spot at the sectional. After a bye, the junior pinned Regis-Altoona sophomore Colin Boyarski in 29 seconds. In the finals, he was pinned in 48 seconds by Friemoth, and then had to survive a wrestleback to continue his season. He did that with a pin in 5:20 over Medford freshman Ken Pace (1-5). Neider will get St. Croix Central junior Devin Wasley (14-0) in his first sectional match.
This year's sectional will be a bit different, as only the top two wrestlers in each weight class will move on to the state tournament. The top three have advanced in the past, but the WIAA reduced the number of qualifiers at state due to COVID- 19 concerns.
This year's Division 2 individual state tournament will be held in one day on Feb. 13 at Adams-Friendship.
The Division 2 state team tournament will also be at Adams Friendship, on Feb. 20. Normally, regional champions square off against each other in 4-team sectionals, but that will not happen this season. Team points collected at this weekend's sectional meets will determine who makes the state team field.