Posted on
Colby woman will soon turn 100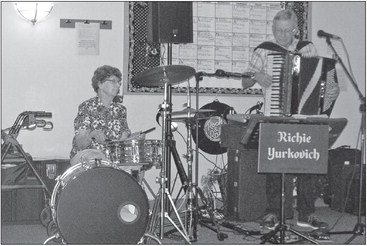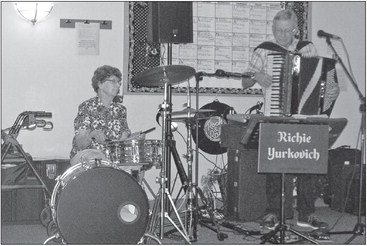 Bernice Horacek's birthday falls on 9/11, date of terror attacks
Music and dancing are the twin pleasures of Bernice Horacek's life, things she remembers the most about the nearly 100 years she's spent on this planet.
Whether it was meeting her husband at a dance hall or learning to play the drums so she could join his band, Bernice has always had a tap in her toe and a tune in her heart.
Even now, as a resident of The Waterford at Colby, she gravitates to programs that play her favorite waltzes and polkas.
"Nobody can bother her if there's music on the TV," says her daughter, Diane.
When Bernice turns 100 on Saturday, she'd love nothing more than to have live music for her birthday celebration.
Bernice was born on a farm in the town of Holton on Sept. 11, 1921, the youngest child of Frank and Alma Zahorka. Her her brothers, Art and Ervin, and her sister, Anna (later Haderlein) were a lot older than she was.
"I was way younger. I was a dropalong," she says, laughing.
Bernice's parents had owned a sawmill about five miles east and two miles north of Abbotsford on Holton Road. After it burned down, the family moved to Milan, where her parents rented a tavern and a little house behind it.
Bernice got her first taste of work off the farm when she got a job at the U.S. Post Office in Milan, while helping run the family business in the evenings.
"At night I tended bar because my folks had a tavern," she said. "That was fun."
Bernice fondly recalls the musical acts the bar would host as entertainment. At some point during this time period, she learned to play the concertina.
When asked what she did for fun back then, she's quick to respond.
"Oh, going to dances," she said.
It was at a dance hall that she met her future husband, Albert, who played the accordion in a variety of different bands.
Asked if her future husband asked her to dance, she casually says "I suppose."
"I don't know," she said. "It was so long ago."
Bernice and Albert were married on Aug. 26, 1941, and after that, they moved to a farm in the town of Rietbrock, where they farmed for a couple of years before buying the Zahorka family farm from Bernice's father back in Holton.
Bernice and Albert had three children, including Kathy Skrzypcak, Jerry Horacek and Diane Horacek.
Albert taught Bernice to play drums, and at some point, they formed their own family band, The Twilight Ramblers, along with Kathy.
The Ramblers played at many different dance halls, either for weddings or just general entertainment.
"I remember them always playing on New Year's Eve," Diane said. "They went to bars all over."
Diane remembers her mother as a hard worker, a farm wife who never stopped moving.
"She milked cows twice a day, she worked in the fields, she made homemade bread, homemade pies. Everything was homemade," she said. Bernice and Al farmed in Holton from 1944 until 1978, at which point they moved to a house on Sycamore Street in Ab- botsford.
At some point, Bernice used her talents in the kitchen to get a cooking job at the Abby Cafe.
"Everybody loved her pies," Diane said. "They were crazy about her pies."
After working at the cafe for awhile, Bernice followed her daughter into the nursing home business. Diane had gotten a job at The Colonial House in 1973.
"She heard me talk about how much I liked it, and then she quit at the Abby Cafe and got a job there, and was working there for 19 years," Diane recalls.
"Taking care of those old people," Bernice says about her nursing home days.
On Sept. 11, 2001, they were at the Rib River Ballroom celebrating Bernice's 80th birthday when the world was rocked by the terrorist attacks in New York City and Washington, D.C.
Thankfully, Bernice doesn't remember much about that day, though Diane recalls seeing cars lined up at the gas station in Edgar, as residents prepared for a possible gasoline shortage.
Bernice and her family have not let that tragic day 20 years ago redefine her birthday. Sept. 11, 1904, also happens to be the day her parents got married, so it's a significant date for her in more ways than one.
Bernice has amassed quite a living legacy, which includes 10 grandchildren, 30 great-grandchildren, eight great-greatchildren and two great-great-step children.
And, through it all, Bernice has never lost her sense of rhythm.
"She played drums about two years ago," Diane recalls. "Richie Yurkovich was here, and they let her play the drums."
Looking back, Bernice doesn't seem to have many complaints about her century of living.
"I had a pretty exciting life, didn't I?" she asks, knowing the answer is yes.