Posted on
An Outdoorsman's Journal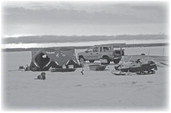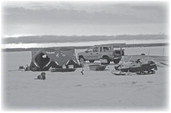 By: Mark Walters R Return to Little Bay de Noc Hello friends: This week I am writing to you about an ice fishing trip that I took with my good friend Doug Cibulka and my golden retriever Ruby. Back in 1997, I fished Upper Michigan's Little Bay de Noc for the first time. On that trip I was driving and sleeping in a Jeep Eagle and I did not catch a fish.
The following year I arrived with my Chevy pickup and I camped in a tent and caught a couple of walleyes in the 6-pound range. The following year many of the guys from my deer camp came up with permanent shacks and we would spend three weekends each year catching big walleye and laughing a lot.
Friday, March 5 High 38, low 2
On this day, the high was 56 in Necedah and 38 in Gladstone, Mich. With a trailer loaded with my 550 Polaris "Classic" and lots of gear, we drove on the ice as did hundreds of other people.
Doug and I had one goal, and that was to see at least one of us catch a walleye over 23 inches.
After building camp, which is the Eskimo "Fatshack," two cots, three propane lights, and a kitchen, we began watching the three tip-ups apiece that we had out.
Our neighbors living on the ice were from Wausau and Beaver Dam and both crews were seasoned veterans. Just before dark I had a flag, but no line was missing, and my minnow was fine. I reset it and five minutes later it was up again and this time, line was being pulled off the spool at breakneck speed. The fight -- and it was a great one -- lasted at least five minutes and in the end, I iced a 27-inch walleye and thus the Friday night shindig on Little Bay de Noc commenced and life was perfect.
Saturday, March 6 High 34, low 10, brutal wind Doug loves to fish and hunt, but so far, he had never caught a big walleye. This morning Doug had a flag which was followed by a great hand-to-line battle. In the end Doug iced a 26inch walleye that was his personal best and once again life was very good.
Our neighbors from Beaver Dam caught a 26 and I believe a 21. Our neighbors from Wausau had no luck.
Sunday, March 7 High 37, low 3 A side story would be the local bait shops and folks who rent out sleeper shacks. With the warm weather to the south, many of the clients have concerns and this would especially be a factor the weekend after this trip. Do you abandon ship and pull your shacks or do you stay the course? Getting sleeper shacks off from weak, thin ice can be scary. Losing the biggest weekend of the winter's revenue can also be scary.
We fished all day and tonight at 3:30 a.m., Doug had two flags and caught a 13-inch walleye. He now had caught more fish than me, but my comeback was, "Mine is bigger."
Our neighbors from Wausau had a great night and caught "eyes" from 21 to 31.5 inches.
The Beaver Dam guys had no luck.
I took my snowmobile off the trailer and both Doug and I explored the bay. Ruby is addicted to the ATV and snowmobile rides and if I get on one or the other, she is jumping on the seat.
At home she takes naps on the ATV if it is parked outside.
We stayed one more night and had nothing happen even though we stayed up until 4 a.m. In reality, after Doug caught his 26-incher, everything was bonus time and we pegged out the fun meter.
I just about forgot an important part of this trip: I was airing out my sleeping bags at home and forgot to pack them. On my cot when I tried to sleep, I froze my hiney off and it was brutal. Even more than usual I came home with great memories and was dead-dog tired! Sunset
Our camp on Little Bay de Noc.
Ruby loves snowmobile rides.
This walleye put a big smile on Doug Cibulka's face!