Posted on
Stratford Mini-Storage breaks ground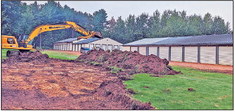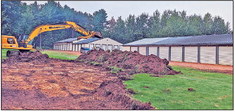 Bryan and Stacey Weichelt of Stratford are expanding the business they purchased one year ago, Stratford Mini-Storage, with the construction of another building with more rental spaces available to the public.
They recently broke ground on constructing another building with an additional 32 rental units available to the public on the property. The original building they purchased one year ago contains 60 rental units.
"We're excited to continue to invest our time and money into this community," Bryan Weichelt said. "Stratford is stronger than it's ever been, and we want to continue to be a part of that strength and growth." The couple sees their rental storage units as a long-term strategy, knowing there is a sustained demand for this type of service to the public.
"We're long-term planners who are always looking at the 10-year and 20year plans and thinking about the future of our five children, the oldest of which is entering second grade," Bryan Weichelt said.
People have already begun signing pre-leases for the new rental units that should be ready to use sometime in October. Bryan and Stacey Weichelt are expecting these new storage units to quickly fill up. That's because of this year's shift toward people partaking in outdoor activities that culminates in increased sales of boats, campers, RVs, side by sides, ATVs and other equipment.
Bryan and Stacey Weichelt also manage and operate the Stratford Farmers Market, which they founded in 2012. Both the Stratford Farmers Market and Stratford Mini Storage are members of the Stratford Area Chamber of Commerce.