Posted on
This paper is dated March ….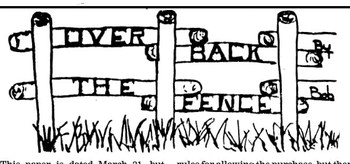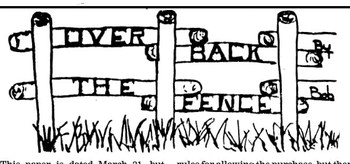 This paper is dated March 31, but many of you aren't going to be reading it until the first of the month. I promise no April Fool jokes, unless you consider this column a big joke.
By the time we get to the next issue we will have observed Easter Sunday and voted on Election Day. I guess if there is an election that has local interest it has to be this one. We elect our State Superintendent of Schools, members of the school boards, town boards, part of village boards and city councils along with mayors. These are the people who will see that things in our community are taken care of, so be sure to vote.
ÓÓÓÓÓ
The latest issue of the newspaper from Port Aransas arrived this week. Spring break is over for another year and things were pretty quiet.
The city council has finally solved some of the drinking problems of the past. They simply passed an ordinance prohibiting drinking on the beach after eight p.m.
The big news was out at the airport. A plane attempting to land got hit by a tailwind, which drove it into the runway as it landed. Total damage was estimated at $600,000. At first I thought, oh my gosh, but then figured anyone who could afford a $600,000 airplane should have had it insured.
ÓÓÓÓÓ
People are always putting pictures on Facebook, then wondering how many people can remember the item. Recently it was a picture of someone filling their car with gas and the fill pipe was located behind the back license plate.
I remember in the mid '60's when I was working for Erickson Holiday that was a pretty common thing. I guess the good thing about it was the ability to get at the fill pipe regardless of which side of the car was next to the pumps.
I don't know why the manufacturers do that. Seems like it would be confusing to the driver to remember which side to pull in and there is bound to be a mixup when you have cars going in either direction.
ÓÓÓÓÓ
The nation was in shock the last couple of weeks with the news of two shootings which took the lives of the eight people in the first incident and ten in the second. Right away some people are insisting on gun controls and regulations.
Sad to say, that isn't going to work. I heard on the news the other night, there are more guns than all the people in America. Even if you did come up with something, how would you ever get them picked up?
The problem comes from people who have an illness, or develop one that makes them a threat. Perhaps tighter rules for allowing the purchase, but then that wouldn't eliminate the problem totally.
At one point in our country's history, we locked people up in asylums, but that wasn't the answer either as you had people locked up that shouldn't have been.
Gun control always brings up the second amendment and our right to bear arms. However, when that rule was written, I believe we were still using a single shot musket. Would we want to go that far? I can tell you it works. I never hunted much, but I did bag one deer. With one shot. Seems the gun jammed so I couldn't shoot anymore.
ÓÓÓÓÓ
Last week I was sharing a story with you about an accident that happened in southern Idaho in an area I am very familiar with, The Magic Valley. The story just keeps going round and round. I shared with you that while I was attending my sister Anna's funeral, my brother-in-law Art and I were invited out for supper the night before we left at some friends of theirs.
Turns out they have a local connection. Anna had written about this lady who had just moved to Hagerman, which is just down the Snake River from where they lived at a church meeting. As they visited they realized they were both from central Wisconsin. It is quite a story how they ended up together, but the lady turned out to be a Schutte from Loyal. She had gone to work after school in Milwaukee. Then a young sailor from North Dakota, stationed at Great Lakes showed up in her life. They ended up in California, but on retirement, bought land along the Snake River.
That's how it came that Ethel Jo Schutte Gerber ended up meeting my sister Anna at a church meeting. When Anna found out she was from the Loyal area she shared a copy of the TRG with her. To her surprise she found Ken Neumann's column and to their surprise Ethel knew of him.
They got to be good friends and it was nice of them after Anna's funeral to invite Art and I over for the evening. That is how I ended up with the frozen trout that luckily made the trip back to Wisconsin carefully wrapped in newspaper in my suitcase.
Apparently plans and arrangements were made when they died that their bodies would be brought back to Wisconsin. Their graves are in what is called the Green Grove Cemetery. It gets a bit confusing since the cemetery just happens to be in Beaver township. Officially it is St. Luke's Cemetery and the church, which burned down in 1994, is in Green Grove township right across the road.