Posted on
Doris "Dori" Mae (Rykal) Marion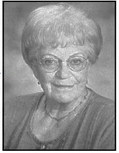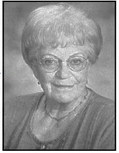 Doris "Dori" Mae (Rykal) Marion, 91, Chippewa Falls, died Tuesday, March 17, 2020, at Marshfield Medical Center in Eau Claire.
Doris was born June 20, 1928, in Cadott, Town of Goetz, the daughter of James and Katherine (Vavra) Rykal.
She attended St. Joseph Catholic School and graduated from Cadott High School.
Doris married John "Jack" Marion in 1948, at St. Rose of Lima Catholic Church in Cadott. They later divorced.
She worked at the Mason Shoe office, Thorp Finance and ITT. She worked as a dental assistant for Dr. C.H. Willkom in Cadott, and as a dental assistant at the Northern Center in Chippewa Falls, for 20 years.
For 17 plus years, she enjoyed playing guitar and singing in the choir at St. Rose of Lima Catholic Church guitar choir, and with the Holy Ghost Church guitar choir of Chippewa Falls.
She had 30 years of fun, as a member and guitarist with the Happy Wanderers folk singers in Cadott. They entertained at many social events and when in Nashville, Tenn., the highlight was being asked to sing on stage of the famous Ryman Auditorium.
After retirement, she spent 18 years playing guitar and singing at nursing homes in Altoona, Bloomer, Chippewa Falls, Colfax, Cornell and Menomonie, loving and enjoying the residents.
Doris' hobbies were gardening, painting and stained glass. She gifted many people with her beautiful stainedglass pieces. She spent many happy hours creating mosaic stepping stones with her children, grandchildren and greatgrandchildren.
She is survived by her children – Dennis (Brenda) Marion, Hallie, Jude Marion, Coon Rapids, Minn., Susan (Randy) Berg, Elk Mound, Terri (John) Buhrow, Chippewa Falls, and Jon (Tricia) Marion, Nashville, Tenn.; her grandchildren – Travis (Cindy) Wenzel, Elk Mound, Tim (Debbie) Marion, Chippewa Falls, Andy Korkowski, Menomonie, Kristi Korkowski, Coon Rapids, Minn., Kate (Luke) Schindler-Breitenbach, River Falls, Leann Buhrow, Dallas, Texas, Emily (Matt) Buhrow-Rogers, Fort Collins, Colo., and Christopher Marion, Jenika (Tim) Marion-Foust, Bryce Marion and Luisa Marion, all of Nashville, Tenn.; her greatgrandchildren – Bethany Marion, Knoxville, Tenn., Aubrie Olson, Coon Rapids, Minn., and Sydney and Sam Wenzel, Elk Mound; her brother – Gerald (Marge) Rykal; sister-inlaw – Donna Rykal, all of Cadott; many nephews and nieces; and other relatives and friends.
She was preceded in death by her parents; brothers and sisters-in-law – Bernard "Curly" and Geraldine Rykal, Leonard "Peanuts" and Hazel Rykal, James Jr. "Jimmy" Rykal, Ronald "Fuzz" Rykal and Shirley Rykal Kremer.
Doris will play guitar and sing in heaven.
Private services will be held at Horan Funeral Home in Chippewa Falls. Inurnment will be in the St. Rose of Lima Cemetery, Town of Sigel, at a later date.
Family and friends may express condolences online at horanfuneralhome.com. 87053