Posted on
Lousie Mae Kron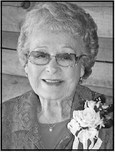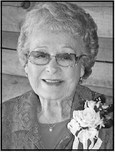 Louise Mae Kron, Conrath, passed away Thursday, Jan. 2, 2020, at the age of 94.
Louise was born to Henry and Minta (Gordon) Pake, Dec. 13, 1925. She was the second born of eight children.
Despite growing up in the Great Depression, Louise often spoke lovingly of her family and childhood memories.
Louise graduated from Holcombe High School in 1944, with Valedictorian honors.
She married Raymond Kron Dec. 9, 1944, and together, they had 10 children.
Louise retired as program director in December 1994, from Indianhead Community Action Agency, after 20 years of service. She also worked at the Chateau Supper Club and Foster's Steak House, where she was famous for her old fashioneds.
She enjoyed arts and crafts, was a member of the Red Hat Society and the Marshall Homemakers.
Louise was the proud mother of 10 children and devoted her life to raising her family.
She is survived by her children – Peter (Gayle), Dennis (Diane), Tom (Roxanne), Nancy (Bernie) Repka, Gary (Barb), Tracy (Gary) Kostick, Randy (Sue) and Jeanie (Dave) Dernovsek; daughter-in-law – Judy; son-in-law – Phillip Keiser; 38 grandchildren; 75 great-grandchildren; three great-great-grandchildren; and her brothers – Robert (Lorraine) Pake, Gilbert Pake and David (Paula) Pake.
She was preceded in death by her parents; her son – Phillip; daughter – Janet; and her sisters – Arlyn Haase, Lorraine Haase, Vivian Wallace and Joyce Cizek.
Her family will miss her dearly.
Services were held at noon, Monday, Jan. 6, at Trinity Lutheran Church in Sheldon, with Pastor Dean Herberts officiating. Family and friends visited from 10:30 a.m., before the service, Monday, at the church.
Interment will be in the Flambeau Cemetery in Holcombe.
Borton-Leiser Funeral Home in Cornell, is assisting the family.
Online condolences may be expressed at bortonleiserfuneralhome. com.
83668