Posted on
John R. Shakal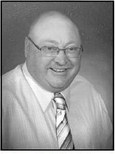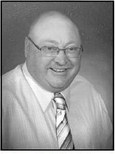 John R. Shakal, 59, Boyd, passed away peacefully at his home.
John was born March 14, 1960, to John and Annette (Etten) Shakal.
He graduated from Cadott High School in 1978, then from the farm business management course at Chippewa Valley Technical College in 1979.
John married Susan "Sue" Zimmerman, the love of his life, June 28, 1980. John and Sue settled on the family farm, where John ran the farm with his father, for the next 35 years.
They were blessed with a daughter, Kerrilyn, July of 1981.
John served as a member of the Cadott Board of Education, as well as secretary/treasurer for the Equity Co-op Livestock Shipping Association. He was also part of the Parish Council for St. Joseph's Church, Boyd, and the current sexton of St. Joseph's Cemetery.
He was also a supervisor for the Town of Delmar, as well as part of the Cadott FFA Alumni (past president), Knights of Columbus and Sons of a Legionnaire. He was also an active part of the Chippewa County Livestock Group and enjoyed watching kids exhibit their animals at the fair.
John took much pride in serving his community through the Cadott Lions Club, where he was the immediate past president.
He is survived by his loving wife – Sue; his adored daughter – Kerri; his parents – John and Annette Shakal; his sister – Roxanne Roth; brothers-in-law Joe Semanko, Keith (Wanda) Zimmerman, Dave (Kathy) Zimmerman and Dale (Michele) Zimmerman; sister-in-law – Karen (Carlie) Olynick; and many nieces and nephews.
He was preceded in death by sisters – Cathy Shakal and Patty Semanko; brother-in-law – Mike Roth; and mother and father-in-law – Esther and LeRoy Zimmerman.
A Mass of Christian Burial was held at 10:30 a.m., Monday, Oct. 14, at St. Joseph's Catholic Church in Boyd, with Father William Felix officiating. Interment was in St. Joseph's Catholic Cemetery, following the funeral mass.
Visitation was held from 4-8 p.m., with a 7:30 p.m. Vigil Prayer Service, Sunday, Oct. 13, at Leiser Funeral Home in Cadott. Visitation was also one hour prior to the funeral mass, Monday morning, at the church.
Online condolences may be expressed at leiserfuneralhome. com.
79795