Posted on
Harvest Days events on tap this weekend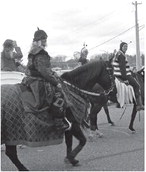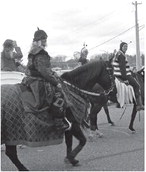 The Medford Area Chamber of Commerce and its business sponsors are inviting community members and visitors to take part in the annual Harvest Days celebration October 29-31.
The fun starts on Friday night with Adult Trick or Treating throughout the city of Medford. Adult Trick or Treating runs from 6 to 8 p.m. and participants are asked to stop at the Medford Area Chamber of Commerce to pick up a map of the participating businesses.
The grown-up fun continues from 8 p.m. to midnight, at Marilyn's Fire Station with the band Big Deeks playing. There will be a costume contest at 10 p.m.
October 30 is "Family Day" with a range of familyfriendly activities offered. From 9 to 9:30 a.m. there will be a chili cook-off and dessert bake-off judging. From 10 a.m. to 2 p.m., there will be events at Huey's Hideaway including candy bag decorating, free museum admission, and a 4-H Discovery Day. There will also be events from 10 a.m. to 2 p.m. at the Frances L. Simek Memorial Library in Medford. At 1 p.m. Zender the Comedy Magic Show will take place at the library and at 2 p.m. the Medford Area Fire Department will help with the candy drop at the library's lawn.
At 3:30 p.m. Broadway Theatre will be holding a family movie and from 6 to 9 p.m. the spooky path returns to the Medford City Park. From 6 to 7 p.m. the path is less spooky with the spookiness dialed up from 7 to 9 p.m.
On October 31, Parade Day, the fun begins at 10 a.m. with the Pumpkin Smash Fun Run. The run/walk event begins at 10 a.m. at Marilyn's Fire Station. There are prizes awarded for dressing up for the run.
From 11 a.m. to 2 p.m. the downtown parking lot on Whelen Ave. will become a food alley showing what local restaurants have to offer. It is a great opportunity to get a bite to eat before the parade starts at 2 p.m. Participating vendors and their food items include: Marilyn's Fire Station — Chicken dinner; 8th Street Saloon — Grilled cheese and tomato basil or chicken noodle soup; Grandpa Choo Choo's — Kettlecorn; Taylored Nutrition — Slimmer Tea or Pennywise Tea. Also participating on Main Street are El Pueblito and Uncommon Ground.
The annual Harvest Days parade begins at 2 and the route runs along Park Ave. to Perkins St. to Main Street ending by the Frances L. Simek Library. A Sensory Friendly Zone will be at the Medford Area Chamber of Commerce while an Elderly Zone will be set up in the parking area across from Abiding Care on North Main Street to allow senior citizens to watch the parade from their vehicles.
City of Medford Trick or Treating will take place following the parade until 6 p.m. in the city of Medford.