Posted on
Let them eat pie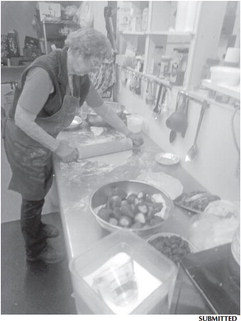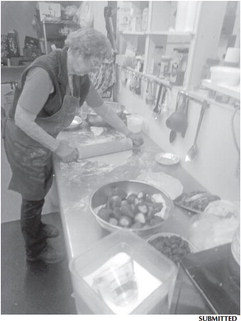 Making a pie would seem like it should be a simple task.
You roll out the dough, put it in a pan, fill it and bake. Simple right?
For anyone who has attempted to make a homemade pie from scratch, you know there are a hundred variables that can have your creation destined for the garbage pail.
The master pie maker is equal parts artist and engineer, building a delectable creation that is a delight to all the senses. Carol Mantik is a master at making pies, and judging by how quickly they are going from the ovens at Rocky's Cozy Kitchen into peoples' homes and stomaches, the community is starting to become more aware of it too.
Like other restaurants, Rocky's has had to adapt to the restrictions due to the COVID-19 switching to an all to-go menu. An unexpected side of this said owner Rocky Mantik is the number of people who are adding his mother's made from scratch pies to their orders.
"We can't keep them," he said, noting that the pies fly out the door with orders. He said there is something about pies that make people feel comfortable and reassured.
Carol Mantik has been helping out at the restaurant for the past several years. Many of the baked goodies on sale there are her creations and she has a solid and growing fan base who seek out her cookies and other baked goods from jumbo homemade cookies, homemade rice crispy bars, sweet rolls and muffins. "She is the baker queen," Rocky said.
Carol Mantik is not picky about what kind of pies she makes and enjoys sharing. She makes pies of all sorts include special orders.
"If you name it she can make it," Rocky said, noting that if he had to choose one that was a favorite it would be coconut.
He noted that lately the strawberry rhubarb has been a big favorite among customers.
In addition to offering many different flavors and types of pies, they also produce different sizes of pies.
"We do a 6-inch pie which I call a personal pie just the right size for one or two people and a 9-inch which you get about six nice slices from," Rocky said.
People wanting a special pie to go as dessert with their Friday Fish Fry or Sunday dinners are cautioned to call earlier in the week to order one because they go fast.
A pair of pies lemon meringue pies fresh from the oven.
Carol Mantik is wellknown for her baking skills