Posted on
Harvest Days gets underway this weekend in Medford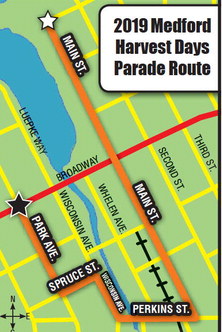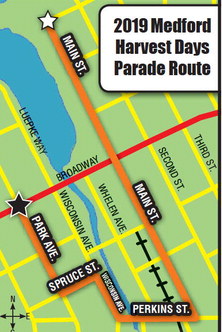 Fun-filled weekend planned with activities for young and old
BY BRIAN WILSON
NEW EDITOR
The Medford area is gearing up for the annual Harvest Days celebration hosted by the Medford Area Chamber of Commerce (MACC).
The annual event promises something for all ages from youngsters to those who are young at heart. Events run October 25 to October 27.
Adults get in on the fun on Friday night with Adult Trick or Treating from 6 to 8 p.m. Area businesses are opening their doors to costumed revelers. A map of participating businesses can be picked up at the Medford Area Chamber of Commerce office. The band, "Big Deeks" will be performing at Marilyn's from 8 p.m. until midnight with a costume contest at 10 p.m.
Saturday is Family Day for Harvest Days with many family-friendly activities planned.
The fun begins at 7 a.m. on Saturday morning with the 5K Family Run/Walk. Registration opens at 7 a.m. with the walk at 8 a.m. Pricing for individuals and families with all participants receiving a long-sleeved shirt.
From 9 a.m. to 1 p.m. there will be Touch-a-Truck along Main Street from the Chamber office to the Frances L. Simek Memorial Library. A fire truck, police car, city truck, army vehicles, SWAT vehicles will be there and a Medivac helicopter is scheduled to land near the library.
From 9 a.m. to 2 p.m. there will be continuous hay rides with multiple stops along Main Street. At the library there will be storytime and crafts at 11 a.m. At 1 p.m. Feet n Motion will perform at Medford Area Middle School and there will be a candy drop for age groups at the library.
Along Main Street from 9 a.m. to 1 p.m. there will be an animal show in the mini park along with face painting in front of Uncommon Ground. The event will also include free admission all day at Huey's Hideaway Children's Museum.
At 11 a.m. the annual Chili Cookoff and Harvest Dessert Contest will be judged at County Market.
That evening, the Project 90s Prom will be held beginning at 6 p.m. The 21 and older event will begin at The Sports Page and end with a dance at The Bailiwick. Tickets are available at hueyshideaway.org On Sunday, the fun continues with Main Street opening at 11 a.m. with street performers including Glen Gerrard Walking Magician, Derrico's Black Belt and costumed characters. There will also be a number of craft and business vendors along Main Street.
This is all leading up to the annual Harvest Days Parade which begins at 2 p.m. The parade route is slightly changed this year because of the State Street bridge project and work being done on Wisconsin Ave. The route begins on Park Ave. at the Hwy 64 intersection. The route continues south to Spruce St. where it turns east until Wisconsin Ave. it then goes south to
MAIN
2019 Medford
Harvest Days
Parade Route
ST.
LULUEPEPKEKE LUEPKE WAY WAYAY THIRD SECOND ST.
OADWAY BRRB BROADWAY ST.
WHELEN NAVE.
WISCONSIN
PARK
AVE.
AVEE.
AVE.
ST.
AR
N S W E
2019 Harvest Days Parade Route START END
Ongoing construction work on Wisconsin Ave. is causing a detour for this year's Harvest Days Parade.
Perkins St. before turning north onto Main St. and continuing to the library.
New this year, the MACC is sponsoring a sensory friendly zone for those who enjoy watching the parade but are overwhelmed by the noise and sensations. These individuals are invited to come inside the Chamber Office and watch through the windows.
There will also be an "elderly zone" across from Abiding Care on North Main St. where older individuals are invited to park and watch the action from their vehicles.
As in past years, following Harvest Days parade, the city of Medford Trick of Treating for youngsters will take place until 6 p.m.
ST.
WISCONSIN
AVE.
MAIN
C ST.
WHELEN SPRUCE AVE.
PERKINS ST.
AVE.