Posted on
Cornell School Board; Everyone jumps in to create a successful district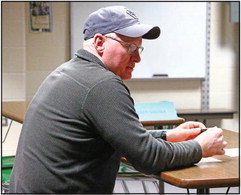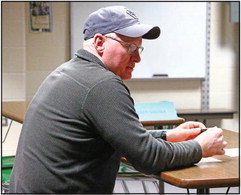 Jamie Close, Cornell School Board vice president, listens during a meeting Jan. 24, to reports of how classes are going now that the new year has come and gone. Photo by Ginna Young
By Ginna Young
It hasn't been a school year without challenges, any school district will attest to that, but for the Cornell School District, it's been fairly smooth. During the Board of Education meeting Jan. 24, superintendent Paul Schley reported that everyone is trying to be in-person as much as possible, although it has been a little tight for subs once in a while.
"We're making it through," he said. "Life's pretty normal, considering."
Middle/high school principal Dave Elliott agreed, saying that he constantly witnesses people filling in where needed.
"Our people just jump in," said Elliott. "In a small school, you have to do everything, otherwise, you can't make it."
Schley said he was very impressed, when he asked the staff where they would like to use the three extra days built in so they don't have to make up snow days. Elementary teachers said they wanted the days after state testing in April. "They want the kids every day they can, before that test, so they can teach them more," said Schley. "That's just how they're wired here. They just want to do well."
Board treasurer Stephanie Seidlitz also said the administration does an outstanding job of leading the district, which she, as a parent, appreciates.
"You guys care a lot," said Seidlitz. Elliott also reported on something the district is working on to increase student opportunity. Recently, junior Blake Anders did a project on the CNC Harp that is still fairly new to the district, where he engraved a basketball with his initials.
"We're starting to get that up and running," said Elliott, adding they need to figure out how to implement that with the students. "The more that we can do to replicate what's out there with manufacturing, the better our people are going to be able to walk out and earn a living wage."
In the business portion of the meeting, the board accepted the resignation of assistant softball coach Paul Clark, as well as agreeing to no caps on open enrollment. That's something each district has to decide on each January, whether or not to limit the amount of students.
"We'll take anybody who wants to come here," said Schley. "We'll figure out a way to make it work."