Posted on
Crosby paving the way for more educator certifications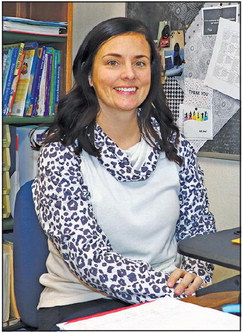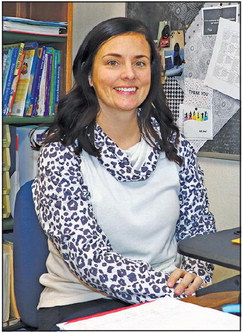 Nicole Crosby, Lake Holcombe School guidance counselor, sits with an open door to students in her office and an open door in the professional realm, now that she's completed National Board Certification. Photo by Ginna Young
By Ginna Young
It's not an easy feat, but it's one Lake Holcombe School guidance counselor Nicole Crosby has mastered – National Board Certification. National Board Certification is the most respected professional certification available in education and provides numerous benefits to teachers, students and schools.
The certification was designed to develop, retain and recognize accomplished teachers, and to generate ongoing improvement in schools nationwide. Crosby, in her 12th year of counseling, began the certifying process two years ago, where she needed to complete a massive portfolio of components. Starting out, Crosby began the process with just one component to see if that was something she wanted to complete, as the fee is $475 for each component.
Educators can qualify for a stipend at the end of certification, although that doesn't mean the matter is cut and dried.
"But, there's no guarantee you'll certify," said Crosby. With the first component under her belt, Crosby decided to jump in and do all of the remaining three last year, after she was hired at Lake Holcombe in January 2021. It might not have been easy, with a new baby on the way, a toddler at home and starting at a new school district, but Crosby forged ahead and finished her components.
Because it takes a long time to compile the results, the notification that she passed wasn't received until Dec. 11, 2021. For example, one such component was an exam, while others are film of Crosby and how she works, so she can analyze her response to individual and group sessions.
All that is designed to make a counselor better at their job, which creates a better environment/experience for students.
"Teachers can do it, too, it's just a little different when they do it," said Crosby, adding doors will open once the certification is complete and if she stays certified. "I think it kind of varies from person to person, in how they end up using it."
As part of her certification, Crosby is eligible to apply for grants and, of course, the stipend to help recoup the money spent, but there's more to what she wants to accomplish, aside from money.
"For me, it was more like a professional development opportunity, where I learned so much," said Crosby. "I learned way more in that, than I did in my master's program."
With what she's learned, Crosby is now taking things and putting them into practice. It also gives new perspective with assessments and making sure parents/students are on board with goals.
"It ultimately makes me a better counselor, just by doing that stuff," said Crosby.
She's never wanted to just be a guidance counselor, which Crosby has proved, by sitting on the Rural Council Advisory Board for the state, to bring a voice to rural, small communities.
For now, she's still trying to get to know many of the students in high school and sitting down with them, even as early as freshman year, to formulate a plan for what they want high school to look like. From that, a career future is modeled.
"I'm really working to get my program where I want it to be," said Crosby. "I'm impatient, I have a vision of where I want my program to be."