Posted on
Abby-Colby wrestling goes 1-1 in Thorp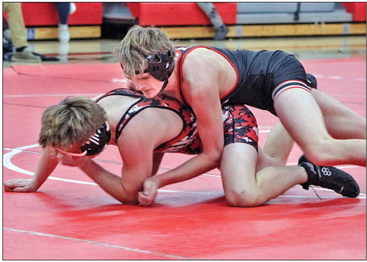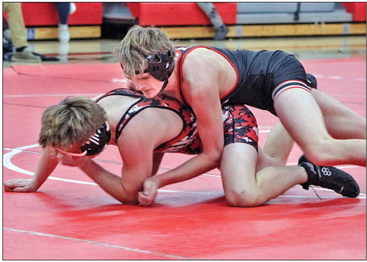 The Abby-Colby wrestling team traveled to Thorp last Thursday for a triangular meet. They faced off against the hosting Thorp/Owen-Withee combined team and athletes from Stanley-Boyd and came out of the evening 1-1, defeating the Thorp/Owen-Withee co-op 42-22 but losing to Stanley-Boyd by a final of 45-24.
As a team, the Abby-Colby wrestlers had moments of dominance in both matches but forfeits plagued the team overall. Against Stanley-Boyd, Abby-Colby started out in a 18-0 hole after Erik Martinez and Levi Dommer both lost via fall against Dylan Seichter and Willy Graham and a forfeit at the 195-pound weight class in the first three matches.
With his team needing a victory, Abby-Colby wrestler Luis Nava Rojas was on the verge of pinning his opponent multiple times throughout his match against Damian Seichter at the 285-pound weight class. Seichter withstood Nava Rojas' advantages and found himself in a favorable position during the final period, which ultimately resulted in a pin of Nava Rojas and six points for Stanley-Boyd.
The 12-point swing gave Stanley-Boyd momentum and confidence heading into other matchups as they used forfeits and pins to come away with the victory. Forfeits helped Abby-Colby topple Thorp/ Owen-Withee in the second leg of the triangular, spoiling parents' night for the Cardinals. In total, four forfeit victories from Abby-Colby provided the edge it needed to get past Thorp/Owen-Withee.
The Abby-Colby club had four wrestlers win both their matches on Thursday. Brayden Meyer and Tristan Smazal came out of the evening undefeated after taking down two opponents. Meyer claimed victory over Stanley-Boyd's Caiden Paul and Thorp/Owen-Withee's Colin Dallman, pinning both. Smazal also won both of his matches by fall, taking down Justin McManus from Stanley- A-C
Boyd and Steven Williams from Thorp/ Owen-Withee.
Jacob Hoppe also went 2-0 on the day, defeating Brodric Westrom from Stanley-Boyd by fall and then getting a forfeit in the Thorp/Owen-Withee match. Matt Jakel also had two wins, both of which coming by forfeit as neither team had any athletes in the 106-pound weightclass.
Levi Dommer also got a win for the Abby-Colby co-op, pinning Thorp/Owen-Withee's Wyatt Wulff in the 220-pound weight class.
The Abby-Colby team will be hosting the Cloverbelt conference tournament this Saturday. Athletes from all ten of the opposing Cloverbelt teams will be in town to try to put their mark on the final tournament before sectionals. The event is to begin at 9 a.m.