Posted on
DNR officials continue effort to monitor CWD prevalence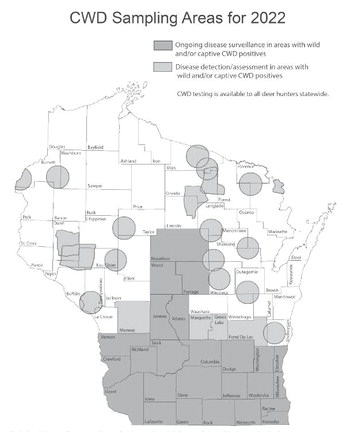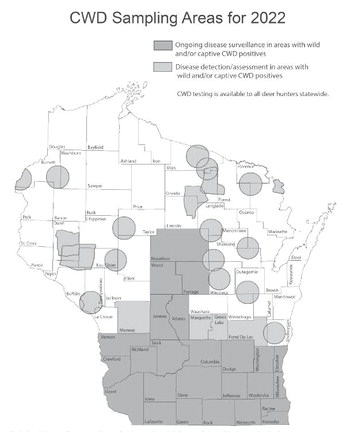 BY MATT FREY
THE STAR NEWS
The 2022 deer hunting season, unfortunately serves as the 20-year anniversary of the first detection of chronic wasting disease in a Wisconsin white-tailed deer.
Since that first detection in 2002, the disease has slowly but steadily reached most areas of the state, with the exception of the far north and far eastern parts of the state around Green Bay.
As the deer hunting season hits its November peak with crossbow and archery hunters targeting deer during their mating season in the early parts of the month and the nine-day gun season set to start on Saturday, Nov. 19, Wisconsin's Department of Natural Resources is reminding those hunters that their willingness to test the deer they harvest for CWD is vitally important to monitoring the disease within the state's borders.
"There are multiple reasons that the DNR is interested in getting the information from deer that are tested and it leads to other actions we can do to help prevent the spread of the disease," DNR Wildlife Health Conservation Specialist Amanda Kamps said in a briefing with statewide media on Sept. 29.
"We're just trying to help hunters make informed decisions that fit their expectations, their concerns and risk considerations," DNR deer program specialist Jeff Pritzl said in the same briefing.
CWD is an always-fatal contagious neurological disease that affects the nervous system of deer, elk, moose and caribou. The disease can spread through contact with an infected animal's saliva, urine or feces. It can also spread indirectly through exposure to a contaminated environment. CWD prions are extremely resilient and can stay in the soil for a long time, making containment of an affected area a challenge.
Eating venison from an infected deer has not been proven to have any effects on humans but, as a precaution, the Wisconsin Department of Health Services (DHS), Centers for Disease Control and World Health Organization recommend against consuming meat from deer that test positive for the disease. Because infected deer can look healthy, DHS encourages testing for the disease regardless of your harvested deer's physical condition, especially in areas where CWD is known to be present.
"CWD testing is available to every hunter wherever they are located in the state," Kamps said. "We do also put together an annual surveillance plan so there are certain areas of the state where we are interested to collect a good number of samples. It lets us know what's going on with the disease in an area and has some other surveillance actions in those areas as well."
One of those surveillance areas is in southwestern Taylor County where, for the second consecutive fall, the DNR is hoping to get a high number of samples tested in response to the 2021 detection of CWD-infected deer on the since depopulated Maple Hills Farm near Gilman. There is a surveillance area in southwestern Clark County that extends into eastern Eau Claire County. Ongoing surveillance continues throughout Marathon County as well.
Pritzl said in an Oct. 31 interview on a WisconsinEye Newsmakers podcast, the
See PUSH TO TEST on page 8 Push to test for CWD
Continued from page 3
statewide goal each year is to test about 20,000 deer.
"We tend to land around 18,000 to 19,000," he said. "It was down just a little bit last year because that antlerless harvest dropped and proportionally our sample sizes probably followed that. If we're hovering around or close to that 20,000 samples I think we feel like we're doing good."
The DNR is promoting four ways to submit samples for testing.
  Self-service kiosks that are open 24/7. Kiosks have supplies for hunters to drop off their adult deer's head with 5 inches of neck attached for testing. This is a great option for antlerless deer or any deer that has already been skullcapped or caped out by a taxidermist. Hunters can find a location near them by checking the DNR's CWD sampling webpage (https://dnr.wisconsin.gov/topic/ WildlifeHabitat/registersample.html). The site also lists carcass disposal options that are available for hunters.
Hunters are urged to check the site often for updates as sampling sites and carcass disposal sites often get added in November prior to the start of the nineday gun hunt.
"Just because you may not see a location on the map right now doesn't mean that there won't be one in a certain county or in a city as we get further on into the hunting season," Kamps said. "I can't say it enough, just check that map regularly for information on those sampling locations and the deer carcass disposal locations."
  In-person with cooperating meat processors, taxidermists and other businesses. These can also be found on the CWD sampling web page. This is a great option for hunters with a deer they intend to mount. If your taxidermist is not a cooperator, ask for the caped-out head back so you can drop it off at a kiosk. Meat processors/other businesses can collect the deer head for sampling later or remove the lymph nodes at the time of drop-off.
 At-home lymph node sampling.
These kits are available for those interested in collecting their own CWD sample and for hunters who are unable to stop by a kiosk or cooperator within a day or two of harvesting a deer. Hunters can extract the retropharyngeal lymph nodes using an instruction kit provided by the DNR or picked up at a self-serve kiosk and return them to the DNR or a kiosk for testing.
 By appointment with local DNR staff. This is a good option for hunters who want to have a European mount done. Hunters can contact their local wildlife management staff to schedule an in-person appointment.
When submitting a sample for testing, try the DNR's online CWD form to complete the process. Hunters can access the form in their Go Wild harvest history after registering their deer.
Hunters who do decide to get their deer tested are required to fill out an electronic form as they register their deer on the DNR's GameReg system (gowild. wi.gov/wildlife/harvest) prior to submitting the sample.
Kamps said the standard wait time for results to come back remains about two weeks. It can be quicker in slower hunting periods. It might be a little longer during the gun harvest.
Baiting bans
Hunters are also reminded to be certain of where baiting and feeding bans are in place.
Currently, bans are in place in Taylor, Chippewa, Clark and Marathon counties. Lincoln County's ban was lifted in October. Price and Rusk counties are among the nearby counties that do not have bans in place.
An up-to-date map is available on the DNR's website at https://dnr.wisconsin. gov/topic/hunt/bait.html.
"Everyone should be checking their baiting and feeding information regularly throughout the season," Kamps said. "If any additional CWD positive detections are made whether it's in wild deer or farm-raised deer, that can change. End dates can be extended or it can put into place some new baiting and feeding bans. Check that information regularly throughout the season."
For those hunting on areas and properties where deer population reductions are a priority, hunters are reminded that Wisconsin's Deer Donation Program is a great option if they find they have an excess of venison. All of the necessary information on the program can be found at https://dnr.wisconsin.gov/topic/hunt/ donation.html, including a list of participating processors and any requirements they may have as they pertain to CWD.
"You can still contribute to that even in counties that are considered to be affected or watch counties," Kamps said. "There is a list of counties on our website that will either require adult deer be tested or all deer from a county to be tested. But just know that you can still participate in that program even if the county where you're in is CWD affected."