Posted on
Raiders don't quit, but early deficit too much to overcome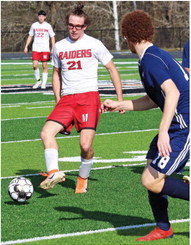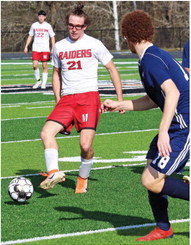 WIAA DIV. 2 STATE BOYS SOCCER
The defense that had been so air-tight for the Medford Raiders finally leaked for a moment Saturday, but they nearly overcame it in the program's first-ever WIAA state appearance.
Two goals by senior Owen Wipf got the Raiders close after they fell behind 3-0 less than 30 minutes into the Division 2 semifi nal contest played in Marshfield and the Raiders certainly had momentum on their side at times in the second half.
But Manitowoc Roncalli-Two Rivers wouldn't budge down the stretch and held on to its 3-2 lead to advance to that night's championship game and ending Medford's magical 8-0-1 run that made the team a sectional champion.
"These guys played with a ton of heart today," Medford head coach Nate Bilodeau said after the loss. "They're resilient. They don't let anything get in their way. Coming back at halftime, I told the guys this game's not over. We've only played one half. To come back from down three goals to score two on them, keep them on their heels, I'm just extremely proud of the way these guys played. Three goals is a lot to come back from and these guys were ready to make a run at them."
The shortened season ended at 10-4-1 for the third-seeded Raiders. The Jets (14-1-1) later won the state title by knocking off Sauk Prairie 2-0. The fourth-seeded Eagles (11-3-3) got to the championship by upsetting top-seeded Delavan-Darien 2-1 in the day's second semifinal despite getting outshot 26-3. Delavan-Darien finished 11-3.
A three-goal flurry in a span of just under 14 minutes ultimately sealed Medford's fate on an incredibly warm and sunny November day. The Raiders cut the deficit to 3-1 by halftime and got within 3-2 with plenty of time to get the equalizer. Despite their best efforts, that goal just never came.
"At halftime, obviously we tried to lift the team up," said Wipf, one of the team's co-captains. "We had come up with things we had to work on that would help us come back in the second half. When that second goal went in, when we got that penalty chance, in my head I thought one more, that's all we needed. Just one more. It didn't come, but I was still confident even though we didn't get the win, I'm proud of the team."
Roncalli-Two Rivers outshot Medford 11-4 in the first half, with eight of the Jets' shots being put on goal as well as three of Medford's.
The first big chance for either team came at 5:50 when Medford goal keeper Brady Hupf grabbed the ball just before the hard-charging Andrew Novy got to it about 10 yards in front of the net. The Raiders had a couple of good pushes between the 10th and 12th minutes, but were unable to get anything on goal. A shot by Kale Klussendorf at 11:25 sailed high.
The Jets broke into the scoring column at 15:46 when their leading scorer, senior Tyler Bonin fired a shot from about 20 yards out that Hupf made a terrifi c diving save on going to his left. But Novy was there for the rebound and got it past Hupf for a 1-0 lead.
That was the first goal Medford had allowed since the final minutes of a 2-1 win at Mosinee on Oct. 1.
"Soccer is a momentum game," Bilodeau said. "That first goal kinda broke the ice for both teams I think. It kinda opened the gates for them and it built that confidence, but at the same time it allowed us to get past it. Sometimes that first goal, there's so much anticipation and once you get past that first goal, we were able to slow down. We played much better in the second half of the first half leading into halftime."
Two costly breakdowns came in the 29th and 30th minutes. At 28:06, Jet Brett Simmer created his own attack by stealing the ball, dribbling a few yards and catching Hupf out of position for an unassisted goal. At 29:35, the Raiders were unable to clear the ball in a scramble in the box and Novy finally got a foot on the bouncing ball and put in a point-blank shot.
"Mental mistakes was a big thing," Wipf said. "We had defensive errors obviously, but everyone else on the pitch could've done better too to prevent those. When that first one went in, it was tough for some of us. Then, especially with the second one, it's tough not to hang our heads. We knew we just had to slow the game down, possess the ball and we'll gain confidence and get a shot."
The shot of confidence Medford needed came from Wipf. At the 37:27 mark of the opening half, he took a pass from Ty Baker near midfield and made a hard charge through the middle of the defen- sive formation. Just as got inside the football field's 20-yard line, he took his shot and the ball found its mark just inside the right post.
"Ty got me in the center of the pitch," Wipf said. "I dribbled it to about the 20yard line and I didn't get the shot I wanted, but I did get on target and the goal keeper was kind of out of position and I slotted it in. I was proud of that one."
The final 7:33 of the half featured strong offensive pressure from the Raiders as three corner kicks were denied by the Jets and a nice pass from Gabe Felix to Klussendorf with just over a minute left was broken up by the Jets' defense at the last moment.
Hupf started the second half by saving a shot that had a shot at getting under the crossbar and he got the save on a corner kick chance. The Raiders just missed connecting with the sprinting Gage Neubauer for a potential breakaway in the 53rd minute, but at 55:34, Wipf was fouled in the box on his charge toward the goal, giving Medford a penalty kick.
Wipf earned the chance to take the shot and he didn't miss, hitting the top right corner.
"I felt the pressure but I was confident," he said. "I won that penalty on the ground and I was like, 'coach let me have this.' I thought to myself, no second guessing yourself. I didn't and I put it top end."
"Owen's got the most experience on the team and obviously the most leadership of all these guys and that's the reason he's a captain on the team," Bilodeau said. "We really look to him to take that leadership role. Tense situations like that where we're down goals, we're not winning, you have to lean on your captains. They can't all hear me. They have to have that voice on the field. That's why we have Zach (Rudolph) and Owen. Owen stepped up big today, played the game of his life. Honestly, all the guys did. All the guys played so well."
The Jets broke up a couple of pushes by Medford with 20 and 15 minutes left. Roncalli-Two Rivers thought it had the clincher at 79:01 when Simmer scored off what appeared to be a botched punt by Hupf, but the officials ruled he was interfered with by the Jets on that punt and the goal was waved off. Colton Gowey alertly cleared the ball out three minutes later on a developing scoring chance.
Jet Vincent Harrison broke up a potential through ball by Medford at the 85-minute mark. Joseph Witczak made a big tackle on Wipf as he drove toward the net at 87:40. With just over a minute to go, Aaron Schield nearly connected with Klussendorf on a pass that had a chance to lead to something good.
"This team is relentless," Bilodeau said. "There's no way that anything is going to stand in their way. Being down three goals didn't even faze them. At halftime, nobody was hanging their head. Nobody was saying we're down, we're out, we're not going to win this. Everyone stepped up and we stuck it to them in the second half."
The final stats showed Roncalli-Two Rivers with a 19-5 edge in shots. Hupf was credited with eight saves and Greg Oberbroeckling had two for the Jets. Both teams had four corner kicks.
While it didn't end the way they would've liked, Bilodeau and Wipf said the week was one the Raiders won't soon forget.
"It's surreal. It's awesome," Bilodeau said. "Every single practice at least one guy said, 'coach I can't believe we're going to state.' I don't know that it ever really sank in."
"I'm so proud of the team," Wipf said. "I mean, small town Medford doesn't make it to state often. Second-year coach, started 1-3 and we still made it here. I'm proud of the team for making it here. I thought we played a pretty good game, so I'm proud of the team. I think we proved that we deserved to be here. It was a fun year."
The team says goodbye to five key seniors –– Hupf, Baker, Wipf, Gowey and Ethan Swiantek –– but should bring back a solid nucleus of experienced players for the 2021 season, which they hope will be held in more normal circumstances.
"We only have five (seniors), but they will be five greatly-missed players," Bilodeau said. "They're going to leave a lot of holes. ... What I'm really excited about is the fact that these young guys got to play with those older guys and got some valuable experience watching them and learning the ropes so to speak. These leaders on the team, the seniors, they really stepped up and led this year and really took those guys under their wings. So I'm confident that next season these guys will be able to take a lot away from this season."