Posted on
STANDING OUT AT SMILEY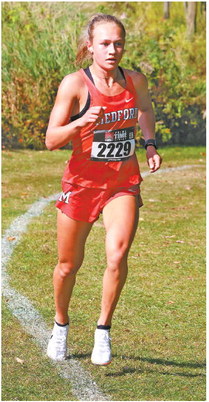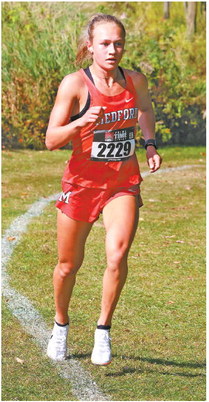 SMILEY CROSS COUNTRY INVITATIONAL
Richter wins D1 girls race; Raider girls, Hawk boys place well
Advertised as a meet that provides the best competition for the greatest number of racers, the 67th annual Bill Smiley Invitational at Wausau East certainly provided that needed competition Saturday to local squads from Medford and Prentice-Rib Lake.
Particularly for Medford standout Meredith Richter, who had gone unchallenged in her first four races of 2023, a good test was not only needed, but wanted. Safe to say, the senior aced that test.
Richter won the girls Division 1 championship in 18:59.5, a time that lowered her school record for a girls 5K course seconds and won Saturday's race by an impressive 17.9 seconds over Waunakee's Cianna Wipperfurth and 18.3 seconds over Kaukauna's Sydney Fauske.
Richter became Medford's first divisional champion of a girls race in Smiley Invite's long history. Three Medford boys have won individual titles, Evan Lewandowski won the Division 1 Small title in 2009, Jarod Rudolph did the same in 2015 and Joey Sullivan won the Division 1 Small race two years ago.
"I liked it," Richter said of the competition. "I know last year my race here I took like third or something, but it wasn't a good race. This year, I felt like I know what I did wrong and I know I can win it. That's what I told myself."
As for the team, which hadn't been tested either in its first four meets, the Medford girls finished ninth in the overall Division 1 standings but, more importantly, were second among teams placed in the Division 1 Small category. In actuality, most of these teams will compete in Division 2 in the post-sea­son, including Shawano, who outscored Medford and will face the Raiders again in the Oct. 21 sectional at Colby.
More than a mile into the race, Richter was in a lead pack of six runners, but as they approached the two-mile mark, she separated from that group and set her own pace.
"When we were all packed up at the mile I was like, OK, this will be fun to see how this plays out," she said. "We hit the mile and I was like, this is what I'm usually at, maybe a little bit faster. But they were all dead. I just held my pace and worked my way in front with the Madison West girl (Celia Wallace). I was with her for a little bit. Then at the one and a half I was like, I can take her here. Her coach was like, 'you can get her' and I was like 'no she can't.'" From there, Richter pushed to the finish to beat her Smiley time from 2022 by about 41 seconds and her school-record 5K time from last Sept. 29 by 15.4 seconds.
"There are some hills right after the two-mile and they just kill you," she said. "There's two of them. It's awful. But that's the mental part. You have to tell yourself, you've got this. After that, you're basically done."
Lindsay Kahn had her second straight strong Saturday, finishing 34th in the Division 1 field of 126 runners in 21:01, one second better than her personal-best time of a week earlier at Colby. Mallory Richter filled Medford's third scoring spot with her second straight personalbest time, 21:46.1, which was good for 56th place.
Senior Ella Daniels was 67th in 22:15.3 and sophomore Morgan Liske was the fifth scorer, taking 74th in 22:27. Ella Dassow's time of 22:41.8 was her best of 2023 so far and good for 78th place. Freshman Willow Dassow posted her best time in five meets at 22:58.4, which put her in 82nd place, and senior Kylie Potvin got a chance to run with the varsity and took 106th in 24:40.7, not far off her seasonbest time from a week earlier.
In the overall Division 1 standings, Madison West was the team champion with 52 points. The rest of the top 10 included Kaukauna (79), Stevens Point (111), Waunakee (118), Shawano (157), De Pere (158), Wausau West (176), Eau Claire Memorial (188), Medford (219) and Wausau East (316).
When scored against only Division 1 Small squads, Shawano outscored Medford 32-54, while Wausau East was a distant third with 93 points. Kahn ranked fifth, Mallory Richter was 15th, Daniels was 17th, Liske was 19th, Ella Dassow was 22nd, Willow Dassow was 25th and Potvin was 40th.
The relatively friendly course and the competition pulled Medford's boys to several season-best times as well Saturday. The Raiders finished 15th out of 21 scoring teams overall in Division 1. Broken down by Small Division, the Raiders were sixth out of 10 scoring teams.
Trying to hang with the leaders as best he could, senior Tanner Hraby finished 21st overall out of 161 runners and seventh out of 67 Division 1 Small competitors in a season-best 17:07.9, 1.8 seconds ahead of his Colby time a week earlier. He was just a half-second out of the top 20, just behind Waunakee's Cooper Ubert and about 10 seconds off his personalbest run from last fall's state meet.
Senior Logan Gubser was 87th overall and 41st among Division 1 Small runners with a time of 19:04.5 that was a second best by 39 seconds. Nick Steliga was 94th and 42nd in 19:17, a season-best by almost 27 seconds.
Brandon Curtis came in 114th overall and 50th in the division at 19:36.8 and freshman Peyton Ried was Medford's fifth scorer at a season-best 19:48.5, good for 121st overall and 54th in the division.
Hudson Briggs cut 19.6 seconds to finish in a personal-best 20:46.1. He was 141st and 64th. Will Daniels was 144th and 65th in a personal-best 21:11.4 and Evan Pagel was 147th and 67th in a personal- best 21:29.2. De Pere sophomore Grady Lenn was the Division 1 overall champion with a speedy time of 15:25.7, while Bode Erickson (15:58) and Cooper Erickson (16:04.8) of Stevens Point were second and third. Lakeland's Owen Clark was fourth overall in 16:09.9 and the Small Division 1 champion, just ahead of Quinlan Andrews of River Falls (16:17.8).
The overall top 10 were: 1. Stevens Point, 35; 2. De Pere, 99; 3. Eau Claire Memorial 102; 4. Shorewood, 130; 5. Lakeland, 162; 6. River Falls, 206; 7. Shawano, 207; 8. Pulaski, 265; 9. Madison Memorial, 274; 10. Wausau West, 284. Medford had 410 points.
The Division 1 Small team scores were: 1. Shorewood, 47; 2. Lakeland, 67; 3. River Falls, 87; 4. Shawano, 89; 5. Pulaski, 116; 6. Medford, 178; 7. Seymour, 194; 8. Rhinelander, 198; 9. Wausau East, 250; 10. Merrill, 276.
Medford placed 11th in the girls JV team standings, all divisions combined, with 288 points. Madison West won it with 28, while Waunakee (49) and Stevens Point (56) rounded out the top three. Edith Franzen of Stevens Point won the race in 20:53.
Esme Anderson led Medford by taking 37th out of 216 runners in a season-best 23:46.6, Amy Espinoza was 79th in a personal-best 25:22.6, Riley Clark was 86th in 25:39.2, Abbie Marzinske was 130th in a personal-best 27:20.7, Lauren Stark was 143rd in 28:13.2 and Lexus Hraby was 176th in 29:30.8.
Medford's boys were 13th out of 15 scoring teams in the Division 1 JV race, won by Stevens Point's Ben Hopp in 17:13.6. The Panthers had the top 11 finishers and a perfect team score of 15.
Medford's Jordan Lavin was 114th out of 283 runners in a personal-best 21:18.5, Ayden Tyznik was 118th in a personalbest 21:26.8, Hunter Briggs was 174th in a personal-best 22.35.3, Nevyn Gripentrog was 213th in 23:27.1, Logan Langdon was 217th in 23:33.8 and Cullen Jones was 218th in 23:36.
Medford has another big meet Friday, attending the Griak Invitational at the University of Minnesota. The Raiders host their annual invitational on Sept. 28.
Hawks boys do well
Like Medford, the Prentice-Rib Lake Hawks lowered times almost across the board during Saturday's race. For the most part, they ran under cooler cloud cover before the sun appeared and drenched the Division 1 runners later in the meet.
Running in the Division 2 and 3 combined varsity races, the Hawks' boys placed eighth out of 25 scoring teams. When scored against the Division 3 field in the meet, the Hawks placed third.
Sophomore Kaleb Scott led them, placing 27th overall out of 177 runners in a new personal-best time of 17:38.4, 4.3 seconds better than his winning time at Chequamegon a week earlier. Among Division 3 runners, Scott was seventh out of 65. He ran the Smiley course in 19:20.5 last year.
Jack Regier had his season-best time by 13 seconds and was 52nd and 18th in 18:34.1, while Henry Regier lowered his time to 18:37.2 in his fourth high school race and took 54th and 19th. Elijah Scott took a big jump, cutting 1:07 to set a personal- best time of 18:52.9, good for 67th and 27th. The Hawks' fifth man was Heston Hueckman, who was 75th and 29th in 19:07.7, a new best by 37 seconds.
Freshman Hagan Isaacson was 82nd and 31st in 19:22.2, freshman Jeremy Wiitala was 118th and 43rd in 20:18.2 and sophomore Eliah Harding took 119th and 44th in a personal-best 20:22.2.
Overall the top 10 teams in Divisions 2 and 3 were: 1. West Salem, 49; 2. Kiel, 60; 3. Altoona, 149; 4. Amherst, 152; 5. Sheboygan Lutheran, 164; 6. Stevens Point Pacelli, 193; 7. Little Chute, 242; 8. Prentice-Rib Lake, 275; 9. Waupaca, 283; 10. Iola-Scandinavia, 289.
In Division 3, Sheboygan Lutheran was the winner with 47 points, followed by Pacelli (67), Prentice-Rib Lake (100), Iola-Scandinavia (106), Albany (111), Athens (162), Three Lakes (186), Rosholt (202), Eau Claire Regis (235), Auburndale (238) and Edgar (238).
Iola-Scandinavia's Charlie Vater easily won the race in 15:26.1. Amherst's Max Voss was second in 16:15.7 and Kiel's Ethan Vander Meer was third at 16:29.7. Pacelli's Luke Eiden was fifth overall and second in Division 3 at 16:40.8.
The Hawks finished second overall in the Divisions 2 and 3 JV meet and won the Division 3 championship. Kiel was the overall winner with 49 points, while the Hawks had 66. West Salem (86), Little Chute (88) and Sheboygan Lutheran (103) rounded out the top five.
Evan Lord led the Hawks by placing seventh out of 103 runners in 19:47.3, Aidan Hause was 12th in a personal-best 20:22.5, Seamus Highfill was 16th in a personal- best 20:40, Matthew Schmidt was 20th in a season-best 20:42.2 and Jackson Schutt was the fifth scorer, taking 25th in a personal-best 20:47.3.
Right behind Schutt were Hardy Hueckman in a personal-best 20:49.1, Connor Highfill in a personal-best 20:49.6 and Truman Smith, 29th in a personalbest 20:52.1.
Korbin Thums was 51st in a personalbest 22:03.4, Nick Nikkila lowered his time to 22:27.8 while taking 58th, Riley Johnson set a new best at 23:52.6 while taking 74th and Kevin Head cut nearly four minutes while taking 78th in 24:01.5.
For the girls, Kylie Orysen had her best race so far this fall, taking 35th overall in the girls Division 2 and 3 standings and 10th among Division 3 runners at 22:07.8. Olivia Lopez was 69th overall, dropping her time to a personal-best 23:40.6.
Rosholt's Sophia Bablitch won the overall and Division 3 championship in 19:07.4, 5.7 seconds ahead of Altoona's Greta Peters. Little Chute was the overall champion. Sheboygan Lutheran had the top Division 3 team.
The Hawks are at another sizable meet today, Thursday, at Barron. They are scheduled to run at Athens on Sept. 28.