Posted on
Pirates sail to easy win; now it gets tougher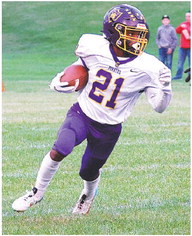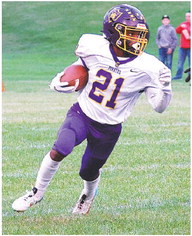 GILMAN FOOTBALL
Assistant coach Tom Tallier may have put it best in the Gilman Pirates' post-game huddle Friday by telling the team that, "now it gets real."
The Pirates coasted to another win that was decided in the first quarter with a 61-0 blowout at Greenwood in their Central Wisconsin East Conference opener, improving to 4-0 overall. Now the second half of the regular-season schedule kicks in and it is, without a doubt, the more challenging half of the eight-game slate.
Friday brings longtime rival Owen-Withee to Gilman for the start of a three-game homestand that starts the Pirates' push toward the post-season. The Blackhawks are the defending conference champions and they do bring back a handful of key players from that squad.
After winning the first four games by an average score of 65-3, the top-ranked Pirates are expecting their first four-quarter challenge from the 3-1 Blackhawks, who opened league play Friday with a 49-0 win at Athens. Their loss was a 27-25 defeat to undefeated and third-ranked McDonell Central in week three.
For what it's worth, Owen-Withee comes into Friday's game ranked seventh in this week's WisSports.net coaches state eight-player poll.
"It's a very challenging week with them and everything that they do," Gilman head coach Robin Rosemeyer said. "It's something that we haven't seen this year. Our kids will have to step up their game. It's a concern that we haven't played four quarters yet or haven't had to. Hopefully we're conditioned to do it. We do have depth and that helps."
That depth got lots of playing time in Friday's win after the Pirates put the game away with a 26-point first quarter. Gilman's speed was something Greenwood simply couldn't match.
Greenwood punted on its first possession and the Pirates set up a wall that allowed Chad Konsella to run to the end zone from 40 yards outs without coming close to being touched.
The Pirates fumbled the ball away on their first possession, but got a stop, forced a punt and quickly scored again on Troy Duellman's 52-yard run down the right sideline. Greenwood gambled and lost by going for it on fourth down in their own territory, leading to Duellman's 24-yard scoring run that made it 20-0 with 4:11 left in the quarter.
Greenwood did get a couple of first downs on its next drive, but after a punt, the Pirates went for it all and got it on their first play as quarterback Dawson Krizan threw a bomb down the right sideline to Konsella, who beat his man by 5 yards and went for an 80-yard score with nine seconds left.
"It's something we haven't tried this year just to throw one deep to him," Rosemeyer said. "It was good to see how that could work out and it worked out pretty well. It was a good route and a good throw. We may need to throw it a little earlier and let him run under it because if we wait too long Chad is going to outrun it."
Reserves took the offensive snaps from there for Gilman, but it was the defense that actually put the points on the board in the second quarter.
First, heavy pressure from Joey Syryczuk led to an errant throw by Greenwood quarterback James Durrstein that was intercepted by Max Ustianowski and returned 55 yards for a touchdown. With 2:24 left in the quarter, Kolby Keepers stripped Durrstein of the ball and ran 30 yards for a touchdown that made it 40-0 going into halftime. That was Gilman's second fumble recovery of the half where a Pirate simply took the ball away from an Indian ball carrier. Taydyn Angell had the other one. Keepers led Gilman with 12 total tackles. Duellman and Cooper Krug had six each.
Konsella capped his big game by returning the second-half kickoff 73 yards for his third touchdown of the game. He got a big hole to run through on the left side and again went to the house untouched.
"We got the double team where we needed the double team and got the kickouts and opened up a nice alley for him," Rosemeyer said.
The starting offense got a couple more snaps and took advantage with a 49-yard scoring run by Krizan on his only carry of the night and backup quarterback Logan Halida scored on a 7-yard run in the fourth quarter.
With the special teams and defensive scores, Gilman only ran 22 offensive plays and, as odd as it sounds in a 61-0 game, the teams had the same number of first downs with seven. The Pirates had 294 offensive yards to Greenwood's 119.
The Indians got a good chunk of their offensive production by using some dive option, which served as good preparation for Gilman heading into the Owen-Withee matchup.
"Defensively we did give up some option looks where we got sucked in on the dive man and the quarterback got outside of us," Rosemeyer said. "That's something we're going to see this week is a lot more dive option. We have to be sure we're good with our responsibilities.
"It's the same wing-T concept they ran in 11-man that they've brought to eightman," he said of Owen-Withee. "We saw it last year. They're going to stretch us sideline to sideline with the option, both to their weak and strong side. They're very disciplined and fundamental with what they do. We need to do a good job reading our keys, getting off blocks and tackle a little better this week."
Colin Dallman, a first-team All-CWEC running back last year, leads the Blackhawks with 480 rushing yards and six touchdowns through four games, according to WisSports.net statistics. Tim Stock has 354 yards and five touchdowns and Dominic Sherwood, who has taken over outstanding departed quarterback Logan Amacher, has 199 rushing yards. The Blackhawks, as usual, don't throw much, but when they do it's deadly. Vince Henke has all four of the team's catches for 255 yards, an average of 63.8 yards per catch. He had a 91-yard touchdown catch against Athens and two touchdown catches against McDonell.
Defensively, Owen-Withee has been stout against the run in its wins, but Mc-Donell picked up 323 rushing yards and 439 total yards.
"They really don't blitz a lot but they just attack their gaps well," Rosemeyer said. "We need to be strong and hold our blocks. We might have to spread them out a little bit. Their speed isn't their strength, so we need to take advantage of that. They have some size and they're fundamentally good, but we need to get them in spots where they're uncomfortable with our speed."