Posted on
JUST LIKE THAT, IT'S OVER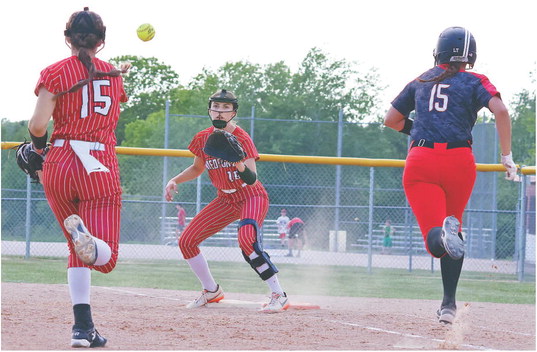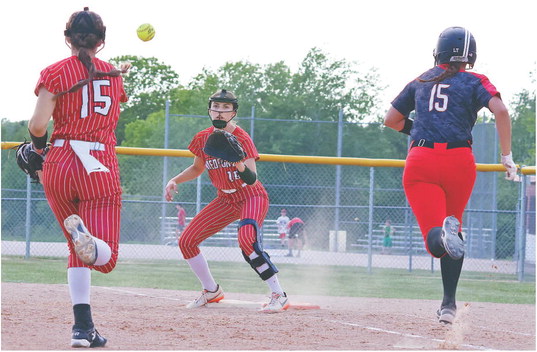 WIAA DIV. 2 SOFTBALL
22-3 year ends in 11-inning sectional loss
For the second time in three seasons, the Medford Raiders held the oneseed in the WIAA Division 2 softball sectional half-bracket, had home-field advantage in the sectional semifinal and were one strike away from advancing to the sectional final with a legitimate shot of going to state.
And, just like in 2021, the opportunity got away on Tuesday evening.
This time it was New London's number-eight hitter Brooklyn Fuerst who delivered the big hit, taking an 0-2 pitch from Medford's Martha Miller the opposite way down the leftfield line for the game-tying single in the top of the seventh. A 1-1 tie stood until the top of the 11th inning when Eva Hedtke delivered another big two-out hit to drive in the winning run in the Bulldogs' 2-1 victory.
Instead of playing Rice Lake in the final today, Thursday, at Mosinee, Medford's season is suddenly over at 22-3, while the Bulldogs improved to 17-6 and are a win away from successfully defending their 2022 sectional title.
New London beat Medford for the third straight season and for the second straight year in the sectional semifinal round. Tuesday's game featured the same pitching matchup as last year's 2-0 game that New London won on its home field and several of the same players from a 1-0 game New London won in 2021 that ended Medford's 17-game winning streak to start that season.
In 2021, it was Merrill who Medford was one strike away from beating, but the Blue Jays wound up scoring three runs in the seventh and went on to win 9-6 in eight innings.
Both teams had chances to score go by the wayside in Tuesday's contest, but Miller and New London's Kenna Mix made big pitches and the defenses, for the most part, were strong in a wellplayed game.
The Bulldogs (17-6) just got one more big hit than the Raiders did.
"So many what ifs," Medford head coach Virgil Berndt said after the loss.
The game was scoreless until Medford finally broke through in the bottom of the sixth. Mix struck out the first two batters in the inning, but Zayleah Leonhardt won a seven-pitch battle by dumping a sinking liner to centerfield that got past a diving Fuerst and went for a double. Eryka Seidl then won another seven-pitch battle, turning on a high pitch and driving it to deep leftfield for a double that scored pinch-runner Ruthie Steinman.
Morgan Huegli just missed the chalk on a foul liner to right that would've scored courtesy runner Addison Brahmer. Instead Mix got her to pop out on the infield and keep the lead at 1-0.
Hedtke led off New London's seventh with a double to deep right. Miller struck out Mackenzie Bruette and the Raiders retired Sophia Hull-Riggs on a sacrifice bunt to get within an out of victory. Miller quickly got ahead of the left-handed hitting Fuerst with two strikes, but caught too much of the plate on the third pitch and Fuerst made enough contact to get the ball past Leonhardt and inside the third-base bag. A passed ball put Fuerst at second base, but Miller stopped things right there by striking out Ava Baehman.
Each team stranded a runner in the eighth. Both teams went down in order in the ninth. Medford got a two-out single from Miller in the 10th and Finley Arndt reached when Mix bobbled her comebacker, but Miller's aggressive attempt to go from first to third was denied by a strong throw across the diamond by first baseman Shelby Glodowski.
With one out in the 11th Sommer Krull reached on just Medford's second error of the game, was bunted to second by Glodowski and pinch runner Olivia Hamel scored when Hedtke dropped a ball perfectly between Huegli in center and Arndt in right.
Mix set down the Raiders in order in the bottom half, though Seidl hit the final ball hard but right at Fuerst in centerfield.
New London's best chance to do some early damage came right away when Jensen Mix and Kenna Mix led off the game with singles, but the Raiders got out of that with two strikeouts and a fielder's choice.
Medford had its early chances in the second and third innings. In the second, Seidl singled and advanced to second on an error by the leftfielder. Brahmer ran for Seidl and moved to third on a wild pitch. Huegli hit a grounder that looked like it might get up the middle, but Mix snagged it and caught Brahmer too far off the third base bag for the second out. Tori Konieczny walked, but a strikeout ended the rally.
Miller tripled with one out in the third, but Mix got a strikeout and a fly out to keep Medford off the board.
New London outhit Medford 7-6. Both Mix sisters had two hits apiece. Seidl and Miller were two for five for Medford, while Leonhardt and Allie Paulson added a hit apiece. Miller struck out 13 Bulldogs and walked two in 11 innings. Mix also struck out 13 and walked only one.
The loss marked the end of a highlysuccessful run for the six-member senior class that includes Miller, Seidl, Paulson, Huegli, Hope Faude and Madisyn Pilgrim. They were part of three Great Northern Conference championship teams, three WIAA Division 2 regional championship teams and led Medford to a school-record 22 wins this year.
"There's nothing to hang our heads about, that's for sure," Berndt said.