Posted on
Big shots under pressure get Lingen to state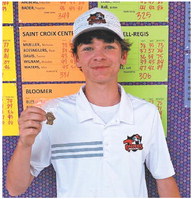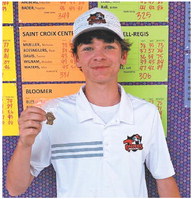 WIAA DIV. 2 GOLF
With regional scores under 300, the Amery Warriors and McDonell-Regis co-op put themselves into the favorites role going into Tuesday's WIAA Division 2 McDonell-Regis golf sectional at Lake Wissota Golf Course. They didn't disappoint, earning the meet's two team state berths.
But the Medford Raiders weren't shut out in their fourth-place finish as junior Connor Lingen emerged as the winner of the third individual state spot during a tense, four-golfer playoff following the 18hole meet.
St. Croix Central senior Nicholas Mueller claimed the first of three individual spots that went to golfers from non-qualifying teams by shooting a 1-over-par 72, one shot behind champion Aaron Mork of Amery and one shot ahead of McDonell-Regis senior Andrew Bauer.
Lingen was one of five golfers to shoot a 3-over-par 74. One was Ben Biskupski of McDonell-Regis, who clinched his state berth with his team. That left Lingen, Cole Sobotta of Arcadia, August Lang of Somerset and Ethan Hall of Osceola in the playoff to determine who got the last two state spots.
"It was pretty nerve-wracking going into the playoff," Lingen said. "I was shaking quite a bit on that first playoff hole tee."
"It was pressure-packed as it always is," Medford head coach Matt Haase said. "Connor played really well and what he did in the playoff was awesome. To go par-par in that kind of pressure situation was pretty huge."
Most of the day went quite well for Lingen. His 74 was a personal-best score and he rebounded nicely from a double bogey on the first hole, getting birdies on the par-3 second hole, the par-3 fourth and the par-5 seventh to get through the first nine at an even-par 36. He was still at even-par through 16 holes and in contention for the sectional championship.
"The first hole I got unlucky," Lingen said. "I pulled it a little bit, but it just took a terrible kick straight left and I was out of bounds so I had re-tee. I made a four with my second ball. Then I knew I had to make a couple of birdies coming in on the front to have a chance. I made birdies on two, four and seven.
"I was playing solid golf up until 17 and 18. I've never really been in that position before so I got ahead of myself."
Rushed shots off the tee on both 17 and 18 put him in danger of losing his shot at state. He overshot the green on the 113-yard 17th with his sand wedge and a three-putt gave him a double bogey. On the 306-yard, par-4 18th it came down to a make-or-break 10-foot bogey putt to get into the playoff.
"Our assistant coach Caleb Heckel came up to me and told me I had to make it to have a chance at the playoff," Lingen said. "I had to aim maybe 4 inches outside the left edge of the cup, so it wasn't terrible."
Making that putt and knowing he was still in contention gave Lingen a chance to mentally regroup. The playoff started on that first hole he got the six on to start the day. Lang birdied the hole to claim one state berth. Sobotta was off-target on his tee shot and couldn't recover and fell out of the playoff, so the last spot came down to Lingen and Hall.
"It's like a 330-yard par-4," Lingen said of the first hole. "I hit my 2-iron off the tee. I barely stuck it into the left rough and had 87 yards left. I took my lob wedge. It landed about pin high but it spun back and came down a ridge. So I had a 20-foot putt up this big slope to the hole. I left it a couple feet short and I had to test it. I was looking at it for quite awhile because I had to make that to keep it going. But luckily I made it."
So then it was on to the second hole that Lingen had birdied earlier in the day.
"I hit 8-iron the first time around, it's 160 yards, a par-3," Lingen said. "I thought I should've went with the 9-iron, but I just went with a smooth 8. I knew I was fired up but looking back I should've gone with the 9 because the smooth 8 went past the pin. I had like a 25-footer for birdie and I had to aim maybe 6 feet to the right of the cup too. It was a big snapper. I had to aim quite a bit outside. I put it to within a foot and I tapped in for par."
Lingen was a little farther out, so he had to shoot his birdie putt first. By getting it so close to the cup and having the easy tap in, the pressure shifted entirely to Hall and he three-putted, clinching Lingen's state spot.
"At the beginning of the year I thought I had a good chance to make it, but lately I hadn't been really shooting that great, like in my last five tournaments," Lingen said. "I wasn't feeling great coming into it but I knew it was a different day and I knew I still had a chance of making it. It was my number-one goal to make it to state this year."
The WIAA state championship tournament is set for Monday and Tuesday at Blackwolf Run in Kohler. Divisions 2 and 3 will start play at noon on Monday and at 7 a.m. on Tuesday. Lingen will play a practice round on the course on Sunday.
He is the first Raider to make it to state since Spenser Scholl tied for 23rd at University Ridge in Madison in 2017.
"It's going to be fun," he said. "I just want to play my best golf. If it's not that good at the end, that's fine. I just want to play my best golf. Don't care about what other people are shooting. Just shoot what you can shoot."
Team results
Medford posted a team score of 325 on Tuesday, which put the Raiders one shot behind third-place Bloomer. Amery's 302 and the 306 carded by McDonell-Regis put them solidly ahead of the rest of the competition in the 12-team meet.
Medford outscored fifth-place St. Croix Central by six strokes and sixthplace Arcadia by 14 shots.
Medford's Great Northern Conference rival Antigo was seventh at 348, one shot better than Rice Lake and two better than Ellsworth. Durand-Arkansaw (353), Northland Pines (361) and Somerset (375) rounded out the field.
Raider sophomore Zachary Hintz, who came up short in a playoff in last year's sectional at Antigo, was Medford's number-two scorer Tuesday with a 9-over-par 80. He was 6-over on the front nine with a 42 but a birdie on the par-5 13th helped him get down to a 38 on the back nine. Hintz finished 20th in the individual standings.
Haase put Hintz in the number-one slot in the lineup because he was coming in playing his best golf of the season with two meet wins.
"Zach didn't have any big numbers," Haase said. "He just didn't get the birdies he needed. He got bogeys and pars."
Senior Lucas Liske closed his career with an 85 that put him in a four-way tie for 32nd place. He had a couple of rough patches, but also some good ones, including three straight parts on holes four through six and a late five-hole run where he parred three holes, had one bogey and birdied the par-4 16th.
"Lucas played pretty well," Haase said. "He just had two big quads that hurt him, otherwise he would've been in the high 70s right where we needed him."
Juniors Riley Viergutz and Aidan Ball both shot 86s and were part of a five-way tie for 36th place. Ball's score was his best of the spring and included five pars and just two double bogeys. Viergutz birdied the par-5 13th hole in his round and parred six holes.
"We talked in the van on the way over about sticking with it to the end, staying in it, staying positive," Haase said. "We talked about giving every shot acute attention and focus and I think the boys did well with that."
Lingen is the Great Northern Conference's only Division 2 representative at state. In Division 1, defending state runner-up Lakeland returns after finishing second in the Marshfield sectional behind defending state champion Eau Claire Memorial. The Old Abes shot a 304 Tuesday, while Lakeland came in at 322 with Matt Haggart finishing second individually at 74. Rhinelander's Samuel Schoppe got the last state individual spot by shooting an 80.