Posted on
STREAK STOPPERS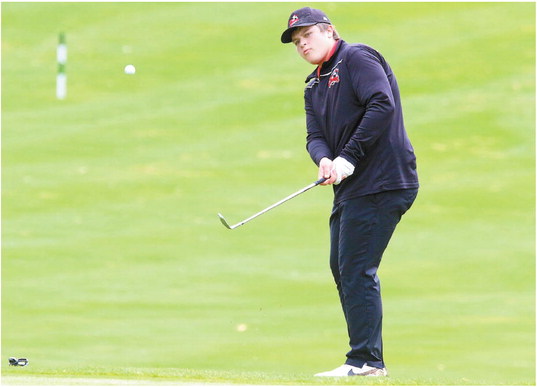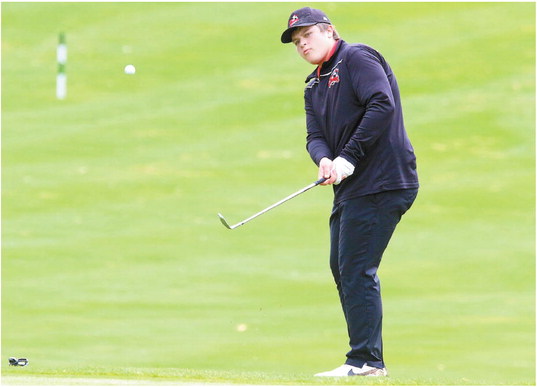 Impressive week capped by beating T-Birds
The seemingly-endless Great Northern Conference golf win streak is over, thanks to the Medford Raiders.
With four golfers among the day's top 10 and a team score of 309 Tuesday at Antigo's Bass Lake Country Club, the Raiders ended Lakeland's 31-meet winning streak in conference competition and tightened things up atop the team standings with three meets to go. Medford beat Lakeland by three strokes, stopping a win streak that started with the first GNC meet of the 2018 season.
Medford was the last team other than Lakeland to win a GNC meet when it clinched its last conference championship on May 19, 2017 at Medford's Black River Golf Course.
In the present, Medford is just two points behind the T-Birds, 27-25, and has served notice that the race for the 2023 championship trophy isn't over yet. Tuesday's meet was delayed early on by a pop-up thunderstorm, but the teams waited it out and got 18 holes in before dark.
"These boys just love golf and have been putting in the time," head coach Matt Haase said. "They just have fun as a group. They play together all the time and, finally, it's starting to come together for them. It's hard to get to that next level in tournament golf. It comes with experience and playing over and over. It takes shooting 85 a couple of times and then making adjustments. Eventually if you play in enough tournaments and keep working, it all comes together. I think that's starting to happen for us and we're hitting that new level."
All five varsity golfers have been clicking in the last three meets, bringing Medford's team scores down significantly in the last week.
Junior Connor Lingen sits in third place in the GNC's individual standings with 30 points. He tied Lakeland's Matt Haggart for third place Tuesday with a 4-over-par 75 that included three birdies and just one double bogey. Lingen is 1.5 points behind second-place Jack Rubo of Lakeland through four meets and 6.5 behind leader Jett Walters of Mosinee. Haggart is in fourth place with 27.5 points. The top five finishers at season's end earn All-GNC first-team honors.
Rubo won Tuesday's meet with a 73, while Walters shot a 74. Rhinelander's Andrew Henrichs was fifth by shooting a 76.
Arguably the biggest reason for Medford's rise in the last week was the play of senior Lucas Liske. His best round last year was an 82 during the sectional meet at Bass Lake and he did even better Tuesday, shooting his lowest varsity score ever at 77, good for a sixth-place tie with teammate Riley Viergutz. Liske had just one double bogey Tuesday, birdied the par-4 10th and par-5 13th holes and parred nine holes. Viergutz also had just one double bogey and birdies on the par-5 seventh and the 10th holes while parring nine holes.
Viergutz moved into a tie for fifth place with Antigo's Cody Parsons. Both have 16 points.
"Lucas shot a personal-best 77 but I was really not that surprised," Haase said. "He's right there and has put in the time."
Sophomore Zach Hintz remained consistent, shooting an 80 that put him in ninth place. He got on a run from holes nine through 17, where he carded eight pars in nine holes, including six straight. Junior Aidan Ball also set a new varsitybest score Tuesday, finishing at 91, good for 25th place out of 35 golfers. Ball had two pars and 13 bogeys to nearly break 90.
"Aidan Ball shooting a 91 is big," Haase said. "Now we know we have a fifth score that isn't going to take us out of contention."
Rhinelander was third in Tuesday's meet with a team score of 325, followed by Mosinee (341), Northland Pines (343), Tomahawk (355) and Antigo (369). There was virtually no wind during Tuesday's round, a stark contrast to last year's sectional meet at Bass Lake, where Medford and other teams struggled with 30 mph gusts.
"We got some redemption at Bass Lake. I was definitely thinking about that," Haase said.
Mosinee holds an 18-17 points advantage over Rhinelander for third place in the conference, but it's clearly a twoteam race heading down the stretch.
Remaining GNC meets are at Northland Pines Friday, Lakeland Monday and Tomahawk Tuesday. The Lakeland meet will be held at Trout Lake Golf Club, which is a change from past years as Haase said Timber Ridge apparently won't be ready to host a varsity meet.
Medford is also at the Stanley-Boyd Invitational Saturday, which will again be held at Cadott's Whispering Pines Golf Course. There, Medford will see McDonell-Regis, the host for the May 30 sectional and one of the teams the Raiders could be battling for a state berth.
Looking forward, Haase said the team still has room to improve, primarily with putting. With a crazy meet schedule the last two weeks, the Raiders haven't had a chance to work on that much in practice, but that was going to change Wednesday and Thursday.
"You know you're going good when guys have rounds close to par and they feel like they had a poor round," Haase said. "We're hitting the ball well. We just have to get the flat sticks going. If we shore that up a little it, we're going to be tough to beat."
Three shots off
Medford gave Lakeland a scare on Monday, falling three shots shy of the TBirds in an altered GNC meet at Rhinelander's Northwood Golf Club.
Lakeland edged Medford 320-323 to push its GNC winning streak to 31. The teams played two rounds on the course's front nine holes.
Lakeland outscored Medford 158163 the first time through, while Medford held a 160-162 edge the second time through but it wasn't quite enough.
Lingen led Medford with rounds of 37 and 40 on the par-36 half of the course to finish with a 77. He was part of a threeway tie with Haggart (36-41) and Walters (39-38). Rubo was the day's top golfer with an 18-hole score of 73 (37-36).
With birdies on the par-5 second hole and par-4 fourth, Lingen was 2-underpar through five holes in his first round 1-under through six before two bogeys pushed him 1-over. He had five pars and four bogeys during his second round.
Viergutz shot rounds of 43 and 37 to finish tied with Parsons at 80. His 37 was the second-best score in the field during round two, one shot behind Rubo. A birdie on the par-5 seventh along with six pars got him to 1-over-par for that nine holes.
Hintz was seventh overall with an 81 that included rounds of 40 and 41. Hintz had a consistent day with just one double bogey, which came on his first try at the par-5 seventh. He had six pars in his first round and four in his second.
Liske got his first GNC points of the season by placing ninth with an 85 (4342). His solid day also included just one double bogey and six pars. Ball was Medford's fifth scorer with a season-best 18hole score of 96 (49-47), highlighted by a couple of successful pars on par-3 holes.
Mosinee was third in the team scoring with a score of 340 (168-172). Rhinelander's top four individual 18-hole scores resulted in a final total of 351, eight shots ahead of Northland Pines. Antigo was sixth at 366 and Tomahawk was seventh at 379.
Great day at Erin Hills
In their second straight meet against primarily Division 1 competition, the Raiders excelled on Saturday by turning in an outstanding score of 318 that put them in a tie for eighth place out of 28 teams in the Erin Hills section of Hartland Arrowhead's 17th annual MACC Fund Invitational.
Hintz tied for 20th individually in what Haase called "a loaded field" of teams and golfers. The sophomore shot a 5-over-par 77, including birdies on the par-4 third and fifth holes and another on the par-5 14th, a hole that measures about 600 yards. The Raiders started their rounds on the 10th hole. Hintz shot a 41 on the back nine and then got into a solid groove on the front nine and shot an even-par 36.
A big highlight of the day was Lingen scoring an eagle on that 14th hole in his round of 78 that included him in a 13-way tie for 26th place. Haase said Lingen's eagle was made possible by a second shot of about 230 yards with a hybrid club that hit the slope perfectly and rolled to within 3 feet of the cup. Lingen added two birdies on the back nine to hit the turn at 1-over-par 37. His 41 on the front nine included a birdie on the par-3 ninth hole to finish his round.
Viergutz was part of a six-way tie for 39th with his 7-over-par 79. His shot a 40 on the back nine with a birdie on the par-4 15th and four pars helped negate his one double bogey. He stayed consistent on the front nine with a 39 that included a birdie on hole two and five pars.
Liske set a season-low score for the second straight meet, carding an 84 that tied him for 76th out of 111 golfers. He had just one double bogey for the day and notched seven pars with splits of 43 and 41.
The top-ranked Division 1 team in the state in the Golf Coaches of Wisconsin's week three poll, Eau Claire Memorial, won the meet with a team score of 300. The Old Abes were followed in the top 10 by Waunakee (308), fifth-ranked Arrowhead (309), Hartford (311), ninthranked Green Bay Notre Dame (311), second-ranked Sheboygan North (311), sixth-ranked Madison Memorial (314), Brookfield Central (318), Medford (318) and fourth-ranked Middleton (319).
Medford was the top scoring Division 2 team in the field, beating Kettle Moraine Lutheran (13th, 321) and seventhranked Appleton Xavier (tied for 14th, 323) and Lomira (26th, 371).
Dain Johnson of Middleton was the individual champion by shooting a 2-under- par 70, one stroke better than Eau Claire Memorial's Parker Etzel and two shots better than Madison Memorial's Charlie Erlandson.
Madison Edgewood, the top-ranked team in Division 2, was the top team at the section played at The Club at Lac La Belle with a score of 305, 10 shots better than River Falls and 11 better than Holmen.
Ninth at Holmen
On May 3, Medford explored some new territory when they played in the Holmen Viking Invitational held at The Golf Club at Cedar Creek in Onalaska.
In a field of 18 teams, 15 of which came from Division 1 programs, the Raiders had a bit of a tough day, compiling a team score of 351 that put them right in the middle of the pack in ninth place.
Viergutz was a Raider who did have one of his best days, shooting a 10-overpar 81 on the 6,700-yard course. He was part of a four-way tie for seventh place that included Holmen's Carter Gault, Mineral Point's Carson Kroll and Madison Memorial's Owen Jungers. Viergutz earned five pars and four bogeys for a 40 on the course's front nine and added five more pars on the back nine with two double bogeys keeping him from finishing in the 70s.
Liske was part of a four-way tie for 31st in the field of 90 golfers. He had a strong day by shooting a season-low score of 86 with 43s on each half of the course, including a run of three straight pars on holes 10-12.
It was a tough scoring day for Lingen and Hintz, who both carded 92s to tie for 52nd. Grant Neubauer filled Medford's fifth spot in the lineup and tied for 86th with his 112.
Madison Memorial won the team championship with its score of 316, five shots ahead of the host Vikings. River Falls and Waunakee tied for third at 331 while Milton and Division 3 Mineral Point tied for fifth at 341. Monona Grove (345) and DeForest (346) also finished ahead of the Raiders. Mount Horeb was 10th at 355.
The only other non-Division 1 school in the meet was La Crosse Aquinas. The Blugolds were 18th at 420.
Erlandson was the meet medalist, shooting a 1-over-par 72, four strokes ahead of Holmen's Luke Taebel. Ryan Swanson of River Falls was third at 77, Waunakee's KC Nickel was fourth at 78 and Brett Wieland of Milton and Sam Godager of Madison Memorial tied for fifth
with 80s.