Posted on
Dry night, good efforts make a successful Quad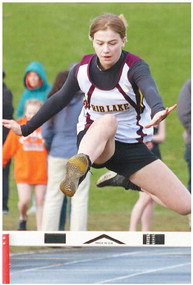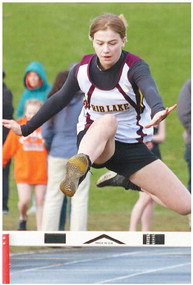 The first win of Friday for the Rib Lake track and field teams was just the fact they got their annual Northwoods Quad in. The Redmen added some solid performances in just their second outdoor meet of this frustrating spring to make the evening even better.
Other than the long and triple jumps, all of the other events went on as scheduled despite some wet conditions early due to a nearly all-afternoon rain. But the rain left before the meet began and held off the rest of the way.
Rib Lake's girls edged Chequamegon by a point, 44.5-43.5, to place second behind the Phillips Loggers, who easily won the meet with 104 points. The Prentice Buccaneers were fourth with 27 points.
The Lady Redmen won four events during the meet and may have found a potential hurdler in freshman Emma Tlusty, who won both of those races. Tlusty won the 100-meter highs in 18.9 seconds, edging Jaycee Pomeroy and Arianna Mesko of Phillips by 0.2 seconds. Isabelle Gumz was fourth in her first attempt at the hurdles, finishing in 19.9 seconds.
Later on, Tlusty won her first-ever 300-meter low hurdles race in 54.3 seconds, beating Pomeroy by 2.2 seconds.
Gumz set a season-best distance of 29 feet, 7 inches to capture the day's shot put championship. The freshman beat Phillips freshman Anna Belan by just over 3 feet to win the event. Tessa Krause added two fourth-place points for Rib Lake at 23-3.5 and Grace Artz got the fifth-place point at 23-2.5. Molly Schmittfranz was sixth at 20-7.25, Ziarra Schrader (18-9.5) was 10th and Katie Heiser (16-6.75) was 14th. Schrader took third with an improved distance of 62-3 in the discus. Artz was sixth at 55-6, Schmittfranz (54-0) was seventh, Krause (43-6) was 16th and Heiser (38-6) was 17th.
Olivia Lopez, with no jumps to compete in, stuck to sprints in Friday's meet and won the 100-meter dash in 13.8 seconds, beating Chequamegon's Delaney Hanson by 0.3 seconds. Teammates Madison Grzanna (15.5), Camryn Glenzer (15.6) and Hadassah Nelson (15.9) finished just outside scoring range, placing sixth through eighth. Lopez took second in the 200-meter dash at 28.7 seconds, 0.6 seconds behind Logger Mataya Eckert. Gumz and Tlusty scored, taking fourth and fifth in 30.7 and 31.1 seconds, while Camryn Glenzer was sixth in 32.7 seconds. Coralee Glenzer was 11th at 34.8 seconds.
Nelson cleared 4-2 to place second in the high jump, beating two others in the tiebreaker at that height. Nelson was 2 inches behind Eckert. Camryn Glenzer and Grzanna were part of a four-way tie for fifth at 4 feet.
Anna Martin got a fifth-place point in the 800-meter dash with a season-best time of 3:09.5.
Phillips just snuck by Chequamegon 84-82 to win the boys meet, while Rib Lake easily outscored Prentice 41-13 for third. The Redmen were led by three relay victories, which accounted for 18 of their points.
The 3,200-meter team of Dominick Classen, Ryan Buehler, Jack Regier and Donovan Sutherland took the first relay of the day in 9:02.4, easily beating Phillips (9:25.9) and Chequamegon (9:58.6). Kaleb Scott, Sutherland, Regier and Classen finished the meet by winning the 1,600-meter race handily in a time of 3:45.7. Phillips (3:59.6) beat Chequamegon (4:30.8) to secure the meet championship.
In between, the team of Scott, Ben Petersen, Sutherland and Classen won the 800-meter relay in 1:41.7, a time that beat Phillips by 0.7 seconds. Chequamegon was third in 1:45.5.
Regier added a second-place finish in the 800-meter run in an improved 2:18.8. He was 7.3 seconds behind Gavin Esterholm of Phillips. Buehler got two fourthplace points in 2:22.3 and Elijah Scott was sixth in 2:31.2. Buehler scored three points by taking third in the 1,600-meter run at a season-best 5:08.3, just behind James Vollendorf (5:07.1) and Maverick Hoogland (5:07.3) of Phillips. Elijah Scott (6:02.2) and Connor Highfill (6:04.2) were 10th and 11th. Highfill's time was 25 seconds better than his first outdoor meet. He also improved by 41 seconds from his last meet in the 3,200-meter run while taking fourth in 13:07.4.
Kaleb Scott took third in the 200-meter dash at 25.9 seconds, 0.6 seconds behind winner Collin Kleinschmidt of Phillips (25.3). Petersen (27.0) was eighth, Gus Zuleger (28.9) was 16th and Jed Henderson (30.5) was 20th. Ethan Keiser was third for Rib Lake in the 100-meter dash at 12.7 seconds, just behind JJ Heikkinen of Phillips (12.6) and Wyatt Graceffa of Chequamegon (12.6). Logan Schmittfranz (13.7), Jayden Thums (13.8) and Xavier Johnson (14.5) were 11th, 12th and 14th.
Theo Robisch lost two of his normal events with long and triple jump, but he did get second in the high jump by clearing 5-4. Prentice's Logan Geiger went 5-6. Henderson took fourth at 5 feet, Thums was seventh at 4-8 and Zuleger was eighth at 4-6.
In the throws, Kaedyn Kopelke was eighth (30-0) in the shot put and ninth (822) in the discus. Schmittfranz was 10th (29-3) in shot and 17th (61-0) in discus. Johnson was 11th (28-6.5) in shot and 14th (66-1) in discus. Henderson was 12th (2710.75) in shot and 18th (59-2) in discus and Robisch was 13th in discus at 69-1.