Posted on
BRINGING OUT THE BROOMS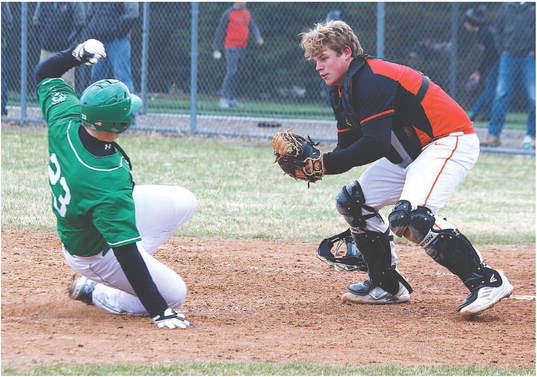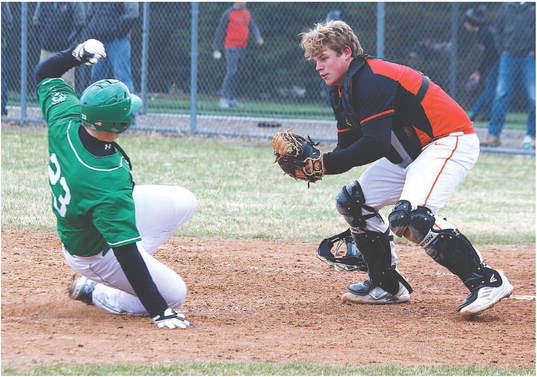 MEDFORD BASEBALL
Raiders earn two GNC sweeps, sit at 5-1
For the second straight doubleheader, Medford got strong starting pitching from Ty Metz and Logan Baumgartner Tuesday and the offense backed them up with a couple of crooked numbers in 10-6 and 10-0 wins over Rhinelander at Raider Field.
Baumgartner came within two outs of a six-inning, no-hitter and Max Dietzman belted a grand slam home run in the sixth inning to ice game two on yet another cool April afternoon at the ball park. Metz not only threw 5.2 strong innings in game one, but he also went two for four and drove in three runs and made a perfect throw to home plate from rightfield to record the game's last out.
The wins pushed Medford's Great Northern Conference record to 5-1, allowing the Raiders to keep pace with the league leaders. The Raiders are 8-3 overall.
Antigo actually holds the GNC lead with a 3-0 league record, while Mosinee is 3-1. Rhinelander fell to 2-4, 2-7 with Tuesday's losses.
"Two good wins for us," Medford head coach Justin Hraby said. "We have put ourselves in a good position in conference play. Now it is a matter of taking care of business one GNC game at a time."
Next on the schedule is a newly-added home game Friday against Auburndale at 5 p.m. A GNC doubleheader follows against Northland Pines Saturday at Raider Field starting at 11 a.m. Then the Antigo Red Robins highlight next week's schedule. They could very well still be unbeaten in league play when they visit Raider Field Tuesday at 5 p.m. Medford makes the return trip to Antigo on May 4.
Playing as the visitors, Medford was basically in cruise control in game two after opening the scoring with a fivespot in the top of the second inning. Braxton Weissmiller led off the inning by singling, Dietzman doubled and Parker Lissner drew a walk from Hodag starter Max Ratty to load the bases with no outs. Metz singled in courtesy runner Alex Dittrich, Jack Wojcik walked in Dietzman and Tanner Hraby's field­er's choice drove in Lissner. After Miles Searles walked to re-load the bases with two outs, Hodag centerfielder AJ Turek just missed coming up with a diving catch on a sinking liner by Baumgartner. That brought in two more runs.
From there, Baumgartner kept the Hodags hitless until Medford put the game away with a five-run sixth. Wojcik, who went two for three in the win, singled and Charlie Gierl hit a high chopper off the plate that died in the infield grass for a hit. With two down and Ratty at his 102-pitch limit, he was relieved by Dylan Vanderbunt, who walked Baumgartner, threw a wild pitch to score Wojcik and walked Weissmiller to load the bases for Dietzman, who pulled a 2-1 offering over the rightfield fence. Dietzman finished the game three for four at the plate.
"Max put the game away," coach Hraby said. "It was so good to see him get one, a huge grand slam. Jack Wojcik also really has stepped up and looked good at the plate. He has earned more playing time with his performance."
The only question after Dietzman's homer was if Baumgartner could finish the no-hitter in the bottom half of the inning. He got Turek to pop out to sec-ond baseman Nick Steliga for the first out, but Ratty ended the bid by finding the gap in right-center for a base hit. Owen Kurtz added a two-out single and Cody Everson was hit by a pitch before Baumgartner ended the game by inducing a comebacker from James Heck.
Baumgartner struck out eight and walked two on just 71 pitches.
"Logan was lights out," Hraby said. "He was in control from the first pitch on. It was fun to watch."
Medford had 12 hits in the win. The Raiders were in firm control for most of game one but they had to survive a late charge by the Hodags.
Again, it was a five-run second inning that put Medford in control, but first, two big defensive plays by Searles in centerfield and Wojcik in left kept the Hodags off the board in the top of the first.
"In the first inning, we had some big plays in the outfield," coach Hraby said. "Miles did a great job tracking down a ball in the gap and Jack had a great diving catch. Without those two plays, we may find ourselves down early."
Weissmiller drove in a first-inning run with a fielder's choice. Two Hodag miscues sandwiched around Lissner's single got one run across, then Wojcik's groundout scored another. Jacob Eckert tapped an infield single between the mound and third base and Tanner Hraby knocked in Metz for a 4-0 lead. Searles drove in Eckert with a groundout and Baumgartner singled in Hraby for a 6-0 lead.
Leading 7-1 in the sixth, Metz was one out away from getting through the inning, but Heck, Rhinelander's starting pitcher in the game, singled in Ratty, who had doubled. Hraby relieved Metz and finally got the last out of the inning on his fourth batter as runs scored on a passed ball and a wild pitch that cut the lead to 7-4.
Medford responded, though, by getting three big insurance runs in the bottom half. Lissner knocked in one with a ground ball and Metz found a hole up the middle to drive in two more. The game ended on Everson's RBI single to right as Metz threw out the would-be second scorer on the play with a perfect throw to Weissmiller that beat Kurtz to the plate by plenty.
Metz struck out 10 batters, walked only one and allowed three hits and three runs, two of which were earned.
"Ty Metz was tough again," Hraby said. "He continues to pitch with confidence. Ty also did it for us at the plate. He came up with some big hits, especially in the sixth when they crawled back into the game. He had a huge two-run single."
Searles, moved up to the two-spot in the order, went two for three and scored twice. The Raiders had nine hits. Tucker Kraemer added a sacrifice fly in the fifth.
"Miles Searles continues to hit well," Hraby said. "It is so great to see him off to a great start."
Hatchets get swept
On the turf in Wisconsin Rapids Friday, Medford took care of business against the GNC's last-place team, earning 9-1 and 13-0 victories over the Tomahawk Hatchets.
Metz pitched five strong innings in the opener, collecting 11 strikeouts and allowing just two third-inning hits. Baumgartner faced the minimum 15 hitters in the five-inning game-two win with eight strikeouts. Cooper Hetzel had Tomahawk's only hit with his double down the rightfield line in the third inning barely eluding the reach of Metz. But Hetzel was doubled off second base to end the inning when Dietzman, playing first base, snagged a line drive hit by Monty Framke.
Medford's offense started a bit slowly in game two, but built momentum and put the game away with a six-run rally in the top of the fifth. A 1-0 lead through two innings grew to 4-0 in the third, highlighted by RBI singles from Baumgartner and Searles.
Metz and Gierl led off the fourth with singles and scored on groundouts by Lissner and Tanner Hraby. Errors led to a third run and a 7-0 lead. Hetzel took over for starting pitcher Tyler Jablonsky in the fifth and ran into all kinds of trouble.
Wojcik led off the inning with a walk and Metz singled. After Gierl flied out, an error on Lissner's ground ball scored Wojcik. An error on Hraby's ground ball scored Metz. Baumgartner hit a two-run single to make it 11-0. After Weissmiller singled and Hayden Strebig walked to load the bases, pinch runner Carson Carbaugh scored on Kraemer's fielder's choice ground ball up the middle and courtesy runner Evan Wilkins alertly scored as well on the play.
Baumgartner was two for three with three RBIs in the win. Metz was two for three with two runs scored.
Medford jumped ahead 3-0 in the bottom of the first inning in game one and was never seriously threatened after that.
Shaky Tomahawk defense helped the first-inning rally. Hraby reached on a one-out error and scored on Baumgartner's double to the gap in left-center. Baumgartner moved to third on Weissmiller's groundout and scored on a passed ball. Dietzman walked, stole second and scored on a base hit by Searles.
With first base open and two outs, Tomahawk chose to pitch to Baumgartner in the bottom of the second inning and paid for it when he singled in two more runs to make it 5-0.
The Hatchets' lone rally took place in the third, but was short-circuited by a big defensive play from the Raiders. Tollefson got an infield single and Addison Peissig drew a one-out walk. With two down, Jablonsky drilled a double to deep right-center to score courtesy runner Landon Hoff, but a perfect relay from rightfielder Peyton Gilles to Hraby at second to Weissmiller at the plate easily got Peissig for the third out of the inning.
Weissmiller had an RBI single and Medford added two unearned runs for an 8-1 lead after four innings. Weissmiller drew a bases-loaded walk for Medford's final run in the fifth.
Baumgartner again went two for three with three RBIs. Six other Raiders had a hit apiece. Searles had three RBIs.
Metz needed just 72 pitches to record his 11 strikeouts. He walked two. Hraby struck out three in two scoreless relief innings.
Brayden Larson was the losing pitcher. He allowed eight hits and eight runs in 3.1 innings while walking five and striking out two.