Posted on
HOT START TO OUTDOOR SEASON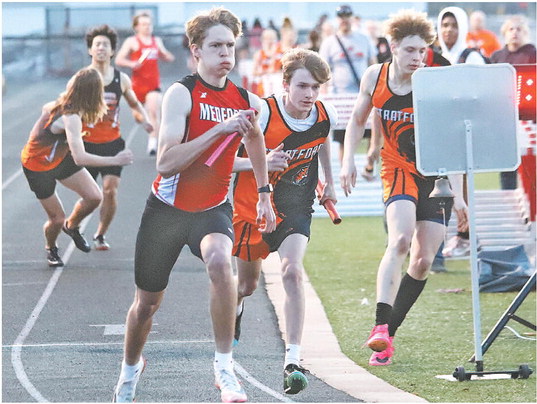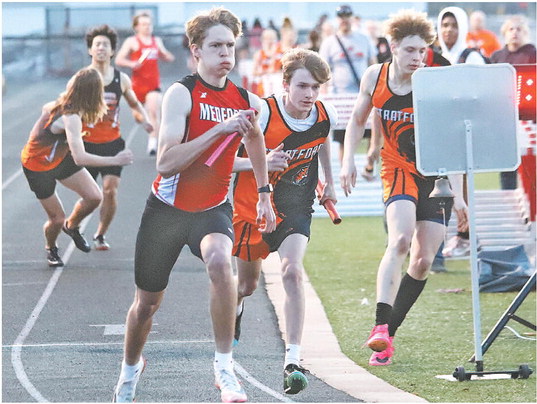 EARLY BIRD INVITATIONAL
Both Medford teams 2nd in Early Bird meet
The outdoor track and field season got off to a fast start Thursday with the host Medford Raiders improving several distances in field events from the indoor season as well as several times in comparable races at the Early Bird Invitational.
With temperatures soaring toward 80 degrees, everyone at Raider Field was a winner for the outdoor opener. With spring's annual unpredictability, it's not crazy to think this may end up being the warmest outdoor meet of the season.
Both Medford squads finished second in the eight-team invite with the boys coming just 10 points shy of Stratford on that side of the meet. The Tigers outscored the Raiders 146-136 to take home the championship trophy, but the Raiders clearly distanced themselves from third-place Newman Catholic (104 points) and the rest of the small-school pack.
The girls tied Newman Catholic for second with 111 points. They trailed an impressively-deep squad from Loyal that scored 145 points. Stratford was fourth with 95.5 points.
The boys got three relay wins and an individual victory from senior Silas Wipf, who took the 800-meter run in 2:04.99, easily beating his best indoor time by almost three seconds. He won the race by 0.69 seconds over Bloomer's Anders Michaelsen, while senior teammate Josh Clark took fourth in 2:08.22, also a season-best time and 1.11 seconds behind third-place Connor Genteman of Loyal.
The team of Evan Pagel, Evan Paul, Itsael Medina and Charlie Kleist won a close race in the 400-meter relay with its time of 47.96 seconds. The Raiders edged Newman Catholic at the finish line by 0.06 seconds. Not long before that, Paxton Rothmeier, Cory Lindahl, Kleist and Anakin Stokes opened up a nearly five-second margin and won the 800-meter relay in 1:35.75. Stratford (1:40.62), Newman (1:42.48) and Bloomer (1:58.67) were well behind them.
Clark, Adyn Gripentrog, Wipf and Gage Losiewicz finished the meet by winning the 1,600-meter relay in 3:44.51, 4.44 seconds ahead of second-place Stratford and well ahead of Bloomer (3:51.99) and Newman (3:52.31).
Stratford started the meet by easily winning the 3,200-meter relay in 9:29.86, but Medford's team of Dayne Jacobson, Lucas Borman, Anthony Seidel and Ervin Ulrich won a close record for second by 0.12 seconds over Bloomer with its time of 9:59.12.
Along with the 800, Medford scored well in the other distance races too. Naut van Meurs (12:26.37) and Ulrich (12:31.63) got third and fourth in the 3,200-meter race, won by Athens star Connor Sheahan in 10:22.04. Clark (4:48.89), Wipf (4:58.21) and Gripentrog (4:59.73) scored 12 points by placing fourth, fifth and sixth in the 1,600-meter run, which was also won by Sheahan in 4:39.51. Van Meurs was eighth in 5:31.33 and Borman was 11th for Medford in 5:52.59.
In the sprints, Stokes led a trio of Medford scorers in the 200-meter dash with his third-place time of 23.97 seconds, just 0.88 seconds behind winner Jett Schoenherr of Stratford and 0.6 seconds behind Colby's Caden Healy. Losiewicz was fifth in 24.77 seconds and Rothmeier got a point with his eighthplace time of 25.34 seconds. Stokes added a fifth-place time of 11.91 seconds in the 100-meter dash, also won by Schoenherr in 11.05 seconds. Lindahl got two points for his eighth-place time of 11.99 seconds, while Kleist was 10th at 12.09 seconds.
Scoles was fourth in the 400-meter dash at 58.32 seconds, while Jace Curran got the eighth-place point at 1:00.18.
Rothmeier took third in the 110-meter high hurdles at 18.7 seconds, while Will Daniels was sixth for Medford in 20.2 seconds. Daniels added a fourth-place time of 47.35 seconds in the 300-meter intermediate hurdles. Both races were won by Newman's Ben Hardesty in 16.21 and 44.1 seconds.
Medina (25.53) and Scoles (25.58) added 11th- and 12th-place finishes in the 200-meter dash and Anthony Seidel (2:23.78) and Owen Stockwell (2:24.67) were 11th and 12th in the 800-meter run.
Paul, a sophomore had a solid day in the jumps. He improved to 5 feet, 8 inches in the high jump to place third, 2 inches behind winner Benjamin Zuelke of Stratford. Lindahl was ninth at 5-2. Paul triple jumped for the first time this spring and placed fifth at 37-9.5, just ahead of Stockwell, who had his longest jump of the spring at 37-7.25. Kleist got a point by taking ninth at 36-5.5, improving by 17.5 inches over his last indoor meet. Paul added his best long jump distance of the spring at 18-11.75, good for sixth, while Lindahl was eighth at a season-best 1710.25.
Losiewicz finished fifth in the windy pole vault competition by topping out a 11 feet. William Bartnik had Medford's top distance in the discus at 74-5, good for 16th and Will Haavisto was 17th in the shot put at 33-5.
Athens was fifth in the boys standings with 77 points, followed by Colby (45), Loyal (44) and Greenwood (16).
Richter, Kahn get wins
Medford also won four events in the girls meet Thursday, two of which came individually from junior Meredith Richter and freshman Lindsay Kahn.
Richter easily won the 800-meter run in a season-best 2:21.63, while Raider Ella Daniels was fourth in 2:45.19. Richter beat runner-up Ella Heidmann of Colby by 21.19 seconds. Daniels was 1.32 seconds behind third-place runner MaKenna Herrmann of Colby.
Kahn had a big day, highlighted by her win in the 1,600-meter run in 6:05.11. She beat Herrmann by 11.43 seconds to win that race, plus Kahn ran the 3,200-meter race in 13:19.91 to place second behind Stratford's Kayla Casperson (12:59.54).
Medford began and ended the meet with dominant relay wins. The 3,200-meter team of Daniels, Lillie Gleichauf, Kahn and Richter finished in 10:48.23 to comfortably beat Stratford (10:58.99) and Bloomer (11:45.32). Aliyah Pilgrim, Gleifchauf, Daniels and Richter took the 1,600-meter relay in 4:31.34, well ahead of Newman Catholic (4:39.94), Loyal (4:48.05) and Stratford (4:53.47).
Gleichauf added to a strong day with a second-place time of 1:08.13 in the 400-meter dash, 5.1 seconds behind winner Mel Severson of Newman, and a personalbest height of 7-6 in the pole vault, good for an eighth-place point.
The pole vault ended with a good head-to-head competition between Medford's Jaylin Machon and Colby's Willow Oehmichen, who wound up winning it at 11 feet. Machon tied her personal outdoor best of 10 feet, one meet after going 10-3 indoors at Northland Pines. Machon added a second-place time of 17.59 seconds in the 100-meter high hurdles, 0.41 seconds behind Colby's Hayden Willner.
Medford's sprint relay teams both took second in their races. The 800-meter combination of Brenley Beran, Alexis Zuleger, Autumn Cooley and Riley Clark finished in 2:03.27, 0.11 seconds ahead of third-place Bloomer. Newman won in 1:56.58. The 400-meter team of Lindsey Klapatauskas, Zuleger, Pilgrim and Machon was timed in 54.82 seconds to fall 3.7 seconds behind Loyal. Stratford (55.21) and Athens (59.0) were well behind the Raiders.
In the field, Stacy Stolp went a seasonbest 31-1.5 to place fourth in the triple jump, while Klapatauskas was sixth at a season-best 30-6.75 and Rachel Wesle was ninth at 25-10.75 in her first triple jump competition. Stolp went a season-best 144.75 to place ninth in the long jump, Daniels was 10th in an improved 14-4.25 and Beran (13-2) and Pilgrim (13-1) also set season-bests while taking 15th and 16th.
Freshman Rivalee Stokes got four points by placing fifth in her first varsity discus competition with a throw of 76-10. Klapatauskas was sixth in the shot put at 28-6 and Wesle was ninth at 26-8.
Back on the track, Raider senior Bryn Fronk was seventh in the 200-meter dash with her time of 28.84 seconds, while Pilgrim was 11th in 29.56 seconds. Fronk also took ninth in the 100-meter dash at 14.06 seconds, 0.02 seconds away from scoring. Clark (14.68) and Zuleger (14.76) were 16th and 17th. Freshman Adalyn Dittrich was ninth in her first 300-meter hurdles race with a time of 1:00.67. Amy Espinoza (1:19.33) and Ashley Hernandez (1:19.56) were 14th and 15th in the 400-meter dash.