Posted on
IT'S GOOD TO HAVE OPTIONS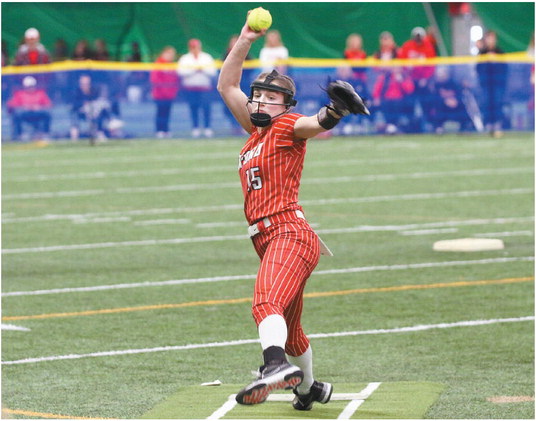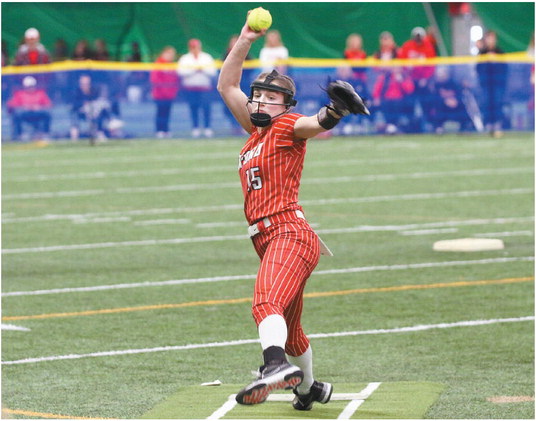 MEDFORD SOFTBALL PREVIEW
Seniors, freshmen create intriguing roster
Options are always good for coaches to have and Medford softball head coach Virgil Berndt believes he's in that fortunate position as the 2023 season gets underway.
Coming off two straight Great Northern Conference and WIAA Division 2 regional championship seasons and having a core of six experienced seniors still on the roster, the program certainly is sitting in a good spot.
The Raiders' fortunes this spring figure to be enhanced with the addition of a talented freshman class that made an immediate impact in the team's 3-0 performance this past weekend at the Danny Mac Softball Classic inside the Hodag Dome in Rhinelander. That infusion of depth is welcomed after eight seniors departed last June.
"It was nice this weekend because all 20 girls ended up playing at one time or another," Berndt said of the large group he took to the two-day tournament. "Not as much as I would've liked to have gotten a few in. But I saw enough of some that I know they're going to be there and enough of others to know they just need some time, need some reps, need some game time.
"But after watching games all day Friday, every one of those 20 could've started for somebody."
If the weather cooperates, Medford looks to get three more turf games played this weekend at the Woodside Sports Complex in Mauston. The Raiders are scheduled to face Reedsburg and Stewartville, Minn. started at 9 a.m. Friday. After a long break, they are set to finish at 5 p.m. Saturday against Mondovi.
After that, it's mostly up to Mother Nature to decide how quickly the Raiders dig in to conference and, later on, some of the non-conference challenges they have sprinkled into the 2023 slate.
Of course it's good to have pitching to meet the challenges and the Raiders know they have that in senior Martha Miller, the GNC's Player of the Year the past two seasons, a two-time All-State award winner and a UW-Green Bay recruit. Miller was 13-3 with a 0.89 earned run average in 17 starts last spring. She struck out 199 batters and walked 15 despite missing a couple of weeks due to injury.
Miller started strong in the dome over the weekend, striking out 14 in Medford's 9-5 win over Wausau West and 15 in a 4-3 win over a Hayward team the Raiders could conceivably see again in sectional play.
Berndt said Miller's leadership also has been helpful early on as the team bridges its age gap between the four classes of athletes.
All-GNC shortstop Allie Paulson returns as does All-GNC second-team centerfielder Morgan Huegli. Hope Faude and Madisyn Pilgrim got honorable mention and the sixth member of that senior class, Eryka Seidl, took a catching job that Berndt was unsure about who would take it last year and ran with it. "Eryka has looked like she finished the season last year," Berndt said. "She finished very solid I thought. She picked right up defensively and her bat is much better."
Faude is back at second base and is working her way back from a knee injury suffered last summer. Pilgrim emerged as one of Medford's top hitters as last year progressed, finishing with a .312 average and 15 RBIs.
Medford expects to be very strong defensively up the middle with Miller and Seidl as the battery, Paulson and Faude in the middle infield spots and Huegli in centerfield.
From there, Berndt will be exploring options in the first part of the season.
One player who definitely claimed a spot in the lineup at Rhinelander was freshman Zayleah Leonhardt. She hit a walk-off grand slam to beat Wausau West, went six for seven in the first two games and was solid defensively at third base and first base. She can also catch.
Freshman Ava Hartl hit the ball well and saw some time in leftfield, freshman Rylee Hraby threw a complete game in Medford's 8-4 win over Stratford. Freshman Finley Arndt saw a good amount of time in rightfield and made some contact at the plate.
Sophomores Brynn Thorson, Tori Konieczny, Chelsea Gebauer, Toryn Rau and Emily Kiselicka saw some time in the weekend tournament. Konieczny started the Hayward game at first base. Gebauer started the West game in leftfield. Thorson actually saw some varsity time last year and got some time at catcher and first base.
From the junior class, Jada Surek had a big hit in the game-winning rally against West and Lilly Bach made a play at second base late in the Stratford game. Other freshmen getting an early look included Ruthie Paulson, Laney Hraby and Addison Brahmer. Freshman Kaelyn Haenel wasn't with the varsity this weekend but is certainly a pitcher the Raiders are looking forward to watching develop.
"It's a good looking freshman group," Berndt said. "Most of them have played a lot, played in different areas and they have gotten a lot of experience in the summer.
"We have options to move people around," he added. "If someone is struggling, I definitely saw that we have plenty of options this weekend. That was nice to see. Numerous people can play multiple positions."
Medford finished 10-2 in GNC play last season, tying Antigo and Mosinee for the league title. The Raiders wound up 19-7 overall and fell in the sectional semifinal round of the WIAA Division 2 tournament 2-0 at New London in a battle between the half-brackets top two seeds.
Scoring was an issue at times for Medford last year. Medford averaged 6.1 runs per game, down from 10.2 runs per game in 2021 with mostly the same roster. That's one area Berndt and assistant Ron Fisk hope to see improvement this year.
"I thought we made some nice plays on defense (at Rhinelander)," Berndt said. "What we struggled with last year was putting the ball in play with runners in scoring position. There were still times with that this weekend, but for the most part we at least got it in play and got some runs. We just have to put it in play."
In the GNC, Mosinee peaked late last year with a young squad that hopes to carry that momentum into this season. The Indians had three All-GNC first-team players who were sophomores or freshmen. Antigo got off to an 0-4 start on a spring training trip to Florida last week and looks to fill the void left by pitcher Sam Swartz, who shared the Player of the Year award with Miller last spring. Lakeland has an outstanding sophomore pitcher in Saylor Timmerman and could be an interesting team if the TBirds can build a defense around her. Tomahawk is typically competitive. Northland Pines and Rhinelander were left looking up at the rest of the league last spring. The Hodags do get senior pitcher Addi DeMeyer back after she missed most of last year due to injury. "You always get excited about a new season," Berndt said. "After this weekend, seeing what we've got and the depth we've got, it's really going to be exciting to get out. I just really hope Mother Nature starts cooperating because these kids deserve to get out there. It should be a fun group."