Posted on
Three Pirates combine for five wins in opener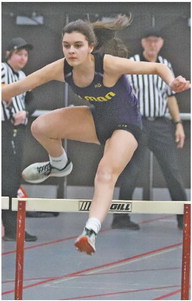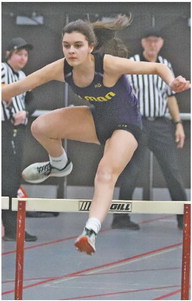 GILMAN TRACK & FIELD
The Gilman Pirates got event wins from three different athletes, which led them to a fourth-place team finish on the girls side of Friday's season-opening Neillsville Indoor Invitational.
Gracie Tallier got her senior season off to a strong start with three event victories, junior Bailey Angell won the shot put competition and sophomore Claire Drier pulled out a close win in the 45-meter hurdles to account for most of Gilman's 66.5 team points. With a roster of just six girls, Gilman beat Neillsville (59.5), Eau Claire Regis (44), Granton (27.5) and Greenwood (22) in the team standings. Loyal won the meet with 130 points, outscoring Bloomer (100.5) and Owen-Withee (70).
Gilman's boys, also bringing just six athletes, placed seventh with 31 points, easily outscoring Granton (5.5). Bloomer scored 115 points to nudge past Neillsville (111) and Owen-Withee (102) for first place. Loyal (74.5) was fourth, followed by Regis (51) and Greenwood (32).
Tallier and Drier combined for 18 points by taking the top spots in their first event of the meet, the long jump. Tallier's jump of 16 feet and one-half inch won by a comfortable margin, while Drier's best jump of 15-3.75 gave her a 4.75-inch margin over third-place finisher Kaylee Lawrence of Neillsville. Gilman freshman Kyra Rabuck finished 10th in her first meet with a best jump of 12-2.75.
Tallier then posted the second-best time in the 45-meter dash preliminaries at 6.43 seconds and then turned it on in the finals by hitting the finish line in 6.3 seconds to win the event by 0.16 seconds over Carly Borst of Regis. Borst had the fastest preliminary time at 6.37 seconds. Loyal's Addysen Wolf was third in 6.49 seconds, just ahead of Greenwood's Sarah Reiff (6.5).
Also in the prelims, Gilman's Jaylen Copenhaver was 23rd (7.47) and Rabuck (7.91) was 36th.
Tallier finished off her strong start to the spring season by winning the two-lap dash in 37.42 seconds, beating Loyal's Aubre Robida by 2.33 seconds. Rabuck just missed scoring, taking ninth in 46.38 seconds, 0.27 seconds behind eighth-place scorer Jacelin Jensen of Regis.
Angell, the defending WIAA Division 3 state runnerup in the event, got a solid mark to start the season in the shot put at 38-10.5 and senior Kaylee O'Malley tied Bloomer's Faith Bowe for fourth with a throw of 27-9.75. Angell won by more than 9.5 feet over Loyal's Hannah Smith (29-3), while Cara Olson of Regis was third at 287.5.
Drier's win in the 45-meter hurdles came by the slimmest margin with a time of 8.37 seconds. She was just 0.01 seconds ahead of Neillsville's Gracie Schoengarth, while Owen-Withee's Cassidy Graski was third at 8.8 seconds.
Copenhaver added a fifth-place finish in the high jump. She cleared the bar at 4-2.
Gilman's boys team got a lift from freshman Sawyer Winger and sophomore Brady McAlpine in Friday's meet.
Winger placed fifth in his first long jump competition at 16-10.75 and cleared 5-2 to place fifth in the high jump. Neillsville's Ashten Schultz and Owen-Withee's Mason Gay both cleared 5-8, with Schultz winning the tiebreaker. Winger was then part of a group of five jumpers who topped out at 5-2 and placed third among that group in the tiebreaker.
McAlpine was one of three Pirates to qualify for the 45-meter dash finals and he finished the highest, taking fifth in 6.12 seconds. Senior Braeden Person just missed scoring, tying for ninth in 6.21 seconds, 0.06 seconds behind eighth-place sprinter Reegan Schoen of Neillsville. Quintin Franzen was 13th in 6.31 seconds.
McAlpine, who qualified with an even faster time of 5.96 seconds, trailed brothers Carson (5.64) and Evrett (5.78) Tait of Regis, Bloomer's Connor Fossom (5.87) and Brody Bergemann (6.02) of Neillsville. Winger was 18th in the preliminaries at 6.37 seconds. McAlpine was fourth in the prelims, Franzen (6.02) and Person (6.13) was 11th.
Franzen, a junior, gave Gilman four fifth-place points in the 45-meter hurdles with his time of 8.44 seconds. Schultz won in 7.02 seconds, beating his Neillsville teammate Landon Kummer by 0.44 seconds.
Sophomore Mitchell Moran scored four points as well by taking fifth out of nine entrants in the 1,600-meter run. His time was 5:25.33 in a race led by Gay (5:01.15) and Colton Paczkowski (5:04.06) of Owen-Withee. Moran also scored two points by taking seventh in the 800-meter run at 2:47.76. Moran added a 16th-place distance of 13-6 in the long jump.
Person was fifth in the two-lap dash at 36.12 seconds, 2.44 seconds behind winner Dominic Sherwood of Owen- Withee, while McAlpine got the eighth-place point at 36.28 seconds.
Junior Caleb Marion was 13th in the shot put competition with his best throw going 32-10.
The boys four-lap relay team of Franzen, Winger, Marion and Moran placed fifth in 1:09.21, trailing Owen-Withee (1:03.53), Bloomer (1:05.78), Neillsville (1:07) and Regis (1:08.4). The co-ed eight-lap relay team of Drier, Tallier, Person and McAlpine placed fifth in 2:27.62, ahead of Greenwood (2:35.12) and Loyal (2:49.43) and behind Regis (2:21.21), Neillsville (2:21.43), Owen-Withee (2:23.87) and Bloomer (2:27.61).
Gilman will compete at UW-Stout's Northern Badger Invitational –– the Small School version –– on Saturday starting at 9 a.m.