Posted on
TOUGH END TO A GREAT YEAR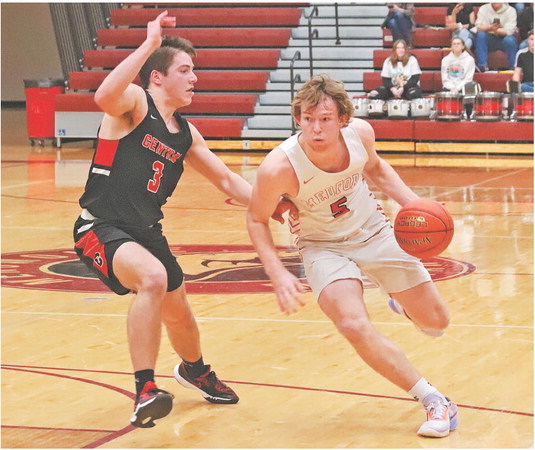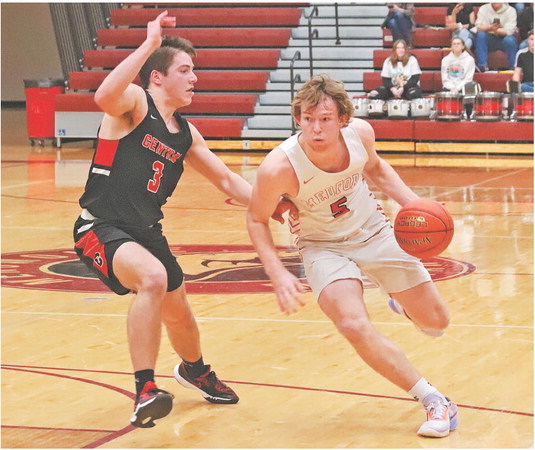 WIAA DIV. 2 SECTIONAL: LA CROSSE CENTRAL 57, MEDFORD 41
Riverhawks are better team once again, 57-41
The Medford Raiders' to-do list for knocking off La Crosse Central in Thursday's WIAA Division 2 sectional semifinal was fairly standard for any basketball upset bid with making shots, staying out of foul trouble, getting some gift points off of turnovers and rebounding being at the top of the list.
The Raiders, unfortunately, checked none of those boxes when the game was within reach and were reminded how the Riverhawks are the last team you want to trail by more than a couple of possessions after halftime in a seasonending 57-41 defeat at Menomonie High School.
The Riverhawks (23-5) went on to clinch the program's sixth Division 2 state tournament berth in eight years with a 48-44 win over New London (18-10) in Saturday's sectional final at Marshfield. Medford finished its stellar season at 22-5.
"It was a heck of a year," Medford head coach Ryan Brown said. "I can't say enough about this group, especially the seniors. The seniors have been great leaders. They've worked extremely hard from day one. They wanted to get back to this game and have a chance at Central. I thought we did everything we needed to do to get here. Sometimes it's your night and sometimes it's not. Part of that is because Central is a really good team and a really good program. Part of it is we had some opportunities that we just didn't get."
The Raiders found themselves in a 2014 hole at halftime, which did not seem insurmountable at the time. They hung in despite having starters Logan Baumgartner and Ty Metz pick up two and three fouls respectively to spend some time on the bench and shooting just 31.6% from the field (six of 19), including missing all six 3-point tries. Baumgartner, Medford's leading scorer, did not crack the scoring column in the first half.
The key issue in the half was La Crosse Central's ability to track down offensive rebounds. They got 12 of them on their 22 missed shots in the half and turned them into 14 second-chance points, foiling what Brown and the Raiders felt was actually excellent half-court defense.
Central's first three baskets all followed offensive rebounds, the Riverhawks then got a slam dunk from Bennett Fried off a Boston Brindley steal and then Henry Meyer got another secondchance hoop for a 10-5 lead seven minutes in.
"We said if we're going to win this game we have to rebound the ball well," Brown said. Central wound up with a 37-28 overall advantage on the boards. "I think in the first game with them (a 67-58 loss on Feb. 4) they got about 50% of their misses. They came out and they were aggressive to the boards. I thought we were trying to go for them but they have tenacity. I thought we picked it up after the first few minutes and after that even toward the end we played with that same tenacity trying to go for the boards. But that hurt us early in the game where we could've gotten some stops and potentially gotten a lead."
Baumgartner, back in the game after getting his second foul just 3:27 in, fed Metz for his second layup of the game and Charlie Kleist attacked from the left baseline and got his second bucket to get Medford within 10-9. But Central created a little separation again with hoops from Nic Williams, who got his own rebound, Fried and Meyer on another secondchance opportunity to go up 16-9. The Raiders crept within 18-14 on a Kleist free throw with 2:05, but Williams hit a tough shot on a baseline move to close the scoring in the half.
Medford had three possessions where it had a chance to dig into Central's sixpoint lead to start the second half, but the Raiders turned it over once and missed two shots. Williams hit a floater from the right side, Kleist was denied at the rim by Fried on a play that had the Raiders' bench screaming for a goaltending call that never came and Meyer hit a 3-point dagger at the 15-minute mark to put Central up 25-14 in what one could argue was the game's most pivotal momentum swing. Fried added two free throws with 14:08 putting Medford in a tough spot down 27-14 against a team that had turned the ball over only once up to that point –– and remarkably never turned it over again.
"It stinks when your best player gets two fouls, then Ty who's kind of our screener and our rebounder and a guy who can get Logan open, gets three," Brown said. "It hurt, but I was really happy (at halftime). We said we haven't played that well and it's a six-point game. We're still in the game. We wanted to come out, we ran a little set that we thought could get somebody open.
"We kept it within a certain range, but we just couldn't quite get it tight again and they're just so good at extending and holding and being patient until they can break you down."
For the most part, that was how the rest of the second half went. Baumgartner got his offensive game going, scoring 21 points, the Raiders tried to speed the game up and extend it, but head coach Todd Fergot's Riverhawks were masterful at bleeding clock until they got a layup or a foul and the Raiders just didn't have enough successful possessions to put a serious dent in Central's lead.
Baumgartner's back-to-back hoops in the lane made it 27-18 with 12:33 left and his 3-pointer with 5:40 to go made it 37-25 but that was all the closer Medford got.
"We tried to speed up the game and methodically foul and pressure a little bit with some traps," Brown said. "We did some things but they're obviously a really good team so they were able to capitalize and get some easy baskets."
Baumgartner finished with seven rebounds to go with his 21 points. He closed his magnificent career by hitting a deep 3-pointer from the left wing with 46.6 seconds left.
Kleist ended his big senior year with 10 points, eight rebounds and the team's only steal in the final second of the first half. Metz had six points and six rebounds and Zach Rudolph had a bucket in the first half. Seniors Anakin Stokes and Vince Seidel also got court time in their final basketball games. Junior Tanner Hraby had two points and three assists.
Medford shot 33.3% from the field overall (16 of 48) but was just three of 23 on 3-point shots. Central had a 10-point advantage at the free throw line with most of that coming late. The Riverhawks were 16 of 19 while Medford was six of nine. Medford turned the ball over only seven times, but Central turned those into eight key points as well.
Meyer had his second big game of the year against the Raiders. After scoring 27 in the February meeting, he had 23 points this time, hit Central's only 3-point make in 10 attempts and was eight of eight on free throws. The 6-7 Fried scored 16 points and had 11 rebounds and Williams, the Mississippi Valley Conference Player of the Year, added 14 points.
"I thought our defense was really good," Brown said. "Ultimately some of the baskets that happened late were just from us having to take chances or foul. Our goal tonight was to hold them under 50. We thought we could stay in the game. We knew they would play pretty methodically and so would we."
Though the season ended in disappointment, Brown said the positives of the year will, by far, outweigh its conclusion.
"You think about Logan leaving as our school's all-time leading scorer and guys like Charlie, Ty, Zach, Anakin and Vince, they're just great kids," he said. "I love them. I said just like I do when we win, 'you're going to have bigger moments than this. You're going to have big moments when you get married, have kids and be a dad. This is just going to make you tougher and it's going to build character in you.' I appreciate all they've done for us from day one."