Posted on
Cheeseheads in midst of another tough QB goodbye, but it's time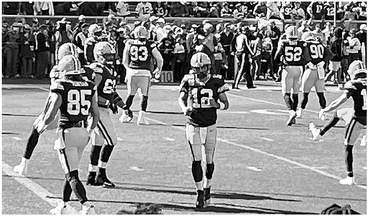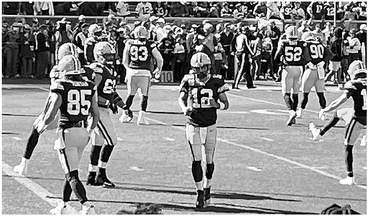 As I type this, it hasn't happened yet, but the Green Bay Packers are on the verge of trading away the best quarterback in their illustrious and lengthy 100plus year history.
Aaron Rodgers' 475 career touchdown passes is a team record that will stand possibly forever. His completion percentage of 65.3% on 5,001 career passes is almost 4% higher than Brett Favre and nearly 8% better than Bart Starr's. The team's winning percentage when Rodgers started was .661, again better than Favre (.632) or Starr (.618).
And what truly separated him was his interception percentage of 1.4% on those 5,001 career attempts. Just 105 interceptions in 5,001 attempts. He didn't lose games by himself like Favre did on occasion while throwing 286 interceptions in 5,377 attempts in 16 seasons with Green Bay.
Starr won many more championships. I'll give you that. I would argue it was easier to do that in the 1960s and he was surrounded by Hall of Famers. But no one threw with the pinpoint accuracy Rodgers did in his prime, thought one step ahead of defenses like Rodgers did and, despite his California persona, was tougher than he's given credit for, playing through broken thumbs and toes, a calf injury late during the run to the 2014 NFC Championship Game, the broken bone in his knee that he suffered in the memorable 2018 opener against Chicago and probably returning earlier than he should have from two broken collarbones because the team needed him late in the year.
I wore his green number 12 jersey to many games at Lambeau Field and while watching many more on TV.
And I couldn't be more in favor of this being the time to say goodbye.
Rodgers made it known Wednesday during his appearance on the Pat McAfee Show that his desire now is to play for the New York Jets and those trade talks, we all presume are ongoing.
Like it or not, the Jordan Love era is here. The transition was never going to be pretty. You knew that from the day the Packers made what remains the highly questionable move to trade up to get him in round one of the 2020 draft. It still feels like it was the wrong move at the time.
But it's the right move now to put that draft-day decision from general manager Brian Gutekunst to the test. If you're going to trade up to take a quarterback with your first pick, he has to play, especially before you make a decision on his next contract.
This will feel like deja vu thinking about the Favre trade to New York in 2008. You won't quite know how to feel in September seeing Rodgers in a different uniform. The good news is he probably won't be, in the back of his mind, angling to find a way to go to Minnesota. While I remember being pretty bitter about the whole Favre thing, it all worked out pretty good from the Packers' perspective in the end with Favre throwing away a Vikings' championship in 2009 and the Packers being the team that actually won the Super Bowl in Favre's second and final year in Minnesota.
That, and the knowledge that all-time greats like Joe Montana, Tom Brady, Favre and Peyton Manning all played elsewhere at the end of their careers makes this easier to take this time around. You just wish Rodgers well and move on and we'll welcome him back with pomp and circumstance when it's time to put him in the team's Hall of Fame and retire his number.
The circumstances that make this move necessary are simple. There are three levels of teams in the NFL. Those that are legitimate championship contenders, those that are ascending toward that and the rest of the bunch, who are either in a purgatory-like, stagnant position or descending.
The Packers proved in 2022 they are stagnant or even descending. Heck even Detroit and Chicago suddenly look like they're ascending teams in the NFC North. The chances of winning or even competing for the Super Bowl seem remote without Rodgers, but I'm not sure they're much better with him. As long as the Packers keep striking out with high defensive draft picks and defensive coordinators (someone please explain to me why is Joe Barry employed and Jim Leonhard is not), they're not going to reach the mountaintop.
When you've reached that point as an organization, it's best to clear out some of the old, bring in some new, ride out a tough year or three, and hopefully make the exciting climb back to contention if you put the right pieces together and get your salary cap in order.
Getting the salary cap in order means clearing the books of the biggest issue as quickly as possible. In this case, it's 39-year-old number 12, who the Packers made the biggest problem by signing to a ridiculously complicated contract extension last year. Clearing out the old often requires taking risks on when the right time is to part ways with veteran talent, especially in this case where the Packers can still get something of value in return in a trade.
This year, you'd like to think the Packers shouldn't hit rock bottom. They still have what I would say is one of the NFL's better offensive lines, they have a top-five running back tandem in Aaron Jones and AJ Dillon, the hope is they'll have some emerging wide receivers in Christian Watson and Romeo Doubs and there are some individual stars on defense. Just not sure about the unit as a whole.
Like all of the other parallels this situation shares with Favre's departure, this feels like it could be a 2008-type season. That year, Green Bay was competitive but won only six games, mainly due to late-game defensive collapses. Yet, you saw a lot of evidence from Rodgers as to why the Packers were ready for Favre to leave. I could see the Packers being about 6-11 in its first year with Love as a starter.
The other similarity that is so hard to ignore is the relief appearance Rodgers made against Dallas in a nationally-televised game in 2007 and the relief appearance Love made against Philadelphia in a nationally-televised game this past November.
Rodgers didn't quite rally the Packers from behind in that game at Dallas, but
Matt's
Bleacher Shots
Matt Frey he made you go, hmmm. Love did the same against the Eagles.
I get it. Love's performance at Philly, where he was six for nine for 113 yards and a pretty 63-yard touchdown pass and run with Watson is a really small sample size. But it was the first time in three seasons he made you go, hmmm. I'm not saying it showed he's the team's third straight Hall of Famer.
But the performance just had you wanting to see more. The strong arm, the physical presence, the footwork, the command he had in leading the team to 10 points against a good defense in the two possessions he played had to make Packers fans curious. If it didn't, you weren't paying attention.
The Packers' braintrust was paying attention and they've seen enough behind the scenes. The time has come.
While it will be a relief to say good riddance to the Rodgers drama of the last two years, Packer fans have to be so thankful for the unforgettable moments.
There was the day in 2010 he threw four touchdowns in the Metrodome while beating Favre's Vikings 313. The 31-for-36 nearly perfect playoff performance in Atlanta. The remarkably accurate passes to Greg Jennings in Super Bowl XLV. The fourth-down pass to Randall Cobb in 2013 to beat the Bears and win the NFC North. The two second-half touchdown passes on basically one leg to beat Dallas in the 2014 playoffs. The 2015 Hail Mary to beat Detroit and another one that tied Arizona in the playoffs. The Hail Mary to Cobb at halftime against the Giants and the unreal pass to Jared Cook to beat Dallas in the 2016 playoffs. The "I Own You" at Chicago in 2021. R-E-L-A-X. Run the Table. The championship belts.
It was all so good, at least until that San Francisco loss at Lambeau at the end of 2021. Finish well in New York A-Rod, if indeed that's where it ends, and best of luck to Jordan Love. Go Pack Go.
Matt Frey is the Sports Editor at The Star News.