Posted on
TOP OF THE ALL-TIME LIST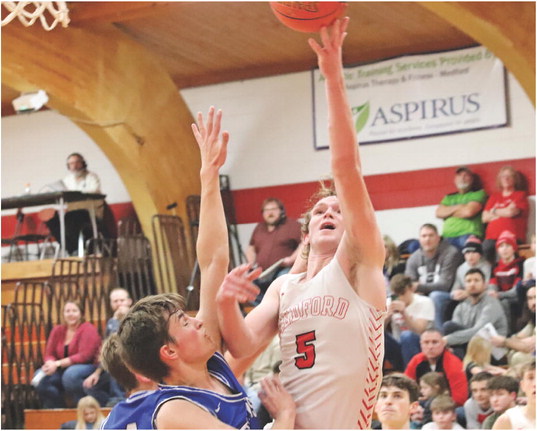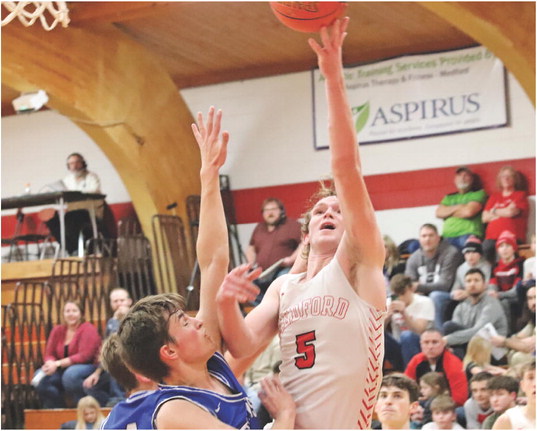 MEDFORD BOYS BASKETBALL
Baumgartner breaks scoring record in rout
Steve Russ held Medford boys basketball career scoring record for 30 years before it was finally broken by Peyton Kuhn. That record did not stay in Kuhn's possession nearly as long.
What was becoming inevitable when Kuhn graduated in 2021 turned to reality in Tuesday's non-conference game with Athens when Logan Baumgartner used a spin move and his left hand to bank in a shot with 2:04 left to score his 35th point of the night and the 1,465th point of his career, breaking Kuhn's record of 1,464.
The record-breaking basket put the punctuation mark on a game that was decided very quickly and ended with Medford winning 81-57 for the Raiders' ninth win in their last 10 outings.
"It's something you dream about as a kid watching the older guys play," Baumgartner said after the game. "I've had great teammates. Peyton Kuhn, whose record I just broke was a great mentor. He taught me a lot of things. It was a great journey. I was talking to him the other day and he was like go get it, you deserve it. He was very supportive and happy for me."
"I'm happy for him that he got to do that at home," head coach Ryan Brown said. The Raiders' next three games are on the road starting with a Friday game at Great Northern Conference rival Lakeland. "I was wondering how long do we sit there and wait for it (with the big lead). And he knew it too, you could tell. He was on pace at half and with a big lead like that, Athens was great about it. They said it was no problem, it keeps their guys working and they needed to get better. I'm happy that now for the rest of the year, he can just play and not be thinking about it."
The chance to break the record at Raider Hall seemed to be lost when Monday's non-conference game with Stratford was called off after Stratford canceled school for the day due to weather. As luck would have it, Athens also had its game with Nekoosa canceled and the teams pulled Tuesday's matchup together by Monday afternoon.
"We didn't want to force it, but it's a special place here and to get it at home means a lot," Baumgartner said. "I was excited. I didn't know if I would get it. I just wanted to let it come. (Brown) let me play a little bit at the end. It was good getting it here."
"Logan is a hard-working kid," Brown said. "He's very coachable and he always has been since he came in and kids like to be around him. As a leader, everybody wants to play with him and for him. I don't know if anyone was more happy for him than the people on the bench that he plays with all the time. It's who he is. He's a great kid and his hard work has paid off."
Hard work was put in by the entire team in the early going Tuesday. While Baumgartner hit two quick 3-pointers, Zach Rudolpoh added one and Ty Metz converted a three-point play to put the Raiders up 13-2 just 2:39 in, it was the defensive tone that caught Brown's attention, especially the effort Rudolph put in while guarding Athens' top outside shooting threat, Connor Sheahan.
"We wanted to get Logan some good looks early so he could knock a couple of shots down," Brown said. "We knew that they had two players who really make plays for them with Aiden Janke and Sheahan. Sheahan is a really good outside shooter so we put Z on him and told him to be all over him. I said, 'I'll keep you in there until he scores.' I never took Z out. He said I didn't know you were serious. That was big because (Sheahan) is a good player and you saw it in the second half when Z and some other guys were sitting, when he got open looks he knocked them down."
Baumgartner had 11 of Medford's first 18 points after knocking down three free throws at the 14:10 mark. Tanner Hraby scored twice, Charlie Kleist scored off a bounce feed in the post from Baumgartner and Kleist's steal led to a Metz offensive rebound bucket and a 26-4 lead. That lead over the shell-shocked Blue Jays continued to grow, hitting 37-9 following a Hraby 3-pointer and 47-14 after a triple from Charlie Gierl.
Baumgartner had 18 points at halftime and for those who were aware, his chase for the record was the only real suspense of the second half. It looked like he may come up just short, but he got on a late run, hitting the 30-point mark on a drive through the lane that made it 70-41 with 6:15 left. He made one of two free throws with 3:40 to go and then got within one score on a baseline jumper with 2:30 left. The Raiders got a hustle rebound defensively from Nick Steliga, who flipped the ball to Anakin Stokes. He got it to Baumgartner, who took it from there for the record-breaking hoop.
Records aren't a new thing for the Baumgartner family as his father Kirk was once a record-setting quarterback at Colby High School and UW-Stevens Point.
"He was just like don't even think about it. It'll come," Logan said. "Once you start thinking about it, you'll get nervous and start messing things up and it won't happen. Coach Brown, he's been great. He's been on me 24/7 whether I like it or not. He's looking out for me trying to get me to be the best I can be. The rest of the coaching staff throughout my years have allowed my teammates to set me up. They've been teaching me things, making me work hard."
Scoring in Tuesday's win was quite balanced. Hraby scored nine points, Kleist and Gierl finished with eight apiece and Steliga and Metz added seven each. Rudolph wound up with three points and Owen Stockwell and Logan Gubser each added late buckets.
Kleist led Medford with six rebounds, while Baumgartner and Stockwell each had five with Stockwell getting his in just nine minutes. Baumgartner dished out six assists, while Hraby and Rudolph had three each.
Janke, Athens' imposing senior post, had 23 to lead the Marawood North-leading Blue Jays, who fell to 10-3. Sheahan had 11 points, nine of which came in the second half.
Medford, who is 5-0 in the GNC, will hit the halfway point of its conference season Friday at Lakeland. After a nonconference trip to Menomonie Tuesday, the Raiders are at Antigo on Jan. 27.
"It's just one game at a time," Brown said. "Lakeland's really scrappy and tough and it's on the road. I thought there were lots of things in the first half (Tuesday) where we were moving in the right direction and in the second half I thought there were some things where we have to go look at the film and get better on."