Posted on
Loggers make Rib Lake work for OT victory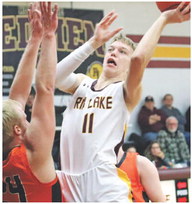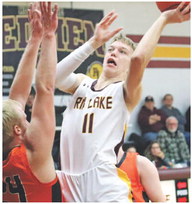 RIB LAKE BOYS BASKETBALL
Tanner Vlach hit the game-tying 3-point shot and scored 23 points and Donovan Sutherland made big plays at both ends late in Rib Lake's thrilling 73-70 overtime win over visiting Phillips Friday.
After trailing for most of the night, the Redmen led throughout the four-minute overtime to finally put away the pesky Loggers, who showed their 2-9 record entering the game was a bit misleading.
With the win, Rib Lake improved to 4-5 in Marawood play, good for a second-place tie in the North Division with Prentice, and 5-6 overall. Phillips is 1-8 in Marawood games. The Loggers got a game-high 26 points from Nate Belan in their loss and three more players hit double figures in scoring.
"It's their all-around players," Vlach said of what made Phillips tough to shake in the teams' second meeting of the season. "They have good shooters from one to five. They can really light it up. Anyone can really go off."
"They shot well and they played well," Rib Lake head coach Todd Henderson said. "They've had some tough losses too. Talking before the game with coach (Amy) Ring they were up on Assumption and Prentice at halftime and lost both of those. They were in similar situations that we were in with those teams."
Phillips shot better than 50% from the field until faltering in overtime when the Loggers made just three of 11 shots to finish at 47.6% overall for the game (30 for 63). Rib Lake was respectable at 44.6% from the field (25 of 56), but the Redmen may have won the game at the free throw line. They got there often enough with 29 attempts and made 18. Phillips was just five of seven.
"Andrew Wudi (five of six) did a nice job stepping up and knocking down his free throws. It was great to see that and some other guys too," Henderson said. "They stepped up and did that. We handled the ball well for the most part. We had a couple unfortunate turnovers that kept it interesting, but part of that is that we have to give some credit to the hustle and effort that the Phillips guys put out too. They didn't quit and they kept hustling and working hard."
Phillips executed well on offense early and built an 18-11 lead before Rib Lake crawled back into it, tying it at 20-20 on the first of Vlach's five 3s in the game. Vlach assisted on a Michael Borchardt hoop that put the Redmen on top 24-22, then the teams went back and forth to end the half, which closed with a 3-pointer from about 25 feet by Vlach just before the buzzer.
"I knew time was running down," Vlach said. "I knew I had to get something up and that was the first open look I had and I just let it fly."
Sutherland's tip-in on a Borchardt miss put Rib Lake on top to start the second half, but that was one of only three leads Rib Lake would hold in the half. Phillips opened up a 45-38 lead and widened it to seven again at 50-43 on a Brayden Revak 3-pointer with 8:20 to play. Phillips had a chance to go up by nine with a steal, but Rib Lake got back defensively, Dominic Quednow got a steal and Vlach made a long pass ahead to Dalen Gebauer for a hoop and the things stayed tight from that point on. The Redmen finally forged ahead 55-54 on a Quednow steal and score with 3:35 left, but Belan's three-point play with 2:59 left put Phillips back up by two. Vlach scored to tie it and Sutherland's steal and score gave Rib Lake a 59-57 lead.
Rib Lake's move to a 1-3-1 zone in the home stretch, was effective mainly due to Sutherland's presence on the top of it. He finished with 11 points but maybe more importantly he had seven rebounds, six steals and four defensive deflections.
"It was just a different look for us to try to get them on defense," Vlach said. "He has that long, lanky body. It helps us on the top to get those steals."
"We are still trying to find our groove defensively," Henderson said. "We're not playing up to our potential. I think we had flashes of it earlier in the season and played better and now we've struggled here at times. It's little things. Off-ball positioning, communicating, things like that. I think down the stretch here, we were able to switch to a 1-3-1 and just give them a different look and hopefully cause some turnovers and get some transition points and that really seemed to spark the comeback."
Revak drilled another 3 to put Phillips ahead and the Redmen came up empty on two possessions. Dominick Mabie hit two bonus free throws with 28.3 seconds to go to make it 62-59, but the Redmen quickly got the ball to Vlach on the left wing and he swished an open look to tie it. Rib Lake turned the Loggers over and got the last shot in regulation. Sutherland hit a floater but a foul was called before the release with 0.8 seconds left. Jackson Blomberg got a 10-foot shot off on the inbound play that came up short.
"It's just mental toughness knowing how we can play and how we should play and knowing we can get back into it," Vlach said of the second-half rally. "We can come back."
Sutherland got the first basket of overtime and Quednow added a free throw with 3:14 left. Wudi hit two bonus throws with 1:51 left for a 67-64 lead, Belan got a stickback and Quednow and Wudi each hit a free throw for a 69-66 lead with a minute left. Revak missed a 3, leading to a Vlach free throw with 42.8 seconds to play. Belan made one of two free throws with 28.4 ticks to go. Borchardt made a key save on a full-court inbound pass by Vlach that nearly went out of bounds. That led to a Sutherland free throw. Borchardt's steal led to a Sutherland free throw. He missed the second, but Blomberg got to the loose rebound and banged it off Belan to save the possession, but Rib Lake wound up turning the ball over and Belan hit a 3 with 5.2 seconds left to make it 72-70. The Loggers stole the inbound pass and got a short shot for JJ Heikkinen, but it rolled off and Vlach got the rebound and hit the final free throw with one second left.
Blomberg and Quednow scored eight points each for Rib Lake. Wudi scored 13, Borchardt had six and Gebauer added four.
Drew Hauschild scored 14 points, Revak had 15 and Mabie scored 10 for Phillips.
Rib Lake's non-conference game with Colby Monday was postponed to Feb. 21. The Redmen had a tough Marawood crossover at Auburndale tonight, Thursday, then host Flambeau in nonconference play and Chequamegon in a North rivalry game on back-to-back nights Monday and Tuesday at 7:15 p.m.