Posted on
Weir wastes no time hitting milestone shot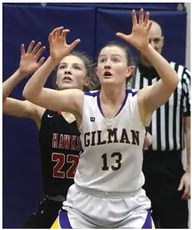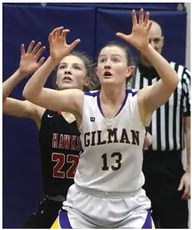 WEIR HITS 1,000
While she didn't know exactly where she stood, Tatum Weir correctly read the signs Thursday that she was closing in on the milestone mark of 1,000 career points.
The Gilman senior actually entered the non-conference game at Augusta at 998 and with her first bucket, a 3-pointer from the right corner just 1:10 into the game, she took care of that mission and then she went on to score 30 points, grab 15 rebounds and get a piece of 10 Augusta shots for her fourth triple-double of the season in a 62-50 win.
"It was really cool. It was really a big surprise," Weir said. "When I saw Grace Grunseth get it her senior year (Jan. 14, 2020), I thought that would be really cool. After awhile I realized not that many people get that, so I thought it'd be pretty hard. When I got it it was crazy."
Little did she know, Weir had chances to get to 1,000 a little closer to home in Gilman's 43-40 win at Flambeau on Jan. 2 but fell two points shy in an 18-point outing. She said her mother and the team's head coach Tammy Weir had only hinted to her that she was approaching the milestone.
"I didn't know for sure, but once I saw the people in the stands, I was like it was probably happening in this game," Tatum Weir said. "But I didn't know it was going to happen that early. It was a surprise."
On the possession that put her over 1,000, Weir had gotten an offensive rebound to keep it alive. The Pirates patiently looked for an opening against Augusta's zone and Weir finally got the look off a kickout pass from Danielle Mann as the zone collapsed on her near the low block on the right side of the lane. "I remember that I was pretty happy about it because I haven't made a 3 in awhile," Weir said. "The first shot of the game I had one, then all of a sudden there was a timeout and everyone started hugging me and I looked out at the student section and they were holding the numbers up and it was crazy. Danielle passed me the ball, so it was cool to have one of the other older players and top scorers pass me the ball. She's really nice.
"It's awesome that it happened, but if it didn't happen it wouldn't have been that big of a deal. I just like playing the game."
However, Weir said she may have been more stressed about reaching the mark than she thought because she played more relaxed the rest of the night and the stats showed it.
Now standing at 6-2, Weir has always been an obvious focal point of all her basketball teams, but she remembers actually enjoying defense more than scoring points when she first started playing the game in grade school.
"When I was little, I was the tallest one out there so they always remembered me as the stone wall and I'd block a lot of shots," she said. "I got a lot of nicknames for that. I went into every game and I was excited to block a shot."
While she doesn't remember her first high school points during the opening game of her freshman season, she does remember the game.
"I remember the first game I got into was against Spencer at Spencer and I was so nervous," Weir said. "(Tammy Weir) told me to sub in and I literally told her no because I was too scared to go out there with all of them. They were so big back then. I don't (remember the first points). It probably was a bunny. I think I only had six points that game (it was 10 actually). I know it wasn't a jumper or a 3-pointer."
Outside shooting is one of the many areas Weir has improved in since that freshman season. Those improvements are leading her to a chance to extend her career as she plans on joining UWPlatteville's women's team in the fall and pursue an English major.
"They came to a lot of my tournaments over the summer for AAU," Weir said. "The coaching staff was really nice and the players were so welcoming when I went to visit. I went to one of their games and a few of the players came over and we had a conversation and talked. It was nice to get to know them.
"They're a fast-paced team," she added. "They move the ball up the court as fast as they can. They want more faster, quick plays, not so much on the inside, but they want me to guard the bigs on the other teams."
Before then, she and the 8-4 Pirates have some business to finish this winter. At 5-3 in the Eastern Cloverbelt Conference after Tuesday's 48-32 win at Greenwood are in the middle of a logjam of teams trying to finish second behind presumptive champion Neillsville.
"I think we can get second in conference. I think we can get that," Weir said. "With Neillsville we hope to get it closer (a 90-31 loss the first time) or even win. That's our goal, but we'll see what happens. A lot of our players have stepped up their game and are really, really improving, especially the freshmen who had to take those spots. They're doing really good."