Posted on
TAKING EARLY CONTROL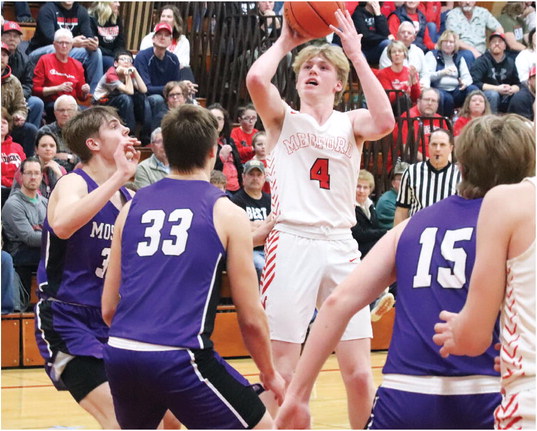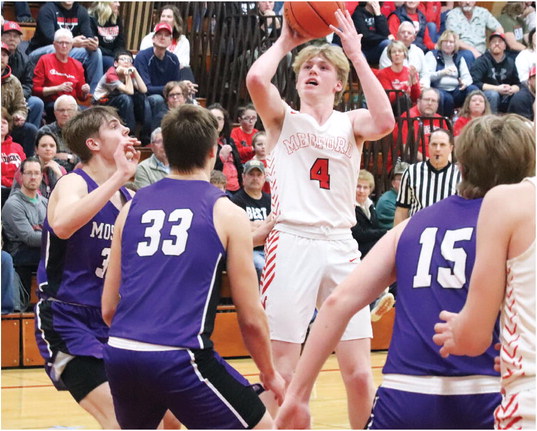 MEDFORD BOYS BASKETBALL
Raiders grab GNC lead with two big wins
There is still a long way to go in the boys basketball season, but after two big wins in a five-day span, the Medford Raiders are sitting in a good spot in the Great Northern Conference race.
The second of those wins was earned Tuesday when the Raiders scored the last nine points to snatch back a 6965 win over their fierce rivals from Mosinee in front of a sizable crowd at Raider Hall.
The back-and-forth game featured great inside play from both teams, some clutch 3-point shots and four second-half dunks from Mosinee standout Daffin Stoffel, but the biggest play was arguably a simple dive to the floor by Medford senior Zach Rudolph, who forced a key turnover with 21.6 seconds left to prevent the Indians from tying it or winning it on their last possession.
Rudolph poked the ball away from Indian guard Cole Kowalski, just as he had taken a pass from Stoffel as the Indians were trying to set up their offense for the last possession. He pounced on it near the midcourt stripe and got a tie-up with the possession arrow favoring Medford. Logan Baumgartner's free throws with 18.4 seconds left sealed it and the Raiders improved to 5-0 in the GNC and 9-3 overall, while Mosinee fell to two games behind Medford in the standings at 3-2 and 10-2 overall.
Northland Pines, who the Raiders beat Friday, sits between the teams at 4-1 in league play. The first round of GNC play ends Friday, though some teams, including Medford, have a game to make up.
"I saw two guys just struggling for the ball and I was like, well I might as well take a chance," Rudolph said of his defensive play. "I dove on it. That's what we preach all the time. When you see a loose ball, get on it. I was lucky enough to be the first one to get on it. I just put my whole body in front of it and I just hoped someone would foul me or we'd call timeout."
That was one of several unsung plays Rudolph made during the game with deflections or rebounds that either kept offensive possessions alive or ended defensive possessions with stops. He also had seven valuable points.
"Ultimately the biggest play of the game was made by him," Medford head coach Ryan Brown said.
The actual go-ahead basket came from Charlie Kleist, who tied the game at 65-65 with two free throws with 2:03 to play. Rudolph got a steal in the paint on the defensive end with 1:40 left. Then, out of a timeout, Kleist got free on a backdoor cut and scored an easy basket with 1:27 to go.
"It just worked out like that," Kleist said. "They had been switching up the whole game and I knew if I could fake pop and just slip backdoor it'd be money."
Kleist led the Raiders in scoring with 19 points, including 10 in the first half as Mosinee's defensive focus on Raider standout Logan Baumgartner gave him space to operate on the baselines.
"I knew with Stoffel being an elite defender guarding Logan, I'd really have to do my part and score some points," Kleist said. "My teammates got me the ball down low and made it easy."
The game's first 30 minutes featured high intensity from both sides and several turning points.
Mosinee came out firing offensively and led for the first 12 minutes, getting three 3s from Aidan Shaughnessy to go up 22-17. Rudolph got an offensive rebound and hit a cutting Baumgartner for an easy bucket to cut Mosinee's lead to 24-23 and Charlie Gierl gave Medford its first lead at 25-24 taking the ball in for an easy two off an outlet pass from Tanner Hraby. Rudolph assisted on a Hraby 3, plus he got his own bucket to open up a 33-25 lead with 2:54 left in the half.
"I know I'm not the biggest scorer on this team. We have guys like Bummy, Tanner, Charlie and Ty, they can all score," Rudolph said. "My goal coming in is just how can I get these guys the ball, how can I get these guys more shots, more possessions. To do that and keep us in the game, it felt great."
Gierl sank a 3-pointer that made it 38--27 which was answered by a Kowalski 3 that shrunk Medford's halftime lead to 38-30.
Kleist scored on Medford's first possession of the second half to make it 4030, but that margin didn't last long. It was 46-36, when Mosinee's ultra-quick junior guard Keagen Jirschele got free for two short scores and then, off a Medford miss, Jirschele's long pass up to Stoffel resulted in his one-handed slam dunk that made it 46-42 with 12:55 left.
With momentum now on Mosinee's side, Stoffel got a dunk off a Kowalski assist, Landen Thomer rolled in a 3-pointer and Stoffel, who hit the 1,000-point mark for his career early in the game, got yet another dunk off a Thomer drive and dish to put the Indians back on top 49-48.
Medford regained the lead, going up 5551 on a Rudolph 3, but the game changed again when Baumgartner got his fourth foul with 8:03 left while trying to stop a Jirschele breakaway. Triples by Thomer and Stoffel and another burst to the rim by Jirschele put Mosinee up 61-57 with 5:03 left. Hraby drilled an open 3 out of a timeout, but Jirschele fed Stoffel for his fourth dunk and Jirschele scored again to put Mosinee up 65-60, but Baumgartner hit a clutch 3-pointer with 3:00 to go to make it a one-possession game.
Brown said the key to shutting out Mosinee in the last three-plus minutes was a decision to roll the dice and have Baumgartner defend Jirschele.
"Logan in smart enough most of the time to find his distance but is big enough to still contest," Brown said. "We talked about it and I probably waited too long to go to it with the four fouls. But that was huge. Then he could switch (on screens) to Stoffel and we got a couple of deflections and a couple steals."
Hraby finished with 17 points, Baumgartner had 14, Gierl had seven in some big minutes off the bench and Ty Metz had five while fighting some foul trouble at times. Rudolph's eight rebounds led Medford, while Baumgartner and Metz had five each. Rudolph and Kleist both had three assists. Hraby and Metz both had three steals.
Stoffel was a force with 27 points and Jirschele had 14, but the Raiders were able to overcome it.
"You can scout for them all you want, but at the end of the day they're really good and they're going to make plays," Kleist said. "You just have to try to limit the plays they do make."
"We had to play from behind in the last couple minutes and keep our calm," Brown said. "It was big for us just having to stay calm, make the right play and then get stops. That was a tough win. I can only imagine what it's going to be like when we go there."
The Raiders are off until Monday when they host Stratford in non-conference play at 7:15 p.m. They'll have their second GNC meeting of the season with Lakeland Jan. 20 in Minocqua.
Medford 59, Pines 50
On Friday, Baumgartner scored 26 points and pulled down 14 rebounds, while Medford's defense limited host Northland Pines to 30% shooting from the field in a 59-50 win over the Eagles, who had just beaten Mosinee on the Indians' home floor three days earlier.
The Eagles made just five of 28 3-point shots. Medford wasn't stellar, making five of 19, but the Raiders got a couple of big ones from Baumgartner and one from Hraby in the second half. They also made 16 of 20 free throws, scoring their last 11 points from the line.
Brown said the goal was to make the game a grind for the Eagles and he felt that's what wound up happening.
"Pines is so solid and athletic," he said. "They're well-coached. We knew we had to try to execute better than they executed. Our goal was to kind of wear them down on both ends and I actually thought our offensive end maybe worked as good as the defensive end when it comes to shooting. We contested their 3s well. I thought we forced a lot of 3s by playing solid defense and I thought they missed a lot of 3s and I think a lot of that was because of how hard they had to play on the defensive end. We were patient. I thought we hit guys with screens hard all night long. They're one of the better team defenses I've seen all year. Yet we were still able to get our shooters open."
Good patience led to good shots in the first half when the Raiders led by as many as seven at 20-13. The Eagles got within 23-21 on triples by Gabe Smith and Nolan Lurvey but Baumgartner hit a tough pull-up to make it 25-21 at the half. The Eagles forced some turnovers and got Medford out of sync while grabbing a 34-30 lead early in the second half. They missed a chance to extend that lead on a flurry of inside shots, then the Raiders made them pay with a Kleist score, a triple by Baumgartner and Metz's threepoint play off a rebound on a Baumgartner miss. Baumgartner scored in the post, Hraby knocked down a 3 and Baumgartner pulled up and drilled his fourth 3 of the night for a 46-36 lead with 7:18 left and the Raiders held on from there.
Metz had big night with 12 points and 10 rebounds. Kleist scored 10 points and had five boards. Hraby added nine points and Rudolph scored two and had five assists, two steals and three rebounds.
"You have to respect those guys," Rudolph said. "We've been playing them since we were in sixth grade and they've always been good. Hats off to those guys. That's a huge game because you know they're going to be in it at the end. Just to steal a game from them was big."
Lurvey, last year's co-GNC Player of the Year with Baumgartner, led the Eagles with 19 points, eight rebounds, three steals and three assists. Smith was held to 11 and Steimke, a strong outside shooter, scored just seven.
"We were patient," Brown said. "We took great shots. I watched the film and there was barely a shot that I wasn't happy with. Defensively we had to be really solid and get out on Steimke and try to limit Smith deep in the paint and not let Lurvey get deep on us. Then we had to make free throws down the stretch."