Posted on
Floor, beam stand out in year's first meet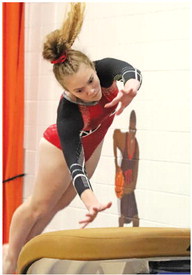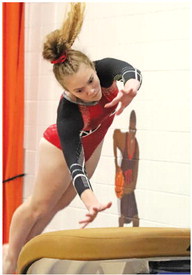 MEDFORD GYMNASTICS
The Medford Raiders found out who their toughest competition in the Large Division of the Great Northern Conference may be this winter, found some things they need to work on and also found out they have strengths to build upon in Saturday's season-opening Hot Cocoa Gymnastics Invitational at Medford Area Elementary School.
The Marshfield Tigers won the five-team meet with 132.175 points, while Medford took second at 126.95. So the Raiders know they have work to do to contend for the title in their first season in the Large Schools Division. The Raiders edged Rice Lake (123.325) for Saturday's second-place spot, while Mosinee (122.325) and Tomah (108.825) rounded out the field.
The Raiders' highlight event was the floor exercise, where they scored a solid 33.55 team points. They posted the highest balance beam score of any team at 32.05 and got some solid starting scores on the uneven bars. The vault scores were lower than Medford is accustomed to, which head coach Steve Cain attributed to a combination of tough scoring from the judges and things the Raiders know they can fix or add to routines.
"It's a starting point today and a darn good starting point," Cain said after the meet. "We might have scored less than we did last year at our Hot Cocoa meet (132.6). You know what? So what? On Monday, it will pretty much be, girls don't cry over spilled milk. It's done. Move on. What do you have to fix? There were definitely some highlights."
On floor, the Raiders dazzled with a combination of tumbling skills and dance that exceeded expectations for a first meet. Kyla Krause led the Raiders with a third-place score of 8.75, while sophomore Shayla Radlinger, a varsity all-around for the first time, set a personal- best score of 8.575 while placing sixth. Veronica Mateer tied for 10th at 8.15, Kate Malchow was 13th with an 8.075 and Avery Purdy was 14th out of 25 gymnasts with a 7.9. The day's all-around champion, Avery Ash of Rice Lake, won with a 9.0, just ahead of Marshfield's Ellie Jensen (8.775).
"I can't say enough about floor," Cain said. "I think all of the girls presented themselves so well on floor. Shayla was a highlight. I have not seen that kind of excitement for that for so long. She was having fun. It really showed.
"We had some girls, if they didn't score, it was only because they were missing a few things that are requirements on floor or they didn't have some higher valued skills that they're working on," he added. "They just didn't have them for the first meet."
Purdy, a senior, led Medford's solid first outing on the balance beam with a personal-best 8.2 that put her in fifth place. Krause was seventh with an 8.0, just ahead of teammates Malchow (7.95) and Mateer (7.9). Radlinger tied for 17th at 6.8. The Raiders were just ahead of Marshfield (31.9) for the top team score. Ash was the event champion with a 9.35, Jensen got a 9.1, Mosinee's Avery Ahles was third at 8.55 and Tomah's Maddy Pollack was just ahead of Purdy at 8.3.
"Our presentation on beam from the whole team, varsity and JV, was wonderful," Cain said. "They did a great job."
The Raiders got an even 30 points on the uneven bars, led by Krause's seventhplace 8.0. Malchow and Purdy tied for 11th with 7.5s, Radlinger was 14th at 7.0 and Ellison Carbaugh was 21st at 5.3. Jensen won the bars with an 8.625, followed by her Tiger teammates Solenne Lonsdale (8.3) and Abby Pietsch (8.3).
"On bars, we had some awesome stuff," Cain said. "We started out a little bit on the low end than what we normally could be, but for the first meet, getting a 7.5 or higher is not bad. Not bad at all. That shows they went for everything they've been practicing and not all of it came through completely today, but it will. I'm not worried."
Radlinger was Medford's top scorer on vault with a 10th-place score of 7.95. Krause tied for 11th with a 7.85, Malchow was 13th with a 7.8, Mateer tied for 14th at 7.75 and Carbaugh finished 19th with her 7.6. Ash was the vault champion with a 9.3.
Krause was the fourth-ranked allaround gymnast in the meet by totaling 32.6 points. Malchow was ninth with 31.325 points and Radlinger was 11th with 30.325. Ash scored 35.75 points, Jensen had 34.95 and Ahles placed third with 33.25.
Medford scored 97.45 in JV events to place second in the team standings behind Marshfield (116.45). Tomah scored 75.85 points.
Freshman Delaina Meyer had a big first meet for Medford, taking the allaround title with 31.5 points and freshman Bridget Cloud was right behind her with 29.05 points.
Meyer tied Marshfield's Kyra Huff for first place on the balance beam with an 8.0 and was second in the other three events. Medford's strong day on beam included third-place scores of 7.6 from Cloud and Kaileigh Mientke, a fifth-place score of 7.3 from Sadie Moore and a sixth-place score of 7.0. from Carbaugh. Mientke's score was a personal-best.
Meyer earned an 8.1 on the floor to only trail Marshfield's Serenah Tippett (8.3), while Cloud was fifth at 7.35. Meyer got a 7.0 and Mateer added a 6.7 to place second and third on bars. Cloud tied for sixth at 6.2. Karsyn Miller of Marshfield won with a 7.4. Meyer just missed winning the vault, earning an 8.4 to finish one-tenth behind Marshfield's Pagie Treutel. Cloud tied for fifth with a 7.9, Mientke was seventh at 7.7 and Purdy was eighth at 7.6.
Medford is off until Dec. 17 when it attends the Rhinelander Invitational.