Posted on
Pirates keep rolling in win over Rib Lake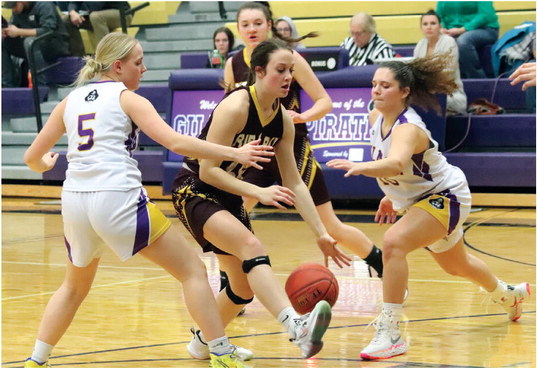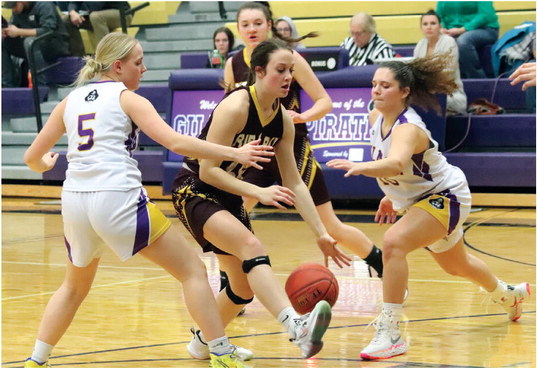 GILMAN 63, RIB LAKE 41
Danielle Mann's shooting spree helped keep Rib Lake in it for a half, but that wasn't enough for the Redmen to slow down the surging Gilman girls basketball team in Monday's crosscounty non-conference matchup.
The host Pirates won their sixth straight game 63-41 behind, arguably, their best offensive execution of the season. Gilman made 56% of its two-point shots, most of which were set up with some nice assists, added five 3-point makes and had a near season low of 12 turnovers. The Pirates had 16 assists on 24 made field goals, which they said was the most fun part of the victory.
"It's so much fun when we're laughing and smiling the whole time and giving everyone high fives," senior guard Madisyn James said. "It's awesome."
"There was really good teamwork this game," senior Emma Grunseth said.
"We're getting better at finding people. It's cool giving a really good pass and seeing someone."
Grunseth was the beneficiary of many of those assists early on as she scored 13 of her 15 points in the first half. She finished with 15 points and nine rebounds in the win.
After the film was reviewed, it was discovered that junior post Tatum Weir recorded her first career triple double with 17 points, 13 rebounds and 11 blocked shots. She added four steals and two assists in a game the Pirates never trailed.
Gilman stretched its win streak to seven Tuesday with a 64-40 victory at Greenwood and now sits at 4-3 in the Eastern Cloverbelt Conference and 9-5 overall.
"It was good to see us break down and execute our offense," head coach Tammy Weir said. "We took care of the ball with only 12 turnovers and we all saw the court very well."
Rib Lake, whose bench was shortened by two players due to quarantines, fell to 3-8 overall. The health and safety protocols hit Rib Lake even harder midweek, leaving the Redmen's schedule –– which was supposed to be a busy one –– in doubt for the next week or so.
"Offensively, we just didn't shoot well as a team," head coach Wayne Mann said. "We need everyone to contribute offensively. Hopefully we can get a couple girls to help on the offensive side. On the bright side, we are reducing our turnovers and that shows up on the shots on goal column."
Rib Lake's stats sheet shows the Redmen with 71 shot attempts, 50 twos and 21 from 3-point range. Unfortunately for the Redmen, only 16 went in, 10 twos and six 3s.
Danielle Mann's hot hand was certainly a bright spot. Her first three 3-pointers of the night kept the Redmen close at 15-11. After Weir assisted Grunseth on a cut to the basket and Au- brey Syryczuk took it herself and scored off a long rebound to put the Pirates up 19-11, Mann drained another triple from the other side of the court and then scored off a turnover to pull Rib Lake within 19-16. Lauren Pelnis shaved another point off Gilman's lead with a free throw with 6:54 left in the half.
But then it was Grunseth's turn to go on a little run as she swished a 3-pointer, scored off a James assist and then scored again off a Weir assist. Weir added two free throws at the 4:04 mark to open up a 28-17 lead.
"People saw me," Grunseth said. "That was probably the best I've shot from under the basket."
The Redmen responded with one more run, getting a Pelnis steal and score, a left baseline jumper from Josie Scheithauer and Mann's 15th and 16th points of the half on a baseline drive that made it 29-23 at the half.
Syryczuk's 3-pointer and a Hannah Vick score off a Syryczuk assist were countered by another Mann 3 to make it 34-26 early in the second half. James fed Kya Dietzler for a point-blank score and Grunseth got a wide-open drive to the basket after a nice shot fake. Emily Rodman hit two jumpers to pull Rib Lake within 38-30 and Mann's putback made it 39-32 with about 10:30 to go, but that was as close as the Redmen would get as Gilman then put it out of reach with a 10-0 run.
Syryczuk started it by attacking the rack and getting a hoop and harm with 9:57 left, though she missed the free throw. Weir sank two free throws, then James fed Weir for a layup on a perfect press break and Syryczuk scored again to force a Rib Lake timeout with 8:10 to go. Gilman got a stop out of the timeout and Grunseth fed Addysson Hopkins who hit a short runner in the lane to up the lead to 49-32 before Scheithauer ended Gilman's run with a 3-pointer.
Back-to-back 3s by Weir and James were the daggers, making it 59-37.
James continued her strong play with six points, three assists, a steal and two rebounds.
"I'd say I'm pretty confident," she said. "I'm more confident in my shooting. I was doing pretty good up until this game. I didn't really do my best today shooting-wise, but I have a lot of assists and that's really what I work for every day is my assists, just teamwork. That's my favorite part."
Syryczuk scored nine points and had seven rebounds and two assists. Ava Warner and Hannah Vick finished with six points each. They took turns shadowing Mann defensively after her hot start. Grunseth and James said the Pirates weren't playing a true box-and-one but just wanted to make sure the Rib Lake sophomore was more closely guarded.
"We had an eye her," James said. "She's pretty good."
Dietzler had four rebounds for Gilman and Vick had three.
Mann finished with 23 points for Rib Lake. Scheithauer finished with five, Rodman and Heiser scored four each, Pelnis had three and Kamy Annala added two. Pelnis and Annala led Rib Lake with seven rebounds each, while Mann had six, Heiser grabbed four and Tia Bube had three.
Heiser, Pelnis and Scheithauer had three steals apiece, while Annala and Pelnis both had two assists.
"We rebounded well against a much taller team and played help defense better than in the past, getting 16 steals throughout the game," Wayne Mann said.