Posted on
STRENGTH IN NUMBERS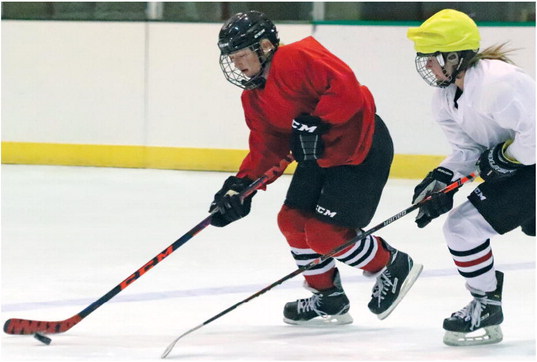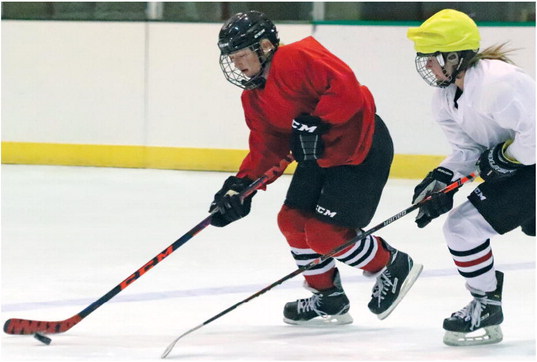 Large incoming class gives program a boost
Walk into a practice at the Simek Recreation Center and you will instantly notice one of the key earlyseason stories for the Medford Raiders' girls hockey program.
After scraping by the past three winters with a dozen or fewer bodies, depending on the day or week, the roster has nearly doubled in size to start the 2021-22 season, suddenly giving co-head coaches Jenna Wieting and Scott Brandner much-needed depth and options in creating their offensive and defensive lines.
Granted, the majority of the team will be quite young, but the large freshman class brings with it a lot of time spent on the ice in the youth ranks and a shot in the arm for a program that's had trouble keeping up for 51 minutes with the deeper co-op programs the Raiders face in just about every game they play.
The coaches project they'll also gain more players than they lose next year.
"We haven't had a team like this since probably the first year that I started coaching," said Brandner, who joined the program in the 2017-18 season. "But talent-wise and knowing the game, these guys are way ahead."
"We have a big group now and a big group coming up," said Wieting, who enters her fifth season as a head coach with the program. "So that's going to be a little different."
The Raiders open the season with a roster of 19 players. Their first chance to see what they have came Tuesday when they traveled south to face the Black River Falls Co-op in a game played before this week's early holiday deadline for The Star News. Game two is set for Dec. 2 when the Raiders visit defending WIAA state champion Chippewa Falls-Menomonie.
From an experience standpoint, Medford returns seven letter winners from the 2020-21 team that went 3-13 with two wins over the Copper Country U19 team from Houghton-Hancock, Mich. and one over Chippewa Falls-Menomonie's JV.
The team's leading scorer from a year ago, Kyla Kennedy, is the squad's lone returning senior and, as of late last week, appeared to be on the verge of being cleared to play after suffering an elbow injury in September with Rib Lake's volleyball team. She had seven goals and four assists last season and 15 goals as sophomore.
Junior Skylier Krueger and sophomore Sophia Brunner are back after scoring six goals apiece last year and junior Eryka Seidl is back after scoring five goals. Juniors Delaney Hraby and Alyssa Brandner and sophomore Jaylin Machon also return.
"Kyla is recovering from an injury. We're hoping to have her cleared for the first game, but if not, soon after," Wieting said. "Sophia Brunner is looking really good. She did some summer hockey. Eryka, Jaylin, all of our upperclassmen are looking pretty good."
Alyssa Brandner's role changes bigtime as she takes over the team's goaltending position. "She's doing pretty well," Scott Brandner said. "She needs a lot of work yet. But we've had experience with first-time goalies. We've had so many throughout the years. We figure out what we have to do with them, try to help them out to get through it. It's helped that she's skated for how many years."
Hraby has two years of experience as a defenseman and she'll be the leader of that group that will be charged with making defense a team effort in front of Brandner. Krueger is listed as a defenseman on the roster as well.
"Defense is going to be a huge key, helping Alyssa out, getting those pucks out of the crease and into the corners out of harm's way," Wieting said.
Freshmen listed as defensemen include Kelli Petrick, Carly Koski, Autumn Dahl and Makenna Wellman.
Megan Schaefer, Emily Kiselicka, Victoria Konieczny, Grace Schmidtfranz, Alisyn Gruny and Abigail Harries are the freshman forwards, though Harries was injured during the first week of practice. This year's roster also includes exchange students Milou van de Boogaard and Sofia Camara.
Tasha Gruwell has been added to the coaching staff as a volunteer assistant. "She's going to be helpful," Wieting said. "Tasha knows a lot of the young girls, so she knows their tendencies. That will be pretty helpful."
The Raiders averaged 1.9 goals per game last winter. They scored 25 in their three wins and five in their 13 losses. The coaches are expecting more consistency this season from an offensive standpoint. "The puck will go in the net this year," Scott Brandner said. "Last year we had long stretches where we just couldn't hit the net. I don't think we're going to have a problem with that. We have girls that know how to put it in the net."
Brandner added the newcomers, for the most part, have a solid understanding of where they are supposed to be in certain situations, which obviously has been nice to see in the early going.
"They're willing to learn," he said. "It's not like we're getting fought.
They just want to know why we put someone there."
"They seem to be pretty spongelike with soaking in everything," Wieting added. "A couple of them are going to be playing different positions from what they've played in the past. But you'll have that year to year. It all depends on how everybody fits together."
As always, the regular- season schedule won't be an easy one to navigate. The Raiders have home-and-away dates with Black River Falls and Chippewa Falls-Menomonie who did lose a lot of talent, but coming off a state title run, figures to have enough to keep winning. The usual home-andaway dates with former Great Northern Conference co-ops Northland Pines and the Northern Edge are again present, plus the Raiders will play area mega-cooperative teams the Central Wisconsin Storm and the Wisconsin Valley Union. New this year is a home-and-away series with the Badger Lightning Co-op based out of Baraboo, who the Raiders felt they were competitive with when they've squared off the past couple of years.
A home triangular is also in the works for Jan. 15, where the Raiders would host Copper Country and the Beaver Dam Co-op, who Medford beat three times two seasons ago. Medford also will travel to Beaver Dam's annual two-day tournament at the end of January.
In the WIAA post-season sectional, the Hayward Co-op and Superior Northwestern are new to the mix, joining Medford, the Storm, the Union, Pines and the Edge, while the Fox Cities and Green Bay co-ops are out.
"Right now it's just about getting it all to mesh together," Scott Brandner said. "Slowly but surely it's starting to happen."
"We got through a couple of quarantines (in the first week), knock on wood," Wieting said. "Those are tough. Hopefully we're just able to play all of our games and make it through. We have a good, solid first couple of lines and a solid two pairs of defenders. Everybody else is going to be super helpful beyond that."