Posted on
Raiders have playmakers, but depth is a concern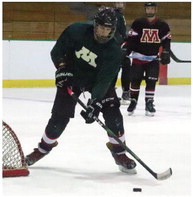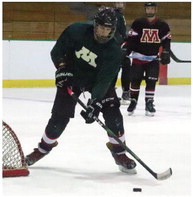 The Medford Raiders open the new hockey season with some senior leadership, some offensive playmakers, some defensive experience and, for the first time in a while, potentially some goaltending depth.
The key question, however, is will 13 bodies be enough to successfully get through the rigors of a 21-game regular season, as the schedule stands now?
"I like our team," third-year head coach Galen Searles said before practice on Friday afternoon. "Our practices have been hard. The kids are intense. The biggest challenge is going to be what do we look like come the third period running one and a half lines, maybe two lines?"
A solid crew of six seniors left following last season and three freshmen are this year's additions leaving the roster noticeably smaller than it's been for at least the past half-dozen years.
The good news is 10 letter winners do return from last year's 6-14-1 squad, including a half-dozen players who are multi-year letter winners. Many have been with Searles for at least two years, if not longer including their time in the youth ranks. From that standpoint, this is a group that knows the game and what to expect from each other, knows the fundamentals and knows what kind of effort it takes to compete at the varsity level.
"Everybody on our team has come up through Medford Youth Hockey, so as far as that goes, it's all experienced hockey players," Searles said. "In our drills and our practices, the freshmen are slower than the seniors now, but there isn't this massive gap between the low players and the highest."
The Raiders were set to make their 2021-22 debut Tuesday with a non-conference game at Marshfield that took place after this week's early holiday deadline for The Star News. Medford will play at the Chequamegon Co-op in a 6 p.m. faceoff this coming Tuesday before hosting always-tough Mosinee at 7 p.m. in the Dec. 2 home and Great Northern Conference opener.
Highlighting the current roster are seniors Brayden Machon, Ben Brunner and Colbe Bull and juniors Miles Searles, Connor Gowey and Jake Noland. Cameron Bull, Kaden Kennedy, Noah Machon and Isaac Schaefer are the returning sophomores.
Machon, Searles and Gowey will be the players Medford will rely on most to provide some offensive punch.
Gowey was the team's third-leading goal scorer last winter with 11 goals and five assists and Machon had six goals and five assists. While Searles only scored one goal, he had nine assists. He had three goals and eight assists as a freshman. Schaefer made some things happen last year with a goal and six assists.
"We're definitely going to be leaning on Connor and Miles a lot to do some scoring," Galen Searles said. "Brayden should be one of our leading scorers. He was strong last year. Now he's a senior, so he's going to be bigger and stronger than most everybody. He plays lots of sports. He's an athlete. He looks good out there."
While finishing at the net is one thing, Searles said it will be important for all of Medford's skaters to put teammates in position to score with their passing.
"In our practices we have a lot of playmakers right now," he said. "Most everybody has bought into dishing the puck when the pass is there and looking for better scoring opportunities. We do a lot of small area games where you condense the playing area to a smaller area so that your decisions have to be faster and hanging on to the puck too long in those type of games causes you to get pinched. In addition to just passing to each other trying to be a little more deceptive in your passing, having your head up and your vision wide so that you don't have to stare directly at a guy to make a pass to them."
With the graduation losses of last year's starters Logan Searles and Warryck Leonhardt, coach Searles said Medford's defensemen this year will need to step up this year.
"Colbe and Cameron Bull are our two bigger and older defensemen," he said. "I moved Kaden Kennedy back to D and that kid's a spark plug. He's been great. He's one of the fastest skaters we have. He's a strong skater. He's just not as big as everybody else. Those are our guys. We'll probably start out most games running three D as we get into the game and we get tired I'll slide back another player. Miles has slid back there a lot. Connor could and so could a couple others."
Logan Koski and Mason Harris are two freshman skaters looking to fill roles and take some shifts. The third freshman is Talan Albers, who could see some time in goal behind Brunner.
"Talan has looked good," Searles said. "Ben's probably going to get the nod a little more because he's bigger and he's seen this level of action. But it's going to be nice to have the ability to switch out.
Brunner became Medford's unexpected starter between the pipes last winter when projected goalie Blaine Seidl was lost for the season with a knee injury suffered in football. Though it was a learning experience at times, Brunner wound up filling in capably by mid-season, getting the job done in close wins over the Shawano and Black River Falls co-ops. He collected his first career shutout in Medford's 8-0 win over Tomahawk on Feb. 1.
"I was very impressed with Ben," Searles said. "Right off the bat I could tell last year that he had some potential. He's always had a strong glove. He's made some great saves in practice that get everybody going. He goes as hard as he can. He is getting better at knowing positioning, when to come out and when to stay back. I think that's one of the bigger things if the goalie knows when to come out. They can take away a lot of the angle and you don't see a net to shoot at."
Medford finished seventh in the Great Northern Conference a year ago, finishing ahead of winless Tomahawk. Rhinelander wound up winning the GNC tournament championship. The Hodags, Northland Pines and Mosinee all were 8-2 in league games once the regular season and tournament were completed. Lakeland (6-4), however, was the team that got hot late and wound up making it to the revamped WIAA Division 2 state tournament, beating Rhinelander 5-1 in the sectional final. Northland Pines lost two first-team All-GNC players to graduation, including Player of the Year Riley McGee. Rhinelander lost one of its top scorers, Harlan Wojtusik, but also returns senior Joe Schneider, another top scorer. Mosinee is replacing All GNC first-team goalie Tucker Stepan. The GNC will again hold a three-round, in-season tournament to end the year with the placement games set for Feb. 12 at Lakeland. Medford's non-conference schedule includes home-and-away dates with Chequamegon and the Shawano Co-op, a home game with powerful Rice Lake on Dec. 7, a home game with a new opponent, the Pacelli Co-op on Dec. 14 and a return to the Merrill-East tournament Jan. 14-15. Medford's WIAA Division 2 sectional bracket includes Rice Lake and New Richmond from the Big Rivers Conference, the Amery Co-op, Marshfield, Hayward, the Fredericbased Blizzard Co-op and Chequamegon.