Posted on
CONFIDENT THEY'LL COMPETE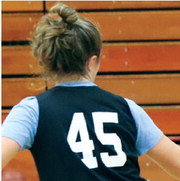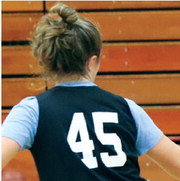 MEDFORD GIRLS BASKETBALL PREVIEW
MATT FREY/THE STAR NEWS
Medford senior Lydia Pernsteiner tries to split defenders Laurissa Klapatauskas (l.) and Bryn Fronk during some five-on-five work in Monday's practice at Raider Hall. An experienced Raiders team opens its new season Tuesday night at Merrill.
Late 2021 run brings belief to the new season
While it's tough to carry momentum from last year's season-ending run to sectionals into the start of a new season nine months later, the Medford Raiders do start the 2021-22 girls basketball season with one major benefit from that finish.
A big boost of confidence. Combine that with simply a much more comfortable relationship between the players and second-year head coach Greg Klapatauskas, the arrow seems to be pointing upward for the Raiders as they gear up for the first game of the new season, set for 7:15 p.m. Tuesday at Merrill, the team Medford beat to win last season's WIAA Division 2 regional championship.
"I wouldn't say it's as much momentum as it is confidence," Klapatauskas said Tuesday of the effects of last year's push to the sectional semifinals, which allowed the Raiders to finish 13-9 overall. "We proved that we can play with anybody. That's why we've put together the tough schedule we have with teams like Marshfield, New London, La Crosse Central. We intentionally set it up that way to play tough teams, so we're ready for that when we get to the playoffs."
The team was hit with some openingweek health and safety speed bumps, but the experienced varsity group should be able to catch up quickly as everybody was already back on the floor for practice Monday. Having no games on the schedule this week also wound up being a fortunate break, giving those who missed time ample opportunity to catch up on conditioning and any tweaks that were installed.
Medford's home opener is Nov. 30 against Marshfield and the Raiders open Great Northern Conference play at home Dec. 3 against one of the preseason favorites, Lakeland.
"The girls know what to expect of me and I know what to expect from them," Klapatauskas said of the obvious difference of starting year two in the head coaching position as compared to year one. "We had a summer to work on things. Just to have a year in now makes a big difference. It was fun (Monday) night just getting everybody back out there. With our top 10 on varsity, it's pretty competitive from top to bottom. I think we're pretty deep."
The Raiders return seven letter winners from a year ago and a couple more players who got some varsity minutes. They lost just one player to graduation, though that loss is a big one in two-time All-GNC first-team selection Marissa Fronk, who is now playing collegiately at St. Catherine in the Twin Cities.
2021-22
"It will be interesting to see how that dynamic shakes out," Klapatauskas said. "I think we saw a little bit of it this summer as far as who is going to step up in those big moments."
The senior class includes three-time letter winners Katie Brehm and Rynn Ruesch and twotime letter winners Laurissa Klapatauskas, Autumn Krause and Lydia Pernsteiner. Junior Bryn Fronk also already has two letters and got honorable mention last season in the Great Northern Conference.
That wealth of experience is certainly viewed as a strength, along with the team's depth. Senior Sophie Brost earned her first letter last year, while senior Lindsey Wildberg and junior Hope Faude were with the varsity all season long and junior forward Brooke Rudolph is showing she can be contributor.
Ruesch made the All-GNC second team last year after two years of honorable mention and finished the 2020-21 season playing some of the best basketball of her career. She averaged 8.4 points and 4.9 rebounds per game and led the team's regulars by shooting 44% from the field. Her versatility will be an asset on offense as she can play on the low block, the high post and can step out to the perimeter and hit shots.
Brehm and Klapatauskas both averaged over five points a game and pulled down about five rebounds per game last season and figure to be more focal points of the offense as well this year.
"We've been working on finishing and getting to the rim," Klapatauskas said. "That's going to be a mantra to the season –– being confident in taking the ball to the basket. We're seeing that with Rynn, Rissa and Katie. They're taking it to the rim and most of the time, they're finishing. If we continue to do that, we're going to be tough to stop. We want to entice contact in the paint, invite that contact. We don't want to shy away from it."
Krause was Medford's leading 3-point shooter a year ago, hitting 30% of her long-range tries and averaging 8.0 points, 4.4 rebounds and 2.1 assists per game. Fronk can hit the 3 as well and was a surprisingly solid rebounder for her size, grabbing 4.1 per game. She added 2.3 steals per game.
Greg Klapatauskas said he expects Fronk to be the team's primary ball handler, though taking care of the ball is obviously a team priority. He said Pernsteiner has looked like a much-improved player in the first of week of practice. Brost gives Medford some quickness and added length in the post, while Faude and Wildberg add some depth and shooting on the perimeter.
Junior DeLana Radlinger and sophomores Breanna Kraemer and Masaeda Krug will also start the season on the varsity roster. Defensively, the Raiders are working on a variety of looks and figuring to use them all at one point or another, depending on what is working or the opponent they're facing. Whether they are zoning teams or manning them up, the coaches hope to see some constants from their girls. "We're looking to hold teams to one shot, get every rebound and we need ball pressure," Klapatauskas said. In the Great Northern Conference, Mosinee is the defending champion after officially finishing 9-1. Medford was the only league team to defeat the Indians, upsetting them on their home floor in the regular season and in a WIAA Division 2 regional semifinal thriller, 55-52. The Raiders tied Lakeland for second place at 7-3 as those teams split their season series, winning on each other's home floor. Lakeland is getting pre-season attention with highly-touted sisters Julianna and Kristina Ouimette on the roster, both of whom already hold NCAA Division I offers. Julianna, a junior, was the GNC's 2020-21 Player of the Year, while Kristina is just a freshman. Rhinelander was 5-5 in league play last year and graduated its all-everything player of a year ago Rebecca Lawrence, but it's expected the Hodags will be competitive under their veteran head coach Ryan Clark.
Antigo, Northland Pines and Tomahawk all struggled last year with Tomahawk eventually pulling out of league play in the home stretch due to low numbers.
"I'm thinking it's going to be between us, Mosinee and Lakeland and I doubt anyone goes undefeated," Klapatauskas said. "Somebody is going to knock someone else off. It will be a matter of who is able to sweep who. We're not scared of Mosinee. Their group beat us pretty good this fall in volleyball, but I think it's a different mindset for us in basketball. Lakeland, they are who they are. It always comes down to handling their pressure."
With such a senior-laden roster Klapatauskas said he will be counting on that group to lead the way. It's a belief the Medford football coaching staff, which Klapatauskas has long been a part of, has always used.
"I'm going to tell (the seniors) we're going to go as far as they'll take us," he said. "Who is going to want to take big shots and make big shots? We'll keep playing as long as you want to keep playing."