Posted on
ONE PLAY AWAY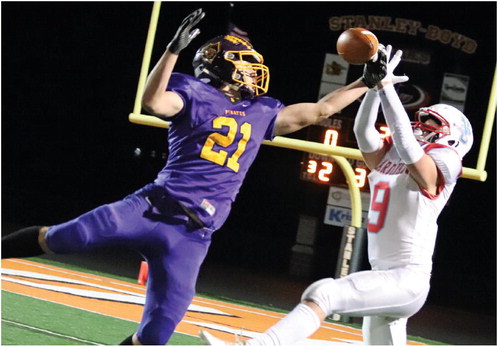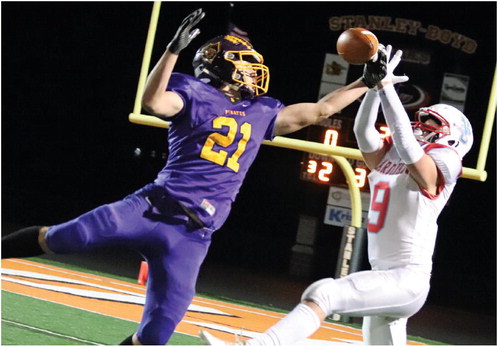 Gilman's fourthquarter rally falls one point short
Wisconsin's eight-player football state championship game may be set for this Saturday afternoon in Wisconsin Rapids, but it's hard to imagine that game will produce more championship drama than last Friday's semifinal between Gilman and Newman Catholic did.
Down 22-0 and outplayed for the first time this fall through three quarters, Gilman finally found an offensive flow late in the third, scored its first touchdown on the first play of the fourth quarter and was not stopped on three more possessions to earn a chance to take the lead in the final minute.
But Newman's reeling defense came up with one last stop, denying the Pirates' two-point conversion try with 44 seconds left to preserve the Cardinals' 29-28 win and their trip to Saturday's title game, where they will be heavily favored to beat short-handed Luck (101), who will be without injured state Offensive Player of the Year candidate Wyatt Jensen.
"It was a similar feel to last year's game with Belmont where we just did not play real good in the first half, struggled finishing drives and couldn't score," Gilman head coach Robin Rosemeyer said. "But we really played well in the second half to give ourselves a chance to win it."
Gilman finished an outstanding season at 10-1 and could pick out one of any number of plays in the game that might have changed the game had it gone the Pirates' way.
Most notably in the first half, Newman completed two passes in tight coverage that went for touchdowns and helped the Cardinals (11-0) grab their 22-0 lead. Gilman also did not take advantage of two Newman turnovers in the half and got stopped on downs in Newman territory.
"It was a frustrating first half," Rosemeyer said. "We just could not get into any offensive flow. On the other side I thought their kids just made some nice catches on the touchdowns they had. Just making plays. The first one was fourth and six, we were in good position, the wind just kind of held the ball up for their guy and he makes a really nice catch, pins it against his helmet and pulls it in. It was just a frustrating first half overall."
On the other hand, the team's grit and leadership showed in the last 15 minutes when the Pirates scored on four straight drives –– after Newman hadn't given up a point in its last 20 quarters.
"We weren't playing real physical at the line (in the first half)," Rosemeyer said. "They were more physical on the line than we were. We just played with more urgency I thought in that whole second half offensively. We started blocking better. We were able to run better and things like that. Everything came together."
Newman hit Gilman in the mouth on the game's first possession. Driving into a stiff 20-25 mph wind, the Cardinals went 80 yards in 10 plays with the biggest one, of course, being the last one. On fourth and six from Gilman's 32, Newman quarterback Conner Krach fired a pass down the right seam that appeared to be well overthrown when he let it go.
But, the wind knocked the ball down and tight end Eli Gustafson made a nice adjustment to it despite tight coverage by Grady Kroeplin, pinning the ball against his helmet to secure the 32-yard score. Newman's successful fake on the conversion resulted in two points that wound up being huge at game's end.
Newman's second drive got inside Gilman's 10 before Gilman's Branden Ustianowski was in the right place at the right time, catching a tipped ball for an interception at the five. The Pirates went nowhere but with the wind at his back and no return man deep, Kroeplin launched a 79-yard punt that reversed field position.
Gilman's opportunity got more golden when Zack Marion recovered a Krach fumble four plays later at the 34-yard line, but Newman's Jacob Pfiffner undercut a pass by Pirate quarterback Julian Krizan to give the ball right back to the Cardinals.
The Pirates got a stop, a botched 2-yard punt by Matthew Hamilton gave Gilman solid field position and Krizan's 35-yard run put the Pirates at Newman's 28. But the drive then quickly stalled on downs.
Newman methodically drove 72 yards on 13 plays to score on Gustafson's 8-yard run with 1:41 left in the half that made it 15-0. Gilman then went three and out and punted into the wind, leaving Newman with 40 seconds and only 40 yards to go. The Cardinals got those 40 yards in one play when Krach threw a jump ball to the goal line where 5-6 Nathan Klement made the catch despite tight coverage from Pirate Troy Duellman for what seemed at the time like a back-breaking touchdown.
"They're hard to defend because they do have good receivers on the outside that you need to respect," Rosemeyer said. "You can't give up a big play to them. And they're going to run the ball effectively with some good running backs and a quarterback that can run well. Your options are limited to what you can do defensively as far as taking things away. They're going to make plays in the run game and they're going to make plays in the passing game. It's just a tough assignment to stop them and not many people have stopped them all year."
Gustafson's interception stopped a promising drive by the Pirates to open the third quarter, but the defense got a stop with help from two 15-yard penalties against the Cardinals and Gilman took over at its 20 with 4:53 left in the quarter.
Krizan set the tone with a 20-yard run and he bolted for 35 after Gilman's sideline had been flagged for unsportsmanlike conduct to put the ball at Newman's 12.
Kroeplin got two yards on fourth and one on the final play of the quarter.
Krizan's 1-yard sneak on the first play of the fourth and his two-point run gave Gilman life at 22-8. Unfortunately, Newman came right back on its next snap, getting a perfectly-thrown 75-yard bomb into the wind from Krach to Pfiffner to put Gilman in a 29-8 hole with 11:19 left.
Back came the Pirates with a quick three-play drive that ended with Krizan's 45-yard dash to the end zone. His twopoint pass to Ustianowski made it 29-16 with 10:34 still left.
"(Krizan) did a good job for a little bit there where it was just give me the ball and I'll make this happen and he certainly did," Rosemeyer said. "It was a good combination with him and Grady running hard together and getting a little momentum going on our side."
Krach had a big 23-yard scramble on Newman's ensuing drive, but the Pirates got just what they needed –– a stop on downs –– at the 25 with 7:16 to go. Krizan hit Kroeplin for 33 yards on the first play and four plays later, he hit Keepers, who made a beautiful over-the-shoulder catch, stayed in bounds and got inside the left pylon for a 29-yard touchdown with 5:44 to go. The two-point pass failed, but the Pirates were within a score at 29-22.
"I just thought our overall execution improved," Rosemeyer said of the second-half offense. "Grady and Julian ran hard. I thought our offensive line did much better. We were able to get the long pass play. It was a play we had run earlier that was picked off when we underthrew it. Nothing changed scheme-wise. It was just that we needed to play better."
Opportunity knocked again two snaps later when Newman's Josh Klement fumbled on a hit by Krizan and Pirate Braeden Person recovered at the Cardinals' 40 with 4:13 to go and all three timeouts still in Gilman's hands.
Gilman got a first down and then was fortunate to recover a fumble to keep the drive alive. The Pirates ground out two more first downs to reach the eight. Three runs gained seven yards. On fourth down Krizan went right and plowed into the end zone from the one.
After Gilman burned its last timeout to call its two-point conversion play, Josh Klement, Newman's middle linebacker, blew up the play with a perfect blitz up the middle. While Krizan narrowly escaped Klement's tackle, end Ben Hardesty hit him low and forced a short, low throw that was broken up by Nathan Klement.
Gilman's attempt at an onside kick, took a couple of long bounces, but was ultimately covered up by Josh Klement to seal it.
"It was a pass," Rosemeyer said of the two-point play call. "We were just going to roll Julian out and give him the runpass option with a waggle to the outside. Their linebacker blitzed the proper gap and he was unblocked. Julian was still able to break that tackle and Branden was open early. The cornerback stepped up, just like we were hoping. But the pressure was too much right away."
Gilman finished with 346 yards of total offense. Krizan ran for 199 yards on 26 carries, while Kroeplin added 50 yards on 15 carries. Krizan was five of 13 through the air for 89 yards. Keepers caught three passes for 53 yards.
Krach had a huge night for Newman, running for 182 yards on 23 carries and completing 10 of 18 passes for 242 yards. Pfiffner caught five balls for 155 yards.
"It's kind of a bend but don't break kind of deal," Rosemeyer said. "Overall we held them to the four touchdowns, which was good, especially in the second half. It was a matter of them just making some really quality catches that I thought hurt us the most. They had a lot of yards rushing and a lot of yards passing. But we made them punt a couple of times, got some turnovers and gave ourselves a chance. But they're not an easy team to defend by any means."
The Pirates should bring back the vast majority of their 2021 roster in 2022, but the four seniors –– Krizan, Keepers, Marion and Bryce Chovan –– are core players that will certainly be missed.
"It was a special year for these guys," Rosemeyer said. "For the seniors for two years they led us into this eight-man, last year's seniors did also, but Zack, Bryce, Julian and Bryson have really been good leaders for us. We're conference champions two years in a row. I thought we were very good offensively. We were able to score a lot of points and we kept other teams to a minimum scoring.
"They were fun to watch and they were fun to be a part of. It was one of those years where I don't think we had a bad practice all year. Everything worked well due to that leadership of the seniors. Practices were fun, games were fun. The whole thing was just fun to be a part of."