Posted on
HITTING THE FINISH LINE AT STATE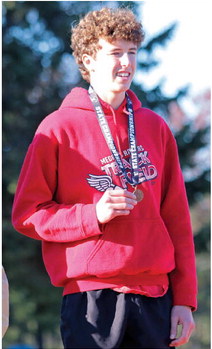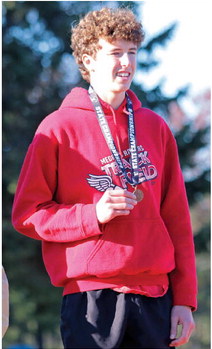 Sullivan medals; Hraby a strong 25th in boys race
Medford senior Joe Sullivan capped his illustrious cross country career on the medals podium, while sophomore Tanner Hraby set a strong starting point for himself during Saturday's WIAA Division 2 state championship race at The Ridges Golf Course in Wisconsin Rapids.
Sullivan finished eighth out of 151 finishers in a time of 16:36.2 that ranks as his best out of three state appearances, though last year's state meet was held on a different course. It is, by far, his highest placement in a state race, two of which came in Division 2.
"I'm glad I took top 10," Sullivan said. "I had a better spot but, I don't know, I just did not have a kick at the end. My legs were really tired."
Hraby placed 25th with a time of 17:12.3 that ranks as the second-best time of his still young career. He was just behind the pace of 17:04.9 he set the previous Saturday at the sectional meet in Colby.
"I'm pretty happy," Hraby said after the race. "Joe and Tanner both ran great races today," head coach Kevin Wellman said.
Sullivan came into the state race as a contender for a top-10 medal after his second-place finish at the sectional on Oct. 23. He got off to a good start, putting himself in fifth place at the mile mark and he was still a solid sixth after two miles. As he said, his finishing kick just wasn't quite there in the home stretch, but his first WIAA cross country medal was never really in doubt, as he finished ahead of ninth-place finisher Riley Huss of Little Chute (16:39.2) and 10th-place finisher Tyler Loucks of Prescott (16:41.7).
Shorewood junior Nathan Cumberbatch won the race in 16:06.4, while Colby sectional champion Eli Boppart of Mauston, also a junior, was second in 16:16.7, comfortably pulling away from University School of Milwaukee twins Drew Stephens (16:23.2) and Thomas Stephens (16:24.6).
"I just tried to stick up with that first group," Sullivan said. "They spread out pretty good too. That Shorewood kid really took off. I just tried to stay up there. I was up there for most of it, but around that second mile everything started to space out a little bit."
Sullivan hit the mile marker in a time of 5:01.4, which he felt was a good pace. He ran the second mile in 5:24.1 and he covered the last mile-plus in 6:10.8.
"I really did (feel good early), he said. "I came across (at the mile mark) right at five minutes, which is fast, but it's nothing terrible. I really should be able to hold that. I felt good at the first mile. I was a little tired, but overall pretty strong. Even around a mile and a half, I was good. Right before that second mile, when we started hitting those 90-degree corners back and forth, that just kind of took me out of my stride and all of a sudden it was hard to get it back.
"I was hoping to stick with Eli," Sullivan added. "He really had a kick at the end. He really had a good race. I talked to him a little bit afterwards. He's a cool guy. I told him I'd see him at state track." Sullivan finished 31st in Division 2 on The Ridges course as a sophomore in 2019 with a time of 17:03.5 and he was 33rd last year in the Division 1 race at Hartland Arrowhead with a time of 16:39.6.
The baton as the team's top dog looks to get passed to Hraby, whose first state race went about as well as could be expected. He was able to put any nerves he had aside quickly and was able run at his pace, which allowed him to move up 14 places in the last 2.1 miles.
"I was a little nervous, not too much though," Hraby said. "I kinda new a little bit about what to expect. In the first mile I didn't really feel like I was going too fast, but I saw my time, it was 5:15, which was a little fast, but not too bad. At the two mile, I passed a couple more kids and my time was about the same as it was at sectionals. The third mile I was definitely pretty tired, but it didn't hurt my time too much. I was just eight seconds or so. I was a little slower, but I felt pretty good." Hraby was clocked at 5:16 and was in 39th place when he hit the mile marker, about 15 seconds behind the leaders. Drew Stephens held the one-mile lead at 5:00.8. Hraby ran the second mile in 5:40.5 and moved up 11 spots in the standings. He picked off three more in the hilly and curvy final 1.1 miles and held off surging runners like Joseph Stumpf of Green Bay Notre Dame, who was 26th in 17:13.7 and Nate Meeks of Port Washington, who was 28th in 17:16.7, but was 52nd at the two-mile mark.
Hraby said he tried to stick with two familiar rivals from Lakeland, sophomore Owen Clark and freshman Ashton Bremer. Clark surged ahead in the latter stages and finished 20th in 17:03.6, just behind Rhinelander's Callahan Laggis (17:01.9). Bremer faded late and took 39th in 17:26.3.
"This is definitely a lot of motivation," Hraby said. "Hopefully I'll come back the next two years. That's going to be the goal."
As for other Great Northern Conference runners in the state field, senior Sam Gremban of Northland Pines placed 65th in 17:50.8 and the Rhinelander Hodags were ninth out of 16 teams with 234 points and won the sixth-runner tiebreaker with Lakeside Lutheran for that spot. Cody Ruetz (79th, 18:05.4), Jack DeNamur (81st, 18:07), Ty Welk (94th, 18:23.3) and Greyson Gremban (104th, 18:31.2) were the rest of Rhinelander's scorers while Jaden Beske (113th, 18:44) secured the ninth-place finish.
Shorewood (54) and Notre Dame (73) distanced themselves as the top two teams. Osceola outscored Port Washington 134-157 for third place.