Posted on
Girls 8th in a tough D2 field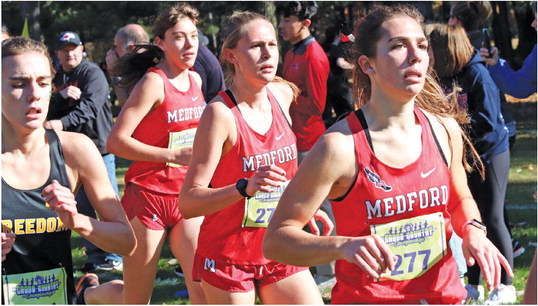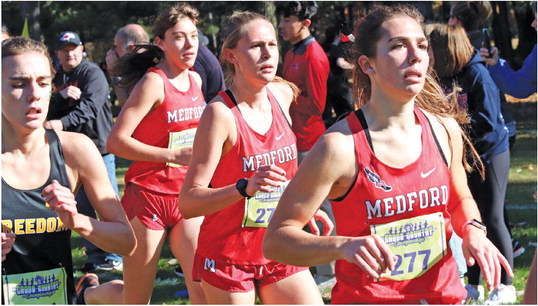 It was a rare occasion Saturday for the Medford Raiders to not find themselves in the running for team or individual honors at Saturday's WIAA Division 2 girls cross country state championship race.
But afterwards, the Raiders took their eighth-place team finish in stride, thankful for the season and opportunities they had. The underclassmen gained some valuable state experience and motivation to bring the Raiders back next year for what they hope will be the team's fourth state appearance in five years.
Dodgeville-Mineral Point edged Shorewood by a single point, 88-89, to win the Division 2 team championship and no other teams were close to those two on an unsea­sonably warm afternoon in Wisconsin Rapids. The Raiders scored 203 points to finish one point behind seventh-place Appleton Xavier, but comfortably ahead of the remaining eight teams in the field.
Medford's seven runners included four with state experience and three first-time state entrants.
"I kind've expected something around there," sophomore Meredith Richter said of Medford's finish. "I'm obviously not mad about it. I thought maybe we could've done a little better. I'm just more proud of the team. It was the first time being here for a lot of us. We didn't know what to expect."
"The goal was just to do the best you can," senior Jennifer Kahn said. "Finish with a good time and have a nice race."
"It was a good experience for sure," junior Bryn Fronk said. "You wouldn't want to ever miss it."
"The girls team ran hard and fast and was able to take eighth overall in a tough field," head coach Kevin Wellman said. "All the coaches, parents, alumni and friends are proud of the great work the team and individuals have accomplished this season."
In her first state race, Richter led the Raiders with a 40th-place finish out of 151 runners in a time of 20:37.2. She was 34th at the mile mark and 36th after two miles. Kahn closed her cross country career with the Raiders on a high note, using a strong finishing kick to take 46th in 20:47.8. She moved up five spots in the last 1.1 miles and improved significantly from her 2019 outing on the course. Kahn's time was her second-best of the season, trailing only the 20:33.3 she posted at the sectional.
"For me it went pretty well. It's a great way to end the season," Kahn said. "I was kind of surprised with that (finishing kick) myself. I thought I was kind of dying. But I found I had a little left. I gave it my all."
Junior Brooke Rudolph wrapped up a solid season with a 76th-place time of 21:18.9 that was almost identical to her 2019 state time.
Fronk and senior Alexis Fleegel pulled each other along virtually from start to finish. Fronk took 88th in 21:41.9 and Fleegel was 89th in 21:42.4.
Freshman Ella Dassow had a solid first state run, taking 109th in 22:07.1, while sophomore Ella Daniels was 121st in 22:33.4.
"I thought I was actually going a lot slower, but I got my second-fastest time, so I would say I did pretty well," Dassow said.
Several of the runners noted the aggressiveness of the competing runners seemed to go up a notch on the course this year, and the afternoon temperature that approached 60 degrees was certainly something different for the veterans who had previously run at The Ridges Golf Course.
"It was definitely better than my freshman year when it was snowing here," Rudolph said.
"I like to wear long sleeves and a hat and gloves. I love it when it's cold," Daniels said. "Instead this was one of the warmer races this year. But it's fine. We adapted."
"It's a lot warmer. I think that messed with our heads a little bit, at least mine it did," Fleegel said.
"It was extremely competitive out there," Richter said. "It was aggressive."
"It was OK," Rudolph said of her race. "It's not my favorite course. There's a lot of turns and hills."
"A lot of opportunities to get cut off," Daniels said.
"Yes, people cut you off like crazy today," Rudolph said.
But, Richter said, there was a lot to be learned by the first-timers, herself included, in Saturday's race.
"Everything is off because there are so many people pushing you," she said. "It's just fast all the time. It's different, but it's a good thing to push yourself."
Kayci Martensen of Southwestern-Benton-Cuba City won the state championship for the third straight season with her time of 18:10 that beat freshman runner- up Faith Wehrman of New Berlin Eisenhower by 14.7 seconds. Northland Pines sophomore Nora Gremban, the Great Northern Conference's Runner of the Year, was third in 18:43.2, beating Ellie Robinson of Dodgeville-Mineral Point by 9.7 seconds.
Some runners said they met small goals during the race. Rudolph said one of her goals going in was to pace herself off of fellow All-Great Northern Conference runner Grace Kern of Lakeland, who she didn't even locate until about two miles in. Rudolph got past Kern by 1.1 seconds at the finish line. Also from the GNC, Mosinee's Britt Fitzgerald was 63rd in 21:09.5 and Tomahawk's Rachael Reilly was 64th at 21:10.5.
Daniels said she got locked into a oneon- one battle with a West Salem runner and made it a point in the last mile to beat her.
"She cut me off so many times, I was just done with her and I passed her," Daniels said. "You know who you want to get in the race. When you find them, you go get them."
Fleegel and Kahn were part of Medford's 2018 state championship team as freshmen and completed their careers knowing they've been part of four excellent teams and three state meets and they will take plenty of memories with them.
"Throughout the day we've just been kind of asking each other if you remember this from freshman year, or remember that," Fleegel said.
"It's sad that it's over, but it was a great experience," Kahn said.
"This is my favorite sport teamwise," said Fronk, a three-sport athlete for the Raiders. "This is unreal how close everybody is."
"We're very, very lucky to have just a great group of girls," Richter said. "There's no drama. You just run fast. There's not a ton of us, so we're all close."
"The only thing that causes problems is deciding where to eat," Fronk said.
"(Next year) will be interesting because we have some freshmen coming in that are going to be pretty good, so I feel like we'll have a pretty strong team again next year," Rudolph said.