Posted on
Big wins, good results for locals at Smiley Invite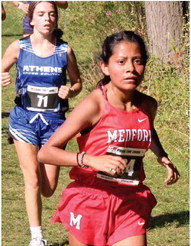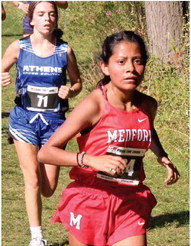 SMILEY CC INVITE
Joe Sullivan remained undefeated, winning a sprint to the finish by the slimmest of margins, and the Medford girls can claim they are still undefeated after winning the Division 1 Small team championship at Saturday's 65th running of the Bill Smiley Cross Country Invitational in Wausau.
The 60-team meet moved this year to the new Bill Smiley Memorial Course on the Wausau East High School campus that, despite a hilly finish, seemed to favor local runners, many of whom set their fastest times of the year so far.
Sullivan was the male runner of the day, winning the Division 1 race in a photo finish over Mateo Alvarado Venegas of Sun Prairie. Both runners were credited with a time of 16:02.8, a personal best for Medford's senior standout, but Sullivan got his shoulders just in front enough at the finish line to earn the win.
He is Medford's first Smiley winner since Jarod Rudolph took the Division 1 title in 2015.
"It definitely is pretty cool," Sullivan said. "It's definitely a big race, a big meet. It was cool to win that. There's a lot of teams, a lot of good runners."
Medford's girls were fourth overall out of 21 scoring teams that were placed in Division 1 for this year's meet, but when the schools were broken into Large and Small groups, the Raiders were the runaway winners in the Small Division, compiling just 49 points to outscore runner- up DeForest (70), Shawano (99), Pulaski (104), River Falls (110), La Crosse Central (147), Merrill (177), Lakeland (189) and Antigo (221).
"The ladies had great running from top to bottom with every member of the team finishing under the 23-minute threshold," head coach Kevin Wellman said. "The ladies pushing each other day in and day out and supporting each other is why they were able to take the championship."
The Prentice-Rib Lake Hawks also competed in Saturday's meet in the combined Division 2 and 3 races. The girls, led by Kylee Goodrich, were fourth out of six scoring teams in Division 3 and 13th out of 16 in the overall race standings. The boys, led by Adam Granberg, placed seventh among Division 3 teams and 15th out of 17 teams overall.
Medford results
With their five scorers placing among the top 19 in a field of 66 runners in the Division 1 Small group, the Raiders took home their third Smiley team championship trophy since 2017. The other two, however, were claimed in Division 2 in 2017 and 2018. The Raiders were second in Division 2 in 2019.
In her first Smiley experience, sophomore Meredith Richter finished third among Division 1 Small entrants and 15th overall in a season-best 20:33.3. Junior Brooke Rudolph had an outstanding day, taking fifth in the Small Division with a season-best time of 20:48.2 that was nearly a personal-best and put her in the team's number-two position for the first time. Rudolph was 23rd among all Division 1 runners.
The only Small Division runners ahead of Richter were Merrill star Elizabeth Schmidt (18:58.4) and Lilly Jensen of River Falls (20:27.7). Shawano's Grace Beyer (20:42.3) was fourth. Schmidt was the overall Division 1 champion, beating Kaukauna's Sydney Fauske by 11.8 seconds.
Senior Jennifer Kahn got the last top-10 spot in the Small Division standings thanks to her season-best time of 21:06.2, which was a half-second ahead of DeForest's Logan Peters. Raider junior Bryn Fronk was right behind Peters in a season- best 21:10.5. Senior Alexis Fleegel, a two-time Division 2 JV Smiley champion, had a solid varsity race this time around, placing 19th in the Small Division at 21:29.2, another season-best.
Medford's Ella Dassow was 32nd in 22:57.6, and Ella Daniels was 33rd in 22:59.3.
In the full Division 1 standings, which featured 153 runners, Kahn was 35th, Fronk was 38th, Fleegel was 51st and Dassow and Daniels were 103rd and 104th. Kaukauna was easily the team champion in the combined Division 1 results with 45 points, well ahead of Sun Prairie (152), Eau Claire Memorial (161) and Medford (162).
Sophomore Joselyn Torres was the newest Raider to win a Smiley JV championship. Her personal-best time of 23:08.8 gave her the Division 1 Small title by 8.5 seconds over DeForest's Estelle Mehlum. There was just one JV girls race, combining the runners of all three divisions. Torres was 19th out of 248.
"Josleyn Torres ran a tremendous race and cut huge chunks of time off her PR," Wellman said. "She was rolling on the course and you could tell she had everything clicking." With four runners, the Raiders were unable to post a JV team score. Kylie Potvin was 17th out of 36 entrants in the Small Division at a season-best 26:29.5, Nathasha Butt was 21st in a season-best 27:40.8 and Lydia Way was 34th in 32:10.8, about three seconds shy of a personalbest time.
For the first time this fall, Sullivan was pushed to the limit in the Division 1 boys race, which he said made Saturday's race a fun one for him. For much of the race, he was part of a top-four pack that included Alvarado Venegas, Aaron Schimke of Kaukauna and Yordanos Zelinski of Oregon. The leaders ran a fiveminute first mile and were at an impressive 10:10 pace through two miles.
Sullivan said Zelinski was the first of those four to fall off the lead. He eventually finished sixth overall. Schimke fell back in the latter stages, leading to an all-out sprint at the end between Sullivan and Alvarado Venegas.
"I love that kind of race," Sullivan said. "I love to be able to run with people. It's definitely hard but it makes it a little bit nicer to know you're with a pack, these guys are keeping up the pace. It's good to stick on their shoulder. For it to come down to that last little bit is even better.
"We were just neck and neck," he added. "I could tell about 20 yards before the finish I just had an inch on him. I could feel my chest was just a little bit in front of his and I just had to keep it and I was able to. I tried to keep my form somewhat good. It probably looked a little crazy. I leaned a little bit forward just to make sure I could get it. I almost fell right on my face, but I was able to stay up."
Raider sophomore Tanner Hraby continued his recent surge, setting a new personal record at 17:52.2, which was good for 17th out of 85 Small Division runners. Sophomore Logan Gubser was 34th in a personal-best 18:59.6, senior Stephen Hraby was 57th in 20:16.3, junior Josh Clark was 60th in a personal-best 20:21.2, sophomore Nick Steliga was 67th at 20:49.8 and Lucas Borman was 85th in 25:03.8.
In the full Division 1 standings, which included 173 runners, Hraby (36th) and Gubser (86th) finished in the upper half.
Small Division team scores were: 1. DeForest, 56; 2. Shawano, 84; 3. River Falls, 86; 4. Rhinelander, 136; 5. Pulaski, 139; 6. Medford, 165; 7. Wausau East, 173; 8. Oregon, 193; 9. La Crosse Central, 234; 10. Merrill, 243; 11. Antigo, 258; 12. Lakeland, 285.
Stevens Point crushed the competition and won the combined Division 1 title by 68 points over DeForest.
Hawks results
In the boys Division 2 and 3 race, Granberg had his best Smiley performance for Prentice-Rib Lake with a season-best time of 18:56.3 that put him 19th out of 61 Division 3 entrants and 48th out of 135 runners overall.
The Hawks' second through fifth scorers packed together, led by freshman Jack Reiger, who was 38th in Division 3 and lowered his time to 20:10.1. Ryan Buehler was 40th in a season-best 20:15.7, Will Hartke was 44th in a seaosn-best 20:30.8 and freshman Elijah Scott was 45th in 20:35.1, also a season-best.
Ben Petersen came in 49th in the division with his season-best time of 21:06.9 and senior Reese Isaacson was 58th in 22:49.1.
It all added up to 148 team points for the Hawks in the Division 3 results as they trailed Stevens Point Pacelli (63), Auburndale (69), Albany (71), Marathon (80), Rosholt (113) and Iola-Scandinavia (121).
Iola-Scandinavia's Charlie Vater eked past Pacelli's Adam Eiden by 1.2 seconds to win the Division 3 individual championship at 16:57. Little Chute's Riley Huss was the overall race winner in 16:52.6, while Vater was second. In the combined team standings, West Salem edged Little Chute 63-68 to take the title, while Pacelli was third with 165 points. The Hawks (358) finished ahead of Wittenberg-Birnamwood (363) and Mosinee (397).
The Hawks' 121 team points put them ahead of Spencer (138) and Neillsville (144) in the girls Division 3 standings and behind Albany (21), Marathon (36) and Edgar (89). Overall for Divisions 2 and 3, the Hawks were 13th with 425 points, beating Spencer (448), Neillsville (450) and Wittenberg-Birnamwood (454). Little Chute beat West Salem by two, 58-60, while Kiel (85) and Tomahawk (123) were third and fourth in the combined results.
Goodrich's time of 25:07.2 put the Rib Lake senior in 26th place out of 56 Division 3 runners. Senior Leah Thums had her best time of the fall, 25:36 while taking 34th and freshman Abby Schuetz was 38th in 26:04.4. JeAnn Johnson came in 48th at 28:23.7 and Lydia Holm was 51st in 28:55.4.
McKenna Broughton (20:26.8) and Ava Ahnen (20:32.4) of Albany were the top two Division 3 runners. Overall, Nora Gremban of Northland Pines was out in front by 90 seconds and won in 18:38.9, while Little Chute's Ella Pahl was second in 20:18.7.
The Hawks' Matthew Schmidt was fifth out of 26 JV boys in Division 3 with his season-best time of 21:14.4, while Connor Highfill was 13th in 24:29.1. Ryean Gorski was 22nd out of 27 JV girls in Division 3 at 30:55, Cristy Hartmann was 24th in 31:11.4 and Amy Espinoza was 26th at 33:45.1.