Posted on
A FUN NIGHT OF VOLLEYBALL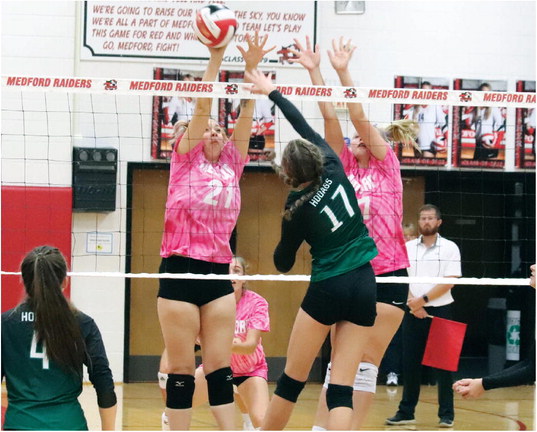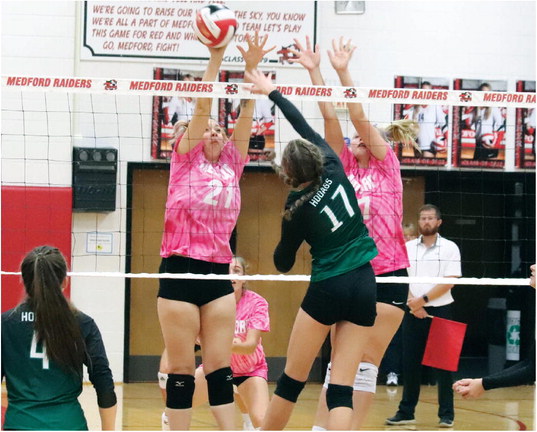 MEDFORD VOLLEYBALL
Raiders raise some cash, sweep Hodags
Sometimes there's nothing like a perfectly-timed match on your schedule. That's exactly what the Medford Raiders got on Tuesday.
Three days after a grueling 14-set day in the first Great Northern Conference Saturday meet of the fall, the Raiders got all 14 players involved, raised money for a good cause on their Cancer Awareness Night and put on a good volleyball show for a sizable mid-week crowd at Raider Hall in a 3-0 sweep of the Rhinelander Hodags.
It only took one timeout called by head coach Cheryl Schreiner to wake the Raiders up after they fell behind 8-4 in the first set against the last-place team in the GNC. Medford went on a 21-7 tear to end that set and dominated from there to finish the first half of league play at 4-2, good for a second-place tie with Lakeland and Tomahawk. The Raiders are 10-11 overall.
Mosinee leads the way at 6-0 and, once again, appears to be head and shoulders above the rest of the pack in its quest for a fifth straight GNC title.
"I shouldn't say it becomes a grind, but when you're only playing one match a week and then you have long Saturdays, it does become a grind," Schreiner said. "We have to push through this part of the season. I've been coaching a long time and this part of the volleyball season is always tough these couple of weeks before we get to the playoffs. You just have to push through it. To be able to have a night like this with the pink night and the girls just going out there and having a good time, it was a great thing to see."
While Rynn Ruesch and Megan Fredrikson were in their typical po­sitions among the team's kill leaders with six and five, others jumped at their chances to contribute.
Senior Hailey Fisher was a force in the middle in her time on the court, recording five kills in eight attacks and two assisted blocks, which came on back-to-back points in the first set as the Raiders took a 12-9 lead. Fisher's tip off an Emma Brost assist made it 14-10 and was followed by a Martha Miller kill. After Rynn Ruesch's kill made it 17-12, Abbie Frey came off the bench and hit two backline aces in a six-serve run that opened up a 23-12 lead. Autumn Krause's tip off an Allie Paulson assist made it 2414. The Raiders won the set 25-15.
Krause finished with four kills on six attacks in the match.
The Raiders took the lead quickly and didn't let up in set two, rolling 25-5 as strong serving from Brunner, Krug and DeLana Radlinger got the Hodags completely off their game.
"Gabby Brunner's jump serve is amazing," Schreiner said. "It is tougher than nails. I've even had a couple of offi cials come up to me after we've played and say you have a great serving team all together."
A Kelsi Beran corner kill gave Rhinelander an early 4-3 lead in the third set, but that lead quickly disappeared as kills by Fisher and Fredrikson and aces by Fredrikson and Lybert opened up a 16-7 lead. Lybert finished with a team-high four aces. An ace by Klapatauskas closed out the 25-12 clincher.
In 56 total serves, the Raiders had 12 aces and just five errors.
Lybert led the team with 12 assists, while Brost had eight. Brunner led the Raiders with nine digs, Olivia Krug had seven, Radlinger and Miller had five each and Frey and Brost had four apiece.
The most important statistic of the night was the nearly $1,500 raised for lymphoma and breast cancer causes through basket raffles and a Miracle Minute where Century 21 Dairyland Realty matched the $321.68 raised.
"You go from the Saturday that we had in Merrill (Sept. 11), which was not a good one, to that grind the next Saturday and then to be able to come out here on Tuesday and be able to lay it all out on the court and have some fun out there was awesome," Schreiner said. "It was fun. I hope it was fun for the crowd. It's nice for the community to come together for a good cause."
The Raiders have another long Saturday on the docket this weekend as they host their nine-team Medford Invitational at Medford Area Middle School with solid teams like Three Lakes, Stanley-Boyd, Columbus Catholic and Bloomer headlining the field.
The Raiders will head to Tomahawk Tuesday and then host Antigo for Senior Night Sept. 30 in key GNC matches that start at 7 p.m.
Two out of three
Medford played one of its best matches of the season in a 3-1 win over Tomahawk to start the first GNC Saturday meet of the season, struggled early and couldn't quite dig out of it in a 3-2 loss to Lakeland and finished by escaping a 2-0 hole to defeat Antigo 3-2.
It was a long day of volleyball at Medford Area Middle School but a fairly successful one.
"I hope the girls are starting to understand they can win the close ones," Schreiner said. "They did it against Antigo. They dropped the first two and came back strong and finished that match. I'm very proud of them for coming back and beating Antigo after that five-set match. Throughout the day we played 14 sets. To find that mental energy, that physical energy to put it back out there and have that giddy-up and go again, it was a confi dence builder for us to win that from Antigo."
The opening win over Tomahawk gave the Raiders the opportunity to pull into a second-place tie in the standings at the first-half turn. While the Hatchets feature imposing front liners in Meghan Scholz, Katie Pierce and Alyssa Zehner, the Raiders did not allow them to dominate with the exception of a brief period in game three. That run by Tomahawk was all that separated the Raiders from a three-game sweep.
Game one was extremely tight with neither team holding more than a twopoint margin until the Raiders went ahead 22-19 on a Klapatauskas tip. Miller followed with a back-row attack to open up a four-point lead. Tomahawk scored four straight, but a Hatchet error and Miller's blast off an attempted block by Pierce closed out a 25-23 win.
The Raiders trailed game two 12-10 when a Ruesch kill, blocks by Fredrikson and Klapatauskas and a Brunner ace opened up a 17-12 Medford lead. The Raiders kept control from there and won 25-21.
"We served tough," Schreiner said. "We kept them out of system. Martha Miller dug Scholz a couple of times. Scholz hit that ball hard and Martha dug her and then Scholz went to her tip game, which helped us."
Medford had a 17-11 edge in game three when Tomahawk got key swings from Scholz and Pierce in a 14-5 run that gave the Hatchets a 25-22 win.
But Medford kept its composure and controlled game four from start to finish, leading by as much as 10 at 21-11 following a Brunner ace. Medford closed the match out with a 25-16 win.
Ruesch had nine kills, while Fredrikson and Klapatauskas had six each in the win. Lybert had seven assists and Paulson added five. Brunner had four aces and 29 digs. Miller had 29 digs and Klapatauskas had 23. In round two, Medford got its first matchup with Lakeland since the TBirds eliminated the Raiders from last fall's WIAA tournament. Led by their outstanding sophomore outside hitter Meg Pfannerstill, the Thunderbirds took control of the match with 25-19, 25-21 wins in the first two sets and nearly completed the sweep in game three. The T-Birds had leads of 12-8, 16-12, 1713 and 21-18, but Medford kept hanging around and finally tied it at 22-2. Medford went up 24-23, Callie Ullius found a hole to tie it for Lakeland, then an error and Ruesch's roll that deflected off a blocker kept the Raiders alive in a 26-24 win.
Medford rode the momentum to a 15-7 game-four lead, but Samantha Barton's serving run got the Raiders out of system for a stretch, pulling the T-Birds within 15-12. Lakeland tied it at 16-16 and the teams went back and forth until Miller punched a free ball that barely stayed in bounds at the back line to clinch a 25-23 win and extend the match to a fifth game.
Unfortunately, the Raiders got behind 9-4 in a hurry in game four, two block kills by Lakeland's Katherine Tiffany widened the lead and Medford had no shot in a 15-5 loss.
Miller, Ruesch and Klapatauskas had four kills each and Klapatauskas had two solo blocks. Klapatauskas and Brunner had 30 digs apiece, while Krug had 24 and Miller had 22. Paulson had nine assists and Lybert had eight.
That lengthy match sapped Medford's energy prior to its final match against Antigo. The Red Robins, who were swept by Northland Pines and took three straight from Rhinelander in their first two rounds, controlled set one 25-18 and then took over game two after trailing 15-12, pulling away for a 25-21 win and a two-game lead.
Lybert served the Raiders to a 7-0 lead in game three, kills by Miller, Paulson and Ruesch opened up an 12-1 lead and the Raiders perked back up with a commanding 25-14 win in the third set. The fourth one found them in trouble again as Antigo reached set point up 24-22. A Robin miscue and Ruesch's tip off a Paulson assist tied it and another Antigo error put Medford up 25-24. The Robins scored two in a run to hit another match point at 26-25, but a Miller kill, a Ruesch tip and Ruesch's successful push to the corner sealed a 28-26 win that put the Raiders in another game five.
Again, the Raiders trailed most of the way, but this time they stayed within striking distance. With Antigo holding match point at 14-12, the Raiders got a key block kill from Miller, another block from Paulson and two errors from Antigo to pull out a 16-14 win.
Ruesch had 12 kills in the match, Paulson had seven and Fredrikson had six. Lybert had 23 assists, Brost had eight and Paulson had seven. Lybert had three aces, Miller had 41 digs, Brunner had 33 digs and Klapatauskas and Krug had 30 each.
"It was a long day. It was a grind," Schreiner said. "The rest of the conference season is going to be a grind. Like coach (Jesse) Knetter from Antigo said, there goes Mosinee walking out of the gym early with the conference probably wrapped up, while the rest of us are still beating each other up."