Posted on
Forest Springs a Virtual Venue Partner for 47th American Birkebeiner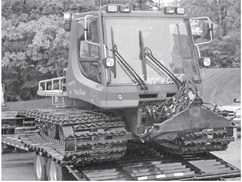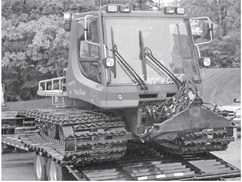 The 47th American Birkebeiner cross country ski races are happening this week in northern Wisconsin, with several COVID-related changes, one of which is a virtual option for skiers to participate if they are not comfortable with traveling to the Hayward/Cable area. While virtual skiers can complete their race anywhere, Forest Springs in Westboro was designated a Virtual Venue Partner of the American Birkebeiner, offering groomed trails for skiers to take part in the full Birkie, which this year is shortened to 43 kilometers, the Kortelopet (26K) or the Prince Haakon races (14K).
The virtual option opened on Saturday, Feb. 20 and remains open through this Saturday, Feb. 27. To sign up and get your time entered, visit www.birkie.com for more information.
"It's exciting for Taylor County that Forest Springs' cross country ski trails became one of the locations where Birkie skiers could come and ski their race," said Norm Hoyt, director of educational ministries at Forest Springs and a Birkie veteran. "The way it works, Forest Springs has to have a designated route, distances clearly marked at each kilometer and a well-groomed trail for skate and classic skiing. Our trails are ready and in awesome shape for this event."
The designation comes just a few months after Forest Springs acquired a used Pisten Bully groomer from the Birkebeiner organization to groom its trail system.
"Come enjoy the Forest Springs and Rib Lake trails before the snow melts to see how blessed Taylor County is," Hoyt said.
Forest Springs has a 12.5K loop that is marked for anyone skiing the virtual Birkie there. The start/finish line is located at the trailhead. The trail system is known for its beauty as it winds through the woods of northeastern Taylor County and its up-and-down, roller- coaster hills. Skiers are asked to check in at the Ministry Center before hitting the trails. Maps are provided at the check-in area and at the trailhead.
Prince Haakon racers ski the 12.5K loop and add a loop around the 2K James Lake Trail.
Kortelopet competitors ski the 12.5K loop twice and a run on the 1K Klister Trail.
For those doing the virtual full Birkie, they ski the 12.5K loop three times to account for 37.5 kilometers, then add 5.5 kilometers by doing a shortened fourth loop that does not cross Rustic Road #1.
Hoyt, who has skied in 14 Birkies, is among several Taylor County skiers who have taken on the challenge over the years. In a normal year, the city of Hayward turns from a small town of 2,300 people to one that suddenly has 25,000 guests. He said the experience is unique and he's glad race organizers are opening up ways for as many skiers as possible to enjoy in this challenging year.
"The Birkie is kind of a lifestyle really," he said. "It takes a certain mindset. Some say crazy and often it is referred to as having 'Birkie fever.' I know what this is having skied about 14 Birkies. Once you register for this winter race, it kind of consumes your mind and physical fitness goals. On Birkie day late in February, you never know if the snow will be fast, bitter cold and slow, wet and slushy and, some years, the grass is showing through. Once you start a Birkie, you can't stop until you ski up Main Street in Hayward, even if you are skiing on fumes alone. It's always fun to finish a Birkie even if you are half dead. You join thousands of other skiers, many faster than you, who celebrate the day and hold the memories close to their hearts."