Posted on
REGIONAL CHAMPIONS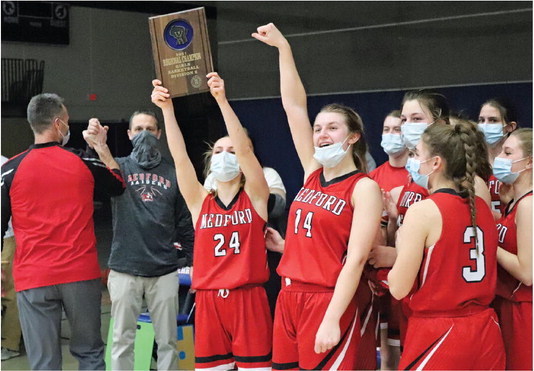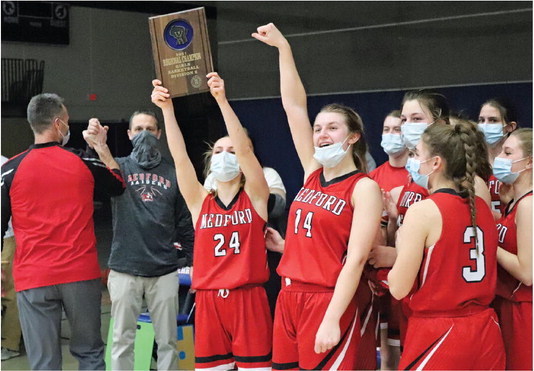 MATT FREY/THE STAR NEWS
WIAA DIV. 2 GIRLS BASKETBALL REGIONAL FINAL
One night after Medford erased a five-point deficit in the last three minutes to beat top-seeded Mosinee, composure was all that was needed down the stretch Saturday to close out second-seeded Merrill 47-35 and clinch the Raiders' first WIAA Division 2 girls basketball regional championship since 2011.
Playing with a relaxed and confident demeanor through most of the game, the fourth-seeded Raiders led from start to finish in a reversal of the season opener back on Nov. 24 where the Blue Jays led wire to wire in a 45-36 win at Raider Hall.
Medford improved to 13-8 for the season and was the lowest-seeded team in the state in any division to win a regional championship. Merrill's season ended at 9-9.
"We stayed calm and got the girls to be patient on offense and work the ball a little bit," Medford head coach Greg Klapatauskas said. "I liked our insideout game, when we get it inside and if we feel the pressure, kick it out. Looking to take the best shot we can was huge for us.
"Our defense was huge too," he added. "I can't say enough about how hard they worked and tried to rebound and get after loose balls and all of that. They wanted it. They wanted to keep playing and that was the big difference in the game in my mind."
Medford will keep playing tonight, Thursday, at 7 p.m. in a WIAA Division 2 sectional semifinal at Onalaska. After the sectional's four remaining teams were re-seeded Sunday, the Raiders drew the third spot and Onalaska (15-3) got the two seed. Top-seeded Rice Lake (15-7) hosts fourth-seeded Somerset (15-9) in the other semifinal. The winners meet Saturday for the sectional title on the higher seed's home floor.
Both teams opened the regional final playing 2-3 zones defensively. While Merrill started out ice cold from the field, Medford was able to find cracks in Merrill's zone and tore out to a 20-8 lead.
Marissa Fronk opened the scoring with a short jumper, Rynn Ruesch got a steal and score and she scored again inside to make it 6-0. A Claire Drew 3-pointer got Merrill within 10-8 halfway through the opening 18 minutes, but Ruesch hit two free throws and then Fronk drilled back-to-back 3s from the top of the key. Ruesch added another bucket to stretch the lead to 12.
Whether it was Ruesch, Katie Brehm or Laurissa Klapatauskas, the Raiders had success working out of the high post to create open looks.
"We knew they were collapsing hard, so we had to shot fake and just take it to them and draw the fouls," Ruesch said. "When they were collapsing hard, we also knew we could kick it outside for the shot. That really worked well."
Fronk said the team no doubt came in confident after finding some inner strength in three straight close wins.
"It's so much more relaxing I think because we didn't find our game early in the season," she said. "Now that we're actually making shots and finishing and everybody is so calm and composed, it just makes it so much more fun to play because you know that you're playing your own game."
"We're playing to the potential that we can right now," Ruesch said.
Merrill closed the half with a 6-0 run to pull within 20-14 and the Raiders knew the Blue Jays would continue pushing in the second half. Leading scorer Courtney Krueger nailed an early 3 and Blue Jays dominated the offensive boards for a stretch, which played a big role in getting them within 29-28
Raiders knock off top two seeds to advance
with just over eight minutes to play.
Out of a timeout, Medford ran a wellexecuted set, getting Fronk open for a backdoor score off an assist from Autumn Krause. Ruesch added a free throw seconds later. The Jays got a bucket from Nicole Zoellner, but Krause knocked down a huge 3-point shot from the left wing. Klapatauskas answered a Crystal Dearth bucket with a score in the paint and Fronk stepped through a triple team in the lane to score with 2:10 to go, putting Medford up 39-32.
From there, it was about limiting Merrill to one shot and hitting free throws, which the Raiders did. Ruesch was eight for eight at the line down the stretch and 11 for 13 in the game. She took all of Medford's free throws in the game except one.
All Merrill could muster in the last two minutes was a Krueger 3 that made it 43-35 with 38.6 seconds left.
"We only had 11 turnovers. That right there was a huge factor for us," coach Klapatauskas said. "We shot 30% from the field so our shooting was about the same, but when we have fewer turnovers that makes a difference. We get more shots off. Turnovers and free throws were what won us that game. Hitting the free throws down the stretch when we needed them was big."
Ruesch led all scorers with 19 points. She added five rebounds, four steals and three assists. Fronk scored 14 points and had four assists, three steals and three rebounds. Krause made two second-half 3s to finish with six points and had two assists. Klapatauskas had four points and six rebounds. Brehm had just two points but she had seven rebounds and a couple of steals. Martha Miller had a second-half hoop and four rebounds. Bryn Fronk had three rebounds and two assists.
Krueger led Merrill with 12 points, five steals, four assists and three rebounds. But Medford limited her to fourof- 15 shooting from the field, including four of 11 from long range. As a team, Merrill was just five of 27 on 3-point shots which never forced Medford to get out of its zone.
"It was a whole different team to play against because Mosinee is always running fast, driving into the lanes," Fronk said. "This team relies more on outside shooting and cutting."
"We did a good job of knowing where Krueger was on the floor and knowing where everyone else was," Greg Klapatauskas said. "Every time they started to make a run, we made a shot, it seemed, to answer."
The win gives Medford another shot at Onalaska, who ousted the Raiders from last year's tournament 46-37 in the regional semifinal round.
"This is amazing especially being my senior year," Fronk said. "I'm just so happy that I get to keep playing.
"It's going to be really exciting," she added. "I'm so proud of my team. There's no other way I'd want my senior year to go."
Continued from page 1