Posted on
GNC champs again; Raiders aim for more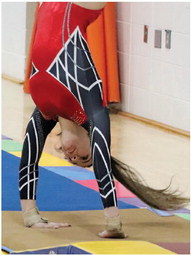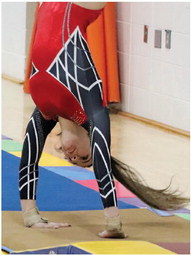 MEDFORD GYMNASTICS
As expected, the host Medford Raiders easily earned their third straight Great Northern Conference gymnastics championship in the Small Division Saturday and the program's fourth such title in five years under head coach Steve Cain.
But what they didn't get in Saturday's meet could be the perfect motivating factor as they set out to win a second straight WIAA Division 2 sectional championship and earn a third straight team berth at state.
The Raiders scored 134.9 team points to win the Small Division title by 15.425 points over runner-up Rhinelander and outscore all of the Large Division schools, who competed at Medford on Friday night.
The school record, however, is 134.901, set at last March's WIAA Division 2 state meet. That one-thousandth of a point certainly stuck in the Raiders' minds in the moments after Saturday's competition was completed.
"You can only get that (one-thousandth) at state, so if we're being honest, we pretty much tied it," sophomore Avery Purdy said. "We're going to say we tied it."
"I feel like you start looking at those little things," senior Megan Wanke said. "Like, oh my gosh if one person wouldn't have bent their leg here, if one person would've landed this one or if we wouldn't have had this fall or we would've had this misstep. Any of those little tiny things and we would've beat it. You start to break down those little Gymnasts
things."
One meaningful school record did fall as junior Makala Ulrich continued her stellar season by scoring 34.85 allaround points, breaking the old mark of 34.8 held since the 2003 sectional meet by Megan Strama. That score gave Ulrich the GNC's Small Division Gymnast of the Year award and included personalbest scores on the uneven bars (8.5) and the floor exercise (8.9). She tied teammate Kate Malchow for the balance beam championship with an 8.6 despite a fall.
The competitive side in Ulrich had her thinking more about that fall than the record after the meet.
"If I wouldn't have fallen on beam that would've helped a lot. I don't even know how to feel," she said. "It does feel good after everything that happened my freshman year (when a knee injury knocked her out of state competition). I haven't done my floor passes in two weeks (due to a sore ankle). But I still scored my highest. I PR'd on floor and bars."
The seven Raiders who competed compiled scores that were season bests in three of four events. The floor exercise was the exception, but Medford's 33.9 points there still included a top-two scores of 8.95 for champion Anna Wanke and 8.9 for Ulrich. The season-high balance beam score of 33.25 included a few falls the Raiders vow to clean up.
"We lost 2.5 points on falls today," Ulrich said.
"I feel like our floor wasn't as good as it usually is," Anna Wanke said.
Cain wasn't complaining one bit.
"I'm so proud of all these girls," he said. "They knocked it out of the park again."
The girls felt their best event of the day was the uneven bars, where they scored 33.3 points, nearly a half-point higher than their previous best of 32.825. All five routines were smoothly-executed and connected and the scores showed that with Ulrich's win at 8.5, Anna Wanke's second-place and season-best score of 8.425, Malchow's third-place 8.275, Kyla Krause's fourth-place score of 8.1 and Purdy's fifth-place 7.4.
"Everybody's bars looked really good today," Megan Wanke said.
The Raiders made progress on the vault too, scoring 34.45 points, which was four-tenths better than their season- opening high at Wisconsin Rapids. Krause, a freshman, nailed her Yurchenko vault and tied Chequamegon's Kristina Peterson for first place with a personal-best 9.0. Ulrich nailed her tsuk vault and took third place at 8.85, her best score of the winter.
"My vault has gotten better," Krause said. "I'm glad I've gotten my Yurchenko in. It's improving more."
Anna Wanke was fifth at 8.4, Malchow tied for ninth at 8.2 hitting everything on her flip vault but the landing and Kennedy Bilz was 12th at 8.1.
Vault and bars are two events where the Raiders' commitment to adding skills and difficulty to their routines this year is evident.
"There are so many flipping vaults now," Megan Wanke said. "I feel like even by next year, every single person on vault is going to have that."
"I wanted to do a flip vault and I would've done it if I wouldn't have hurt my leg (in the off-season)," Bilz said.
"Last year I think we all just kind of kept the same routines as the season before," Ulrich said. "This year we're all adding a lot more skills."
Medford started the day on the floor and, as Anna Wanke stated, there were a couple of bobbles the Raiders will want to clean up, but overall the effort was solid. After Wanke and Ulrich, Krause placed seventh at 8.0, Malchow tied for eighth at 7.8 and Megan Wanke contributed a sixth-place score of 8.05.
The oft-injured Wanke, the team's lone senior, wasn't even sure when the season began if she'd be able to compete after off-season surgery. Being able to contribute even in one event at season's end is a thrill for her.
"I pretty much decided from the beginning of the season there is no way I'm competing this year. It's not going to happen," she said. "Then you kinda go to practice every day and you see what everyone's doing and it just looks fun. Then I started to do a few things and I started to do some bars because my physical therapist said that was fine. Then I had an appointment a week later and my doctor looked at me and said, 'you seem good, you can start doing stuff slowly.' I might've taken slowly as, let's do some routines. But I'm super excited. I love doing it."
Malchow was spot-on during her balance beam routine, hitting her double back tucks and an impressive dismount to tie Ulrich at the top.
"I had a really decent beam," Malchow said. "I was happy with my series. I landed it."
Krause added a third-place score of 8.2, Anna Wanke was fourth at 7.85 and Purdy was ninth at 7.35.
Medford had the day's top four allaround gymnasts. After Ulrich, Anna Wanke scored 33.625 points, Krause scored a personal-best 33.3 and Malchow earned 32.875.
First-place finishes put gymnasts on the All-GNC Small Division first team for 2020-21, second-place finishes earned second- team honors and third-place finishers in each event got honorable mention.
In Friday's Large Division results, Marshfield won the meet with 133.925 points, followed by Stevens Point (132.45), Wisconsin Rapids (128.4), the Ashland Co-op (125.275) and Antigo (122.725). Katelyn Trowbridge of Stevens Point earned Gymnast of the Year honors with 35.025 all-around points.
Sectional is today
The Ashland Co-op and Antigo will be two of the eight squads Medford is up against at the WIAA Division 2 sectional meet today, Thursday, at the Hodag Dome in Rhinelander. The meet will be
MATT FREY/THE STAR NEWS
broken down into two sessions. Medford joins the Ashland Co-op, the Grantsburg Co-op, Chequamegon and Rice Lake in session one, which is set to start at 2:10 p.m. Antigo, Lakeland, Mosinee and the host Hodags will compete in session two at 6:25 p.m.
Medford certainly enters the meet as one of the favorites. The top two teams advance to team state competition, while the top five scorers in each event will advance to individual state competition.
The Raiders will go in with some swagger, but those little mistakes from Saturday also leave them thirsting for more.
"I just think we have to put in some hard work in practice this week on those little things," Megan Wanke said. "Even if it feels like not a big deal or not super difficult in our sectional to make it to state, we can focus on things like breaking our school record at sectionals. Let's get those other big accomplishments. Obviously, I think each person individually would love to be able to qualify in one or two events or all-around, all of that stuff."
State competition will be hosted by Onalaska High School at Performance Elite Gymnastics in La Crosse on Saturday, Feb. 27.